HISTORY AND PHILOSOPHY OF
SHAOLIN MONKEY SET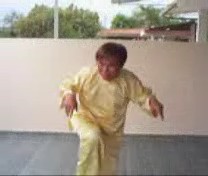 Grandmaster Wong performing the Shaolin Monkey Set
---
The Monkey Set has special significance in our school because my teacher, Grandmaster Ho Fatt Nam, was a Monkey specialist. Grandmaster Ho told me that his Monkey Set was learned from the Monkey God himself. The Monkey God frequents our school to bless us. (Those who do not believe in the supernatural, need not believe it.)
I did not learn the Monkey Set from Grandmaster Ho. Grandmaster Ho only taught me some important Monkey techniques.
I learned a Monkeyy Set called "Eighteen Felling Techniques of Spiritual Monkey" from another source. So I combined the Monkey techniques I learned from Grandmaster Ho and this Monkey Set to compose the Shaolin Monkey Set.
The Monkey is known for its agility, playfulness and cheekiness. There are many Monkey tricks in the set.
Wong Kiew Kit
17th December 2015
Shaolin Monkey Set in Video
Shaolin Monkey Set in Pictures
LINKS
Overview
Courses and Classes