HISTORY AND PHILOSOPHY OF
DAMO SUBDUING MONSTERS CRESCENT MOON SPADE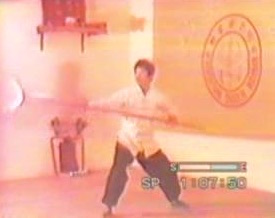 Domo Subduing Monsters Crescent Moon Spade
---
The First Patriarch of the Shaolin arts, the great Bodhidharma, known in Chinese as Damo, carried a crescent-moon spade.
The crescent-moon spade is pointed at both ends, and is sharp edge. It is effective for thrusting, cutting and locking an opponent's weapon.
Another great master of the crescent-moon spade was Sha Seng, or Shark-Monk, who was a junior classmate of the Monkey God, and together with Piggy Monk accompanied their master, the Venerable Xuan Zang, to India to gather Buddhist sutras.
A special belief of the crescent-moon spade is that it subdues asuras, or spiritual monsters. Hence, it may be lucky to have one in the house.
Wong Kiew Kit
29th December 2018
LINKS
Damo Subduing Monsters Crescent Moon Spade
Courses and Classes