DAMO SUBDUING-MONSTERS CRESCENT-MOON SPADE
達摩伏魔月牙鏟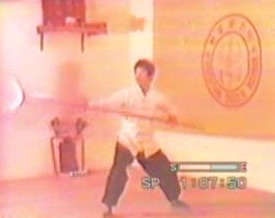 Subduing-Monsters Crescent-Moon Spade
---
A famous expert of the Crescent-Moon Spade was Sha Seng (Sa Chng in Cantonese pronunciation), or Shark-Monk. Shark-Monk was the sidai (junior brother) of the Monkey God, and one of the three disciples of the Venerable Xuan Zhang who journeyed to the West in quest of Buddhist sutras.
The Crescent-Moon Spade here was performed by Ah Keat in the 1980s. Ah Keat was a Muay Thai instructor but gave it up for Shaolin Kungfu. Those who attended Sifu Wong Chun Nga's wedding celebrations would have met him. He is now a successful businessman.
---
Please chick the pictures or the captions below to view the videos
---
---
Please click the picture or caption below to view the video

Bodhidharma Crescent Moon Spade 1980s from Wong Kiew Kit on Vimeo.
LINKS
Shaolin Wahnam in the 1980s
Courses and Classes