HISTORY AND PHILOSOPHY OF
THE WUDANG SWORD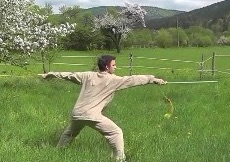 Sifu Leonard Lackinger performing the Wudang Sword
---
Of all the schools of swordsmanship, that of Wudang is the most famous. The Chinese sword is double-edged and is pointed. It is therefore a slashing and thrusting weapon.
The Chinese sword is like a danty lady; it avoids meeting an opponent's weapon head-on, as doing so may break the sword into pieces. Agility and high-level skills are necessary in using the sword.
The Chinese sword is often regarded as a phoenix, but in Shaolin Wahnam it is regarded as a dragon. It is pertinent to mention that the kungfu of the founder, Zhang San Feng, known as Shaolin Kungfu at his time but later popularized as Wudang Taijiquan, was also known as a dragon.
Wong Kiew Kit
26th December 2018
LINKS
Wudang Sword -- Video
Wudang Sword -- Pattern Names
Courses and Classes