THE STANDARD OF LION DANCE WE AIM TO ATTAIN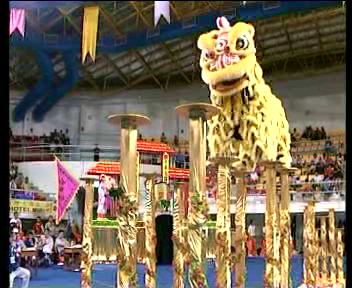 ---
---
Lion Dance is an important part of kungfu culture, especially among practitioners of Southern Shaolin and its derivative styles. When Grandmaster Wong first founded Shaolin Wahnam in Malaysia in the 1980s, our school was famous for Lion Dance.
A number of Shaolin Wahnam members have expressed interest in learning Lion Dance and have requested Grandmaster Wong to offer a comprehensive Lion Dance course. But what is the standard of Lion Dance we aim to attain in a comprehensive Lion Dance course of a few days if such a course is offered?
Grandmaster Wong posted the following video which showed the three best teams in an International Lion Dance Competition in 2004. We hope to achieve a level similar to theirs.
However, there will be one major difference. While maintaining the type of agility of these modern Lion Dancers, our Lion Dance in Shaolin Wahnam is more traditional, with more emphasis on stances.
Intending course participants must also bear in mind that while they will learn the techniques demonstrated by these top Lion Dancers shown in the video, they will not have the same level of skills — yet. But if they practice daily for six months, they have a good chance of surpassing even these top Lion Dancers.
---
| | | |
| --- | --- | --- |
| | | |
| 3rd Place -- China | Runner-Up -- Singapore | Champion -- Malaysia |
---
Pleace click the picture or the caption to view the video

The Standard of Lion Dance We Aim to Attain from Wong Kiew Kit on Vimeo.
LINKS