MARRYING THE MOST BEAUTIFUL GIRL IN THE WORLD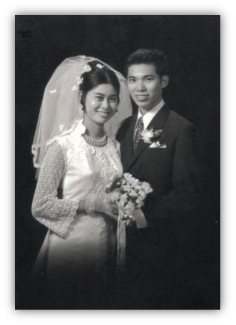 ---
---
At that time, I was a temporary school teacher teaching English at Penang Chinese Girls' Independent High School. As my students were about the same age as me, I had good opportunities to meet beautiful girls, though the thought of having a romantic teacher-student relationship was not my fancy.
My best school friend while we were in Penang Free School just a year before, Soon Hoe Choon, was also a temporary school teacher in the same girls' school. Together with some other former schoolmates, Hoe Choon and I sometimes had parties, picnics and hiking with our girl students.
But I was quite old-fashioned according to my friends. Although we had very enjoyable times together, I maintained a strict and formal teacher-student relationship, especially in school, though I sometimes allowed the strict relationship to slacken outside school hours, much to the delight of both my friends and students.
Hoe Choon was a lady's man, and being his best friend, I had some fringe benefits. Besides the beautiful girl students, who transformed into girlfriends outside school hours, Hoe Choon also had another fleet of beautiful girls who studied in Saint George's Girls' School in Penang, considered to be the feminine counterpart of Penang Free School where Hoe Choon and I studied before. Some people said, though it had not been verified, that if you wanted to be a successful person in the world, studied in Penang Free School. If you wanted to marry a husband who would be successful in the world, studied in Saint George's Girls' School.
These admirers of Hoe Choon from Saint George's Girls' School were also keen on parties, picnics and hiking, and whenever we had such delightful events, Hoe Choon would be sure to get me as well as five other former schoolmates who called ourselves the Adventurous Seven to be involved, not that Hoe Choon was scared to be alone with the girls but that I was a good organiser and the other five adventurers provided good company.
So, as a young man of 21, I had my fair share of wholesome fun with beautiful girls. But when Sister Beautiful Ball introduced Siew Ai, or Blessed Love, to me, all of a sudden, I found the other beauties pale in comparison. I was simply captivated by the enchanting beauty of Siew Ai, especially her sparkling eyes and bewitching smiles.
A few years later, in 1971, I married her, the most beautiful woman in the world. I am proud to say that I have been true and faithful to her, and she to me, all these years, and she has remained and will certainly continue to be my one and only wife.
Our marriage was quite extraordinary. My wife was living in Ipoh then and I in Penang. Hence, it was not feasible to fetch my wife from her house to my house in a wedding car as it was customary to do so. I had to take a plane, and the air crew members were so kind to prepare a special wedding cake and a wedding song for the occasion.
However, the plane could not take off on that flight due to stormy weather. A friend had to drive my wife in his newly bought Mercedes Benz from her house in Ipoh to my house in Penang – an adventure that was highly enchanting when recalled though rather hectic at the time.
But at the time I met her, the thought of marrying her was never in my mind. We were worlds apart. I spoke English in my world of friends, but she spoke Chinese. Besides kungfu, I loved scouting, camping, hiking, poetry, painting, playing chess, table tennis, dancing, parties and picnics, but none of these was her hobbies.
I was supposed to provide her private tuition in English, but I taught her only one lesson. I found dating her more romantic. Soon, every weekend, I would take her to see a movie, followed by strolling along a beach. But we seldom had supper. It was considerate of her to help me save money before marrying her as I was poor then. Now that I can earn more money, I enjoy spending it to make her happy.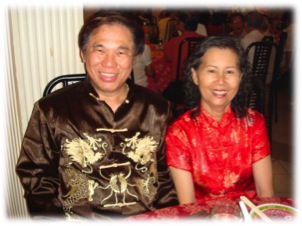 ---
You can read more stories at our Discussion Forum.
Please click here for details to order the special and limited edition. This edition will not be reprinted once it is sold out.
LINKS
The Way of the Master -- Overview