WEI FOONG WAS AN ACTIVE, CHUBBY BABY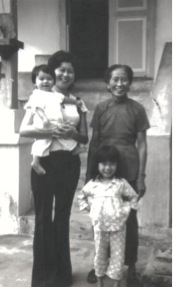 ---
---
After many years teaching on the East Coast of Peninsula Malaysia, which constituted some of my best days as a school teacher, and many years learning from Sifu Ho Fatt Nam, which constituted my "enlightenment" in kungfu and chi kung, I was posted to Kedah as a school teacher in 1975.
This was the year my second daughter, Wong Wei Foong (黄慧凤), was born. "Wei" means "Wisdom", and "Foong" means "Phoenix". So, my second daughter is a wise phoenix. Her name was chosen by her mother, my wife, who knows more Chinese than me. My daughter was born in Penang, though I was teaching in Alor Setar, Kedah, which is not far from Penang.
Even now my wife still talks about the time when Wei Foong was a chubby baby. After bathing her, my mother or my wife had to separate the folds in Wei Foong's skin to dry any water between the folds. She was also very active. When she stayed with me and my wife in Alor Setar, whenever we had lunch or dinner, Wei Foong would climb up the table to mess up the food.
But no matter how chubby or naughty a child is, she still needs protection and assurance from her parents. Once my wife and I brought Wei Foong to a night market at the padang, which in Malay means "field", at Dato Keramat Road in Penang. In her typical naughtiness, she wandered about in front, with the assurance that we were following behind. My wife decided to play a joke on her. We hid behind some stalls, but of course trailing her carefully.
After some time, Wei Foong turned around and were amazed not to find us. After a moment of amazement, she started to cry. My wife and I quickly ran towards her to protect and assure her.
Wei Foong loved dogs. When I played with her, I would pretend to be a dog and she would act to bathe me. Later, we bought her a real puppy. I still remember that once we gave some milk to the puppy to drink, but it didn't move. Wei Foong went behind to push the puppy to the milk. It was very funny. Now, Wei Foong is the President of the Society for the Prevention of Cruelty to Animals of Sungai Petani, and has contributed much money and effort in taking care and feeding about a hundred dogs.
Wei Foong is happily married to Peter Kow Chee Wooi. A lot of Shaolin Wahnam instructors and students from all over the world came to celebrate their wedding on 7th October 2006 in Sungai Petani. During the wedding dinner, the Shaolin Wahnam Family presented a memorable and enjoyable international show.
Wei Foong is the Secretary of Shaolin Wahnam. Those who attended intensive and special courses in Penang commented on how efficient she organised the courses and how hard she worked. While everyone enjoyed graduation dinners, Wei Foong would be very busy copying videos into DVDs for all course participants to take home.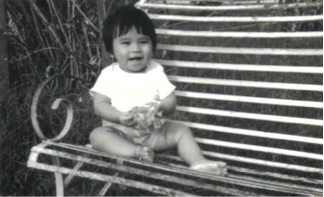 ---
You can read more stories at our Discussion Forum.
Please click here for details to order the special and limited edition. This edition will not be reprinted once it is sold out.
LINKS
The Way of the Master -- Overview