WELL KNOWN FOR LION DANCE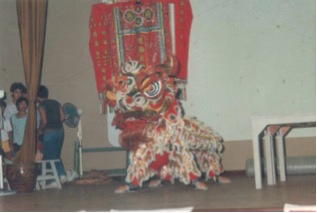 ---
---
Although Shaolin Wahnam Association was founded to preserve and promote Shaolin Kungfu, it became very well-known for lion dance even when lion dance was initially meant to be a supplementary activity for the recreation of its members after serious kungfu training.
One important reason was that lion dance constituted the main source of income for the association. When businessmen opened new venues to do business, they invited the Shaolin Wahnam Association Lion Dance Troupe to grace the occasion in their opening ceremonies. It is a belief that when a lion comes to a business venue, the business will prosper.
Unlike previously when the lion dance troupes invited did an ordinary dance to gather a "sky green" or a "ground green", i.e. a red packet with money hung high in the sky or placed on the ground, since the establishment of Shaolin Wahnam Association, I devised an elaborated lion dance drama for each opening ceremony where the lion dance performance was longer and more entertaining, and where the businessmen could invite their friends and potential customers to watch.
For example, for openings of business ventures we presented lion dance dramas entitled "Business Growing and Prospering" (生意兴隆), for personal celebrations like birthdays and marriages we presented "Million Events According to Intention" (万事如意), for professional or social promotions we presented "Step by Step Higher" (步步高升). The money in the red packet for the team to take home naturally was much bigger.
Sungai Petani was experiencing a business boom at that time, and almost every week we were invited to perform at opening ceremonies for businessmen. Well-wishers usually bought space in the local newspapers to congratulate the new business. Hence, local newspapers gave the opening ceremonies and our lion dance performances very good coverage.
Indeed a local community leader once jokingly said to me, "Sifu Wong, you are more known now than the Prime Minister!"
"What do you mean?" I asked.
"You get newspaper coverage every week. The Prime Minister doesn't."
I cut out the newspaper reports and pasted them on sheets of paper. They formed two big, thick books.
We became so well-known that the Malaysian Federation of Dragon and Lion Dance Associations specially paid us an official visit. By that time, our association had moved from Jalan Sekerat to Jalan Kuala Ketil not far away.
We had a few lions to perform a special dance to welcome the officials from the federation, and members of the federation performed a spectacular dance in return. Some masters of the federation paid us a rare compliment, saying that of the countless lion dances they had seen, ours was one of the very few that used stances in our lion movements and manifested traditional lion dance customs.
"All our lion dancers practise kungfu," I said.
"Ah! That makes a big difference."
"I came from a traditional school," I added. "So I still know some of the old customs."
"You must pass on these old traditions to new generations," a master advised.
"Nowadays, many lion dancers merely bounce about, and miss many of the past traditions like sniffing the ground and testing doorways before entering," remarked another master.
One of the great masters from the Dragon and Lion Dance Federation was Sifu Cheng Choy (郑才), a patriarch of Choy-Li-Fatt Kungfu and a highly respected master of lion dance. It was Sifu Cheng Choy who set the inspiration and momentum to incorporate acrobatic movements of Northern Lion Dance into Southern Lion Dance, making lion dance in Malaysia the best in the world with Malaysian teams winning international lion dance competitions consecutively for many years!
A year before, I led a team from the Shaolin Wahnam Association to Kuala Lumpur to see a lion dance competition, where a popular actor from Hong Kong, Guan Tuck Heng (关德兴), who acted as the famous Shaolin master Wong Fei Hoong (黄飞鸿) in many Cantonese movies, was specially invited to be the chief judge.
Sifu Cheng Choy's lion dance troupe gave a splendid performance. The performers demonstrated elegant traditional steps as well as agile acrobatic innovations. We learned a lot from their demonstration. There was no video recording then, so we had to keep their magnificent performance in our mind and emulate it in our practice when we returned home.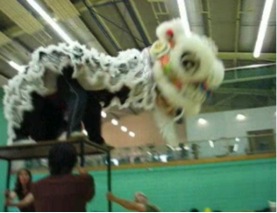 ---
You can read more stories at our Discussion Forum.
Please click here for details to order the special and limited edition. This edition will not be reprinted once it is sold out.
LINKS
The Way of the Master -- Overview