BEAUTIFUL SWITZERLAND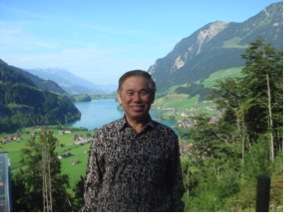 ---
---
Switzerland is a very beautiful country in all seasons despite not having a seafront. I am very lucky to see not only the beautiful places in Switzerland that tourists usually visit, like Zurich, Lucerne, St Moritz, Thun, Interlaken, Rheinfall and Matterhorn but also off-track locations where even some Swiss themselves may not have seen.
I was able to have this privilege because Roland (Sifu Roland Mastel) and Andrea (Sifu Andrea Zilio) took me sightseeing to these delightful places. As "Andrea" is a name used by both men and women, it may help you to avoid confusion to mention that our Andrea Zilio is a lovely lady.
In my recent visit to Switzerland in August this year, 2013, Roland and Andrea drove me through some enchanting Swiss countryside.
"Although I come to Switzerland every year, I haven't seen these lovely places," I said with wonder.
"You have, sigung," Andrea replied, "But you've seen so many beautiful places all over the world that you may not particularly remember these places, especially when you saw them in different seasons."
"The countryside is so beautiful. Next time when I come with my wife, I must bring her here."
We went to Hallwilersee, the Lake Hallwil, and its region of soft, green hills, small lakes, rivers and villages of idyllic scenery. We had lunch by the lake.
We went along a serpentine road over the Brunig Pass. There was a particular location where the mountain road opened to a beautiful lake below with stunning beauty.
The beauty of Rapperswil, a colourful town by the Lake Zurich, was different. There were a lot of boat taking tourists on lake cruises, and restaurants to dine in on their return, suggesting an atmosphere of vitality and efficiency.
The atmosphere at Montreux located at the Lake Geneva was again different. It was soft and elegant, and surrounding hills were filled with vineyards. One could look across the lake to France, tempting with elegant living. You could swim across the lake to France though it could be risky, but it is better to drive along the beautiful shore along the lake. The journey is longer but you will arrive faster, and certainly more comfortably.
It is like life. You can work immediately after leaving school, but it is better, if you have the opportunity, to enter university to prepare yourself further. The time taken to start working is longer but you will earn more money, and probably work more comfortably.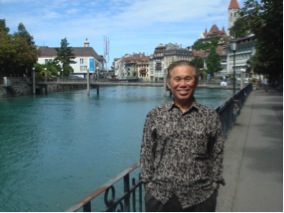 ---
You can read more stories at our Discussion Forum.
Please click here for details to order the special and limited edition. This edition will not be reprinted once it is sold out.
LINKS
The Way of the Master -- Overview