ALICE SPRINGS AND AYERS ROCK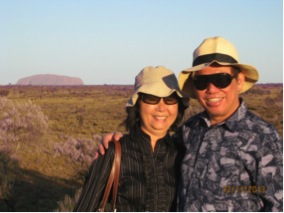 ---
---
After the course, we visited Ayers Rock and Alice Springs, right at the heart of Australia where even many Australians may not have been.
Ayers Rock, an icon of Australia, was spectacular. It could contest to be one of the seven wonders of the world. Known as Uluru in the local aboriginal language, it was just one gigantic piece of red rock jutting out 350 metres from the surrounding flat plain.
We also visited the Olgas, or Kata Tjuta, which were red domes rising from the desert floor, and the Kings Canyon to have a taste of central Australian desert.
At the Kings Canyon, I learned the famous "Australian Wave", which was not a greeting to your friends, but constantly moving your hand from left to right, and right to left in front of you to prevent desert flies settling on your face.
While walking back to our car after viewing the Seven Sisters, which were groups of rock formation in a distance with some semblance of human figures if we used some imagination, I said to Michael.
"Michael, although the people here might not have heard of the 36 Strategies, they practise one of the strategies very well."
"Which strategy, sifu?"
"Creating something out of nothing."
Michael was quick to grasp the situation.
"Yes, sifu, these rocks could be like any other rocks in the desert, but they are so well publicised that people come from all over the world to see them, earning a lot of money from tourism."
We were some of the victims, but we enjoyed ourselves tremendously. So we had no complaints.
Years ago, I was told that people in Alice Springs lived in houses underground to avoid the heat. I was glad to find out from direct experience that either the earlier information was untrue, or modern technology, like air conditioning, had rendered subterranean living obsolete. Alice Springs was a beautiful city with rows of green trees and clear blue sky.
We also visited the Desert Park in Alice Springs. There were many desert creatures, including the unique Horned Devil, which Michael loved and which was to me a miniature dinosaur. We also saw a bird show.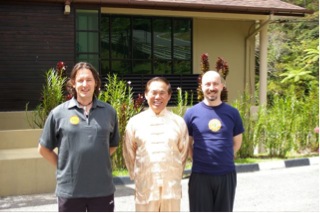 ---
You can read more stories at our Discussion Forum.
Please click here for details to order the special and limited edition. This edition will not be reprinted once it is sold out.
LINKS
The Way of the Master -- Overview