BEAUTIFUL PLACES AND DELICIOUS FOOD IN JAPAN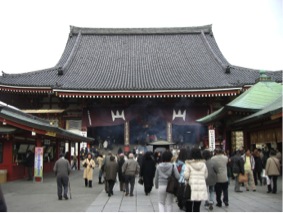 ---
---
Another memorable visit was to the Sensoji Temple in the Asakusa district of Tokyo. The temple is dedicated to Bodhisattva Kannon, which is the Japanese term for the Chinese term, Guan Yin Bodh Satt. The temple, completed in 645, is one of the oldest temples in Tokyo. On both sides of the pathway leading to the main gate of the temple were colourful stalls selling a great variety of things, including delicious Japanese cakes and souvenirs.
Emiko recalled an interesting observation. Upon arrival and seeing the many stalls along the passageway, I asked Yumi:
"How much time do you think we need to get to the temple from here?"
"About 15 minutes, sifu," Yumi answered.
Emiko recalled, "It was wonderful to see simu and Chun Nga stop at so many stalls to window-shop and try out different food snacks. Sifu looked on benevolently and told Yumi, Mutsumi, Naoko and me amazing stories of kungfu heroes and history in the olden days. In the end, the time it took to get to the temple was over two hours, but it was a lot of fun!"
A fascinating aspect of Japan's urban life is that one may not know where a city ends and another begins. Although I stayed in Kawasaki where the courses were held, I travelled freely in Tokyo and Yokohama without knowing the city borders. Once while Yumi was driving us around, I asked her in what city we were in.
"On the right, sifu, it's Kawasaki, and on the left it's Tokyo." She replied. When I saw a sign "Yokohama" in a metro train station, I thought it was the name of a suburban area in Kawasaki with the same name as the well-known city. It was only when I was in Yokohama looking at a bay across to the Pacific Ocean after a delicious lunch at an expensive Chinese restaurant in Chinatown as Emiko kindly arranged, knowing that simu, my wife, loves Chinese food, that I realised we were in the well-known city.
Japanese food is fabulous. Interestingly, although sushi is a famous Japanese food, we did not take sushi during my visits to Japan. This was probably because my Japanese hosts once asked me whether I like raw food, and I said no, especially my wife who does not like uncooked fish or meat. It was very kind and considerate of Emiko and the Japanese group.
Even my wife, who normally eats only Chinese food, finds the Japanese cuisine delicious. She particularly enjoyed ramen and tempura. Ramen is a Japanese noodle in meat-based or fish-based soup favoured with miso or soy sauce topped with sliced meat, dried seaweed and green onion. Tempura is any food, usually carrot, mushroom, yam and pumpkin, and sometimes large shrimps, fried with a thin layer of batter.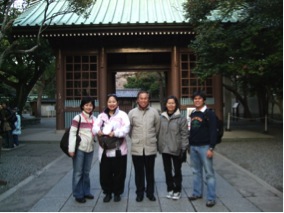 ---
You can read more stories at our Discussion Forum.
Please click here for details to order the special and limited edition. This edition will not be reprinted once it is sold out.
LINKS
The Way of the Master -- Overview