EVERYDAY IS A FESTIVAL IN INDIA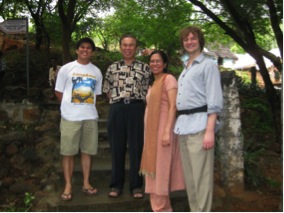 ---
---
Once in daytime in the city, I found a lot of people, hundreds of them, queuing for a bus.
"Is there a festival going on?" I asked Priya.
"Every day in Chennai is a festival, sifu."
It was true, I thought to myself. India was full of colours and sounds, and every day and night there were people deep in spiritual joy dancing and singing on the street for their gods, often with musical accompaniment.
"I saw hundreds of people queuing for a bus. I thought there was a festival," I said.
"Oh, that is normal, sifu."
I did not wait for a bus to come, but I heard that trains and buses in India were jammed full of people not only right to windows and doorways but even with people clinging frantically to tops of buses and trains. Later, when I saw public buses in many Indian cities, I was glad, for the sake of the passengers' safety, that this observation was exaggerated. There was not much space between passengers sitting or standing inside buses, but outside there was no one sitting, standing, lying, or hanging on to bus tops.
I did not see moving trains with people clinging gingerly onto their tops, but I had been to some Indian railway stations. They were beautiful outside, but full of people inside, and the one in Chennai I went to happened to have a type of smell most people would not like to endure.
The Marina Beach in Chennai, stretching over 12 kilometres overlooking the Bay of Bengal, was one of the longest beaches in the world. It was a lovely place to admire sunrise and to practise chi kung in the morning.
Priya's mother, a headmistress in an important school in Chennai, cooked us a great variety of Indian food. There was a lot of curry and sweets. Except in Muslim restaurants, food in India was all vegetarian. Although I like meat, I found the Indian vegetarian food very tasty. I also found the titbits and cakes in India very sweet, despite the fact that I love sweet things.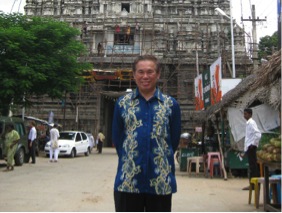 ---
You can read more stories at our Discussion Forum.
Please click here for details to order the special and limited edition. This edition will not be reprinted once it is sold out.
LINKS
The Way of the Master -- Overview