EXPERIENCING THE ARABIAN NIGHTS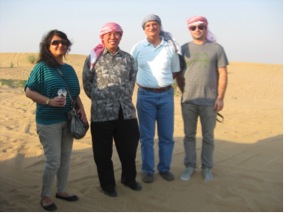 ---
---
Yazdi and Eugene showed me around in Dubai.
At night, Yazdi, Eugene and I had dinner at Madinat Jumeirah, a fascinating five-star resort of Dubai where I had an enchanting taste of the Arabian nights with settings taken from the story of Aladdin. There were waterways, landscaped gardens, typical Arabic architecture, restaurants selling Arabic food of meats, salads and fresh vegetables as well as terraces for smoking Arabic water-pipes. With the beautiful moon shining over placid water, it was a magical experience taken from the One Thousand and One Nights.
In the day time, we visited Palm Jumeirah Island in the Persian Gulf. It was the largest man-made island in the world in the shape of a palm tree which could be accessed from the mainland by monorail over a bridge or by road through an underwater tunnel. Some people regarded the Palm Island as the eighth wonder of the world.
We visited Atlantis The Palm, a luxurious resort on the island, which housed one of the largest aquariums in the world. We went to see various goods on sale in the arcade. I bought a toy tortoise and a toy camel from a souvenir shop for my two grandsons. We also saw an automatic teller machine where people could buy gold nuggets.
On another occasion, we visited Burj Khalifa, or Dubai Tower, the tallest building in the world with 163 floors. We went to the observatory deck on the 124th floor and had a panoramic view of Dubai.
We had dinner at the ground level with artificial waterways, which made us forget that we were actually in a desert. While we enjoyed Arabian food, which was delicious, the colourful musical fountains entertained us. They even played a Chinese song.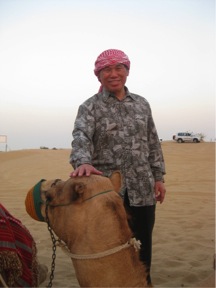 ---
You can read more stories at our Discussion Forum.
Please click here for details to order the special and limited edition. This edition will not be reprinted once it is sold out.
LINKS
The Way of the Master -- Overview