EXPERIENCING ONE THOUSAND AND ONE NIGHTS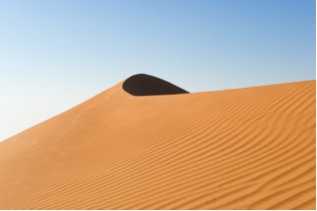 ---
---
When I was a child, I was fascinated by the famous collection of stories from the Arabian world, "One Thousand and One Nights", with stories like Aladdin and the Magic Lamp, and Sinbad the Sailor. In November 2012, after my courses in Dubai, I had the rare opportunity to stay in a five-star desert camp site, One Thousand and One Nights, in Oman to savour the Arabian magic.
Both Dubai and Oman are hot deserts. Many people may differentiate hot deserts from cold deserts and temperate deserts, but they may think that all hot deserts are the same. They are different, and the journey from Dubai in United Arab Emirates to Muscat in Oman offered an interesting observation of their changing difference.
The desert in Dubai was soft, white and sandy. Gradually, as we approached Oman, the soft white sand changed to hard red stones. Then, the hard red stones changed to solid grey rocks. Eventually, the soft white sandy desert of Dubai became the solid grey mountainous desert of Oman.
Dubai men and Omani men dressed differently. Dubai men wore a long flowing robe called kandora, and a headgear covering the neck called ghutra. Omani men wore a collarless gown called dishdasha, and a bare-neck turban called muzzar. One could easily tell the difference by their look. Despite their differences, both Dubai and Oman displayed the fabulous charms of the Arabian Peninsula.
Muscat, the capital of Oman, was attractive. It was a big oasis. There were a lot of green plants and trees in Muscat, it did not look like a desert at all.
At the entrance to the city we found an impressive Muscat Gate. Nearby were the Muscat Fort which overlooked Muscat Harbour, Muttrah Souk and the Al Alam Palace.
Since ancient time, Muscat was an important port between the East and the West, and its harbour was the largest natural harbour in the world. Muttrah Souk was a marketplace of narrow alleyways with little shops selling all sorts of things, including souvenirs, silver ware, frankincense, jewellery and gold. It was an excellent place to experience Omani sights and culture. The Al Alam Palace, or Grand Palace, the office of the Sultan, was an impressive example of modern Islamic design.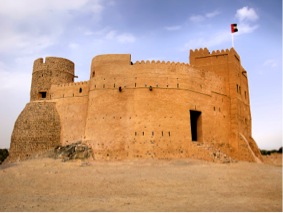 ---
You can read more stories at our Discussion Forum.
Please click here for details to order the special and limited edition. This edition will not be reprinted once it is sold out.
LINKS
The Way of the Master -- Overview
Travels and Video Shows in United Arab Emirates