LOVELY TRIP TO COTSWOLDS IN THE ENGLISH COUNTRYSIDE 2016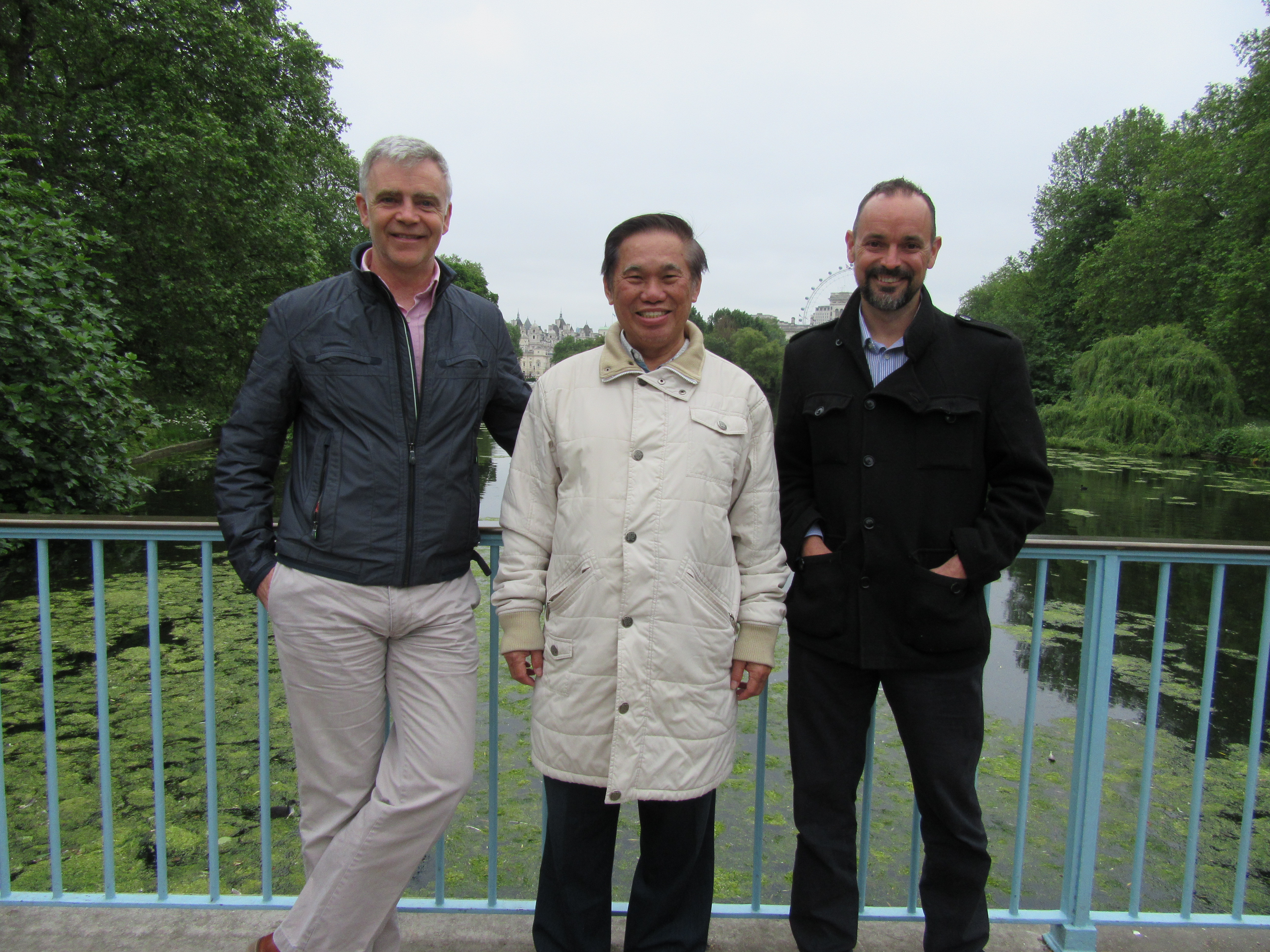 Barry, me and Tim in United Kingdom
---
---
After the UK Summer Camp of 2016, Barry, Tim and I had a lovely road trip from 13th to 15th June to Cotswolds, a picturesque region running through five counties of Gloucestershire, Oxfordshire, Warwickshire, Wiltshire and Worcestershire.
We left Guildford early on 13th June 2016 and drove through the villages of Worplesdon, about 3 miles from Guildford, and Bisley, which is famous for hunters shooting small games. The shooting is done in the woods, so there were no strayed bullets flying around as we drove passed.
We went through the town of Bracknell, about 10 miles east of the City of Reading and 30 miles west of London. We came to Twyford, a large village with classical looking houses. We also had a glimpse of River Thames, which eventually runs to London. What impressed me most was the narrow, canopied roads along most of the journey. The leaves of trees met overhead, making the road like a leafy tunnel. It reminded me of Ireland where there are also many narrow, canopied roads -- if you drive away from expressways.
We then arrived at Henley on Thames, which was a lovely little town. Barry parked his car so that we could have a leisurely walk. We saw an arched bridge over the Thames with archways underneath, reminding me of a similar scene in Brunei, but the weather was vastly different. The town square was beautiful, with chairs and tables outside for people to sit, reminding me of Alcalá de Henares in Spain, which is a UNESO world heritage site.
We walked down the main road and landed in, as you may guess it, an ice-cream shop. In his eagerness, Tim asked me for comments, and I replied that while the grilled prawns in Portugal were still the best, the ice-cream in England, which I happened to like very much, tasted better.
We went up the Chiltern Hills and passed the village of Nettlebed. It is believed that the surrounding areas were inhabited by people during Palaeolithic times. Traveling in an air-conditioned car made us feel very modern. We then reached Watlington, which is in the county of Oxfordshire, and had lunch.
Form there we went to Oxford, which housed one of the most prestigious universities in the world. As we were short of time, we decided to visit a representative of Oxford University, the Christ College. Barry parked his car and we had, what to me, a long walk though some back lane scenes of Oxford to reach Christ College. It was worth the walk as Christ College was impressive and majestic.
We went past the villages of Willersley and Snowshill, and a small town of Cheltenham, all in Gloucestershire county. Then we arrived at an ancient town called Stow on the Wold, where we stayed for the night. We walked through a deserted town, which was beautiful, to have dinner, but there were a lot of people in the restaurant though none outside.
The next day we went to Broadway Tower in Broadway, where there was a nuclear bunker underneath the tower. We climbed the tower and had a panoramic view of the surrounding countryside. We then passed the villages of Toddington and Lower Slaughter, and the market town of Cirencester. We had lunch at a small village called Brokenborough.
After lunch we went through Malmesbury, a market town with Malmesbury Abbey noted for scholarship in the Middle Ages, when Alfred the Great used it as a fort. We then arrived at the small village of Beanacre in Wiltshire, where we stayed for the night at Beechfield House. Beachfield House was a charming mansion turned into a hotel with luxuriant greens around.
In the evening we drove to Bath where I first had some chi kung courses many years ago. I was surprised to find Bath a big magnificent city, with its amazing cathedral and Bath Abbey. The ancient square, with modern shops now, was majestic even when it was built many centuries ago.
The Cotswolds trip with Barry and Tim was lovely.
Wong Kiew Kit
18th June 2016
Lisbon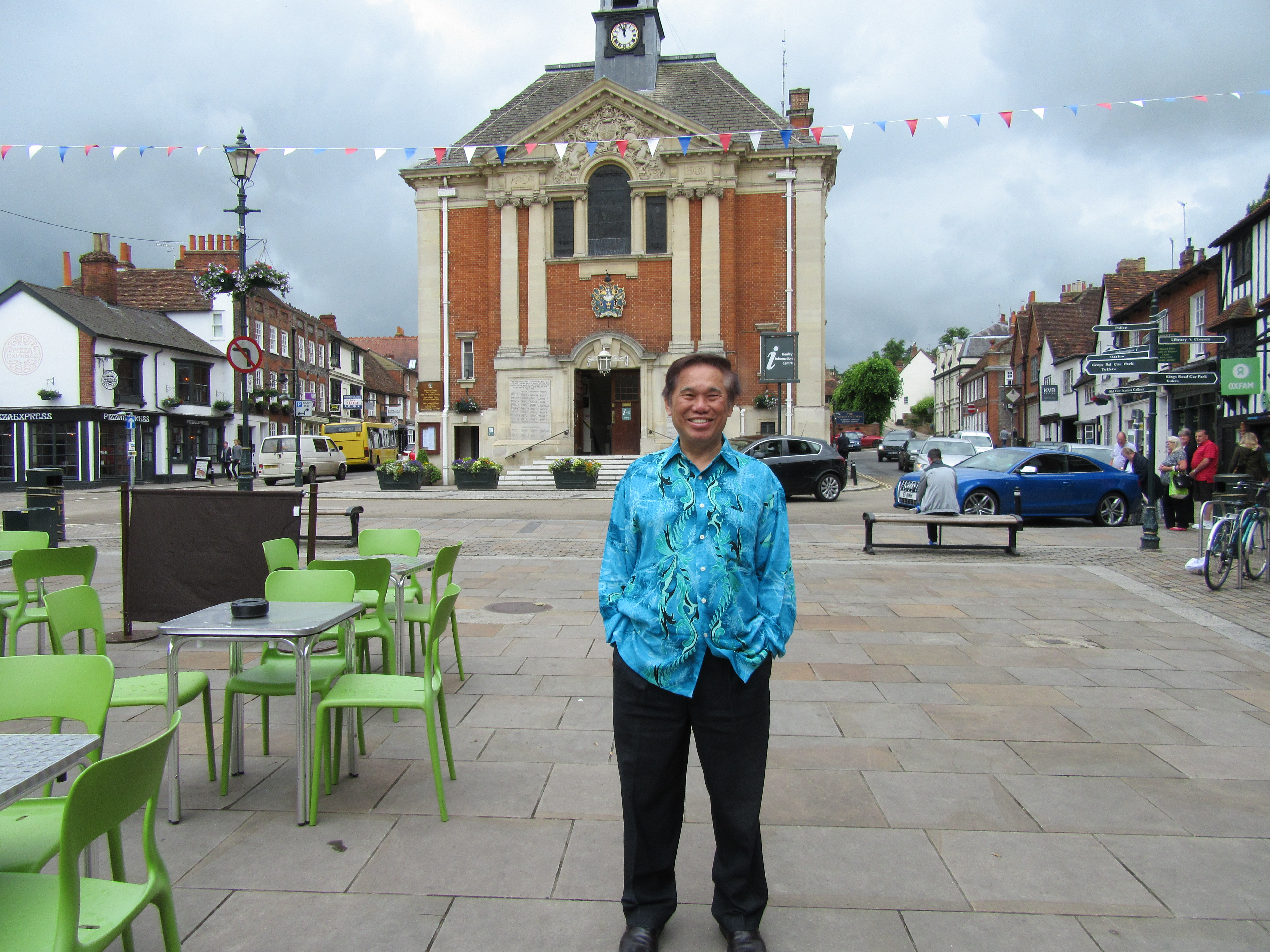 In Henley on Thames
LINKS
Travels in UK
Video Shows in UK
Courses and Classes
---
---