RETURN TO DUNGUN AFTER 50 YEARS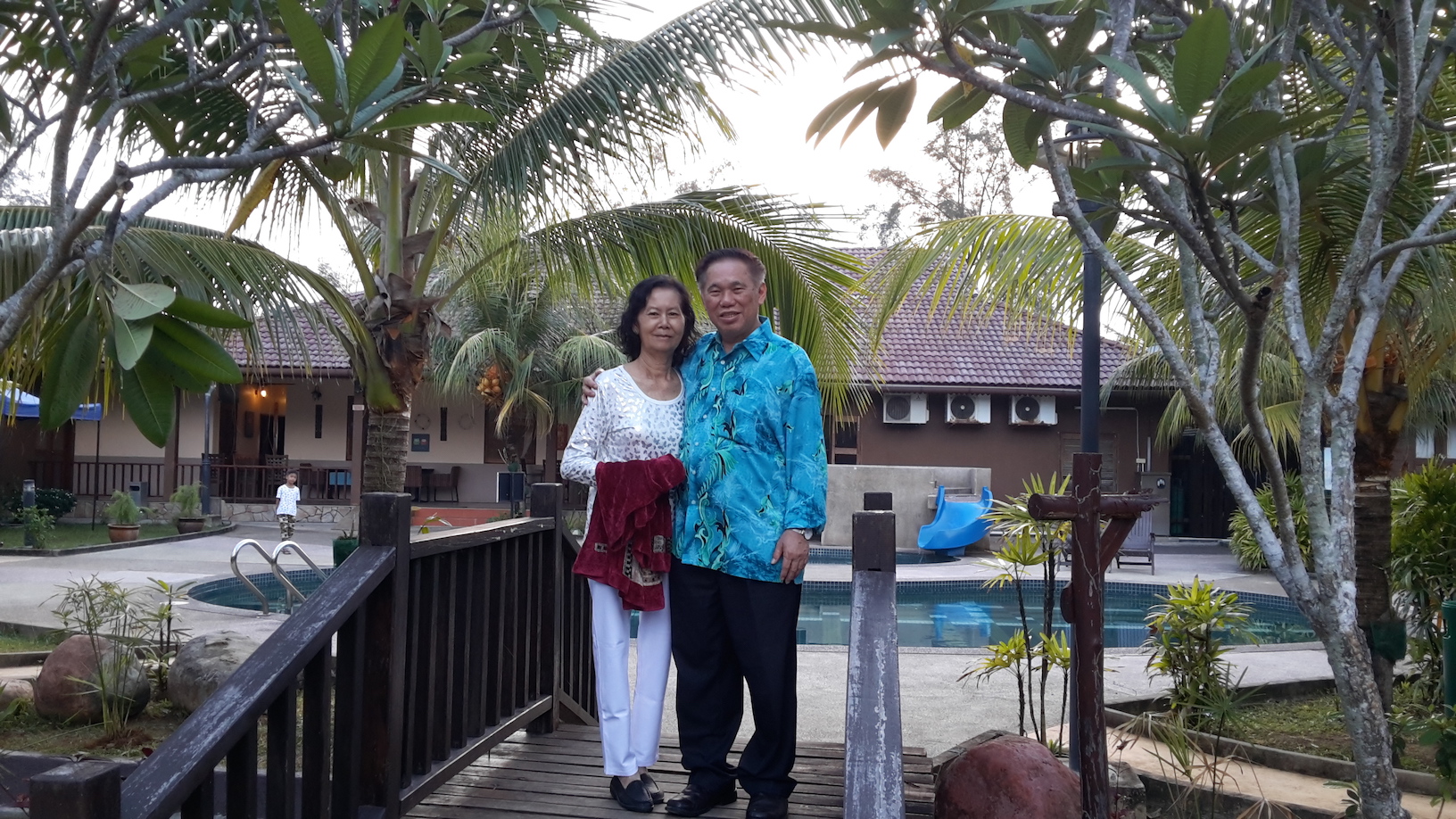 Grandmaster Wong and his wife in an exquisite hotel they stayed in Dungun
---
I first went to Dungun by the South China Sea where I first taught as a school teacher in Dungun English Secondary School in 1967. I left Penang, my hometown, in the morning to Kuala Lumpur, the federal capital then, spent a night there and took a taxi to Dungun the next day, a journey of about 700 kilometers.
I remember that when I reached Temoloh bridge over the Pahang River, which was about half way between Kuala Lumpur and Dungun, the bridge had been swept away by the turbulent river. The passengers of the taxi had to leave the taxi they were traveling in on one side of the river, crossed the river in a hazardous boat, and continued the journey in another taxi on the other river bank.
It was quite late in the evening when I reached Dungun, or Sura Gate, where the school is situated and which was a small urban centre on the Kuantan-Kuala Trengannu junction leading to Dungun about 2 kilometers away at the coast. With a few newly arrived teachers, I was temporarily housed in the headmaster's quarters, as the new headmaster had not arrived. At night I could hear big waves of the South China Sea roaring in. It was the beginning of the year in January, the time of the Northeast Monsoon where the East Coast of Peninsula Malaya was showered with continuous rain for days.
I was concerned that I might over-sleep but my concern was avoided as I could hear happy children chatting nosily besides my close window as they attended the first day of school.
I had a memorable time teaching in Dungun English Secondary School for 6 years. Some of the memorable events were producing a school play, leading a busload of school children to the West Coast including cities like Kuala Lumpur, Malacca and Penang, and teaching table tennis to the school team, the under-15 team and the girls' team, which became champions in the state. Of course I also learned kungfu in the exclusive school of Sifu Chee Kim Thong, known as the living treasure of the People's Republic of China.
I had an opportunity to visit Dungun again this year in 2017, after 50 years, when students of the school organized a reunion. This time I took the East-West Highway, from Sungai Petani where I now live to Dungun, a mountainous journey of about 500 kilometers. Chun Yian, my youngest son, drove me in his car, accompanied by his wife and my wife. The previous time I visited Dungun a few years ago also for a school reunion was by the East-West Highway too. The East-West Highway was not built in 1967 when I first went to Dungun.
The East-West Highway now is quite different from that a few years ago. Although it is called the East-West Highway, it is actually not a highway as most people conceptualize it to be, with a divider in the middle all the way through, and at least two lanes of traffic on both sides. For much of its journey, it is a main road with only one lane of traffic on both sides.
A few years ago I had to pass through Baling, the third largest town in Kedah, a state in Malaysia. Not far from Baling, there was an impressive watch-tower where one could see the surrounding virgin jungle. But now the highway bye-passed Baling and the watch-tower.
A few years ago, as far as I can remember, just before reaching a junction to Grik, a large town in northern Perak, a state in Malaysia, the road was very wide. There was a road leading from the junction to Betong, a town in southern Thailand. I could remember this junction very well because the last time my wife and I had a delicious meal in a restaurant at the junction. But now this memorable scene disappeared.
Despite these missing scenes, the East-West Highway is majestic, full of impressive, jungle imagery. The bridge over Lake Temmengor to Belum Rainforest Resort was magnificent. We also stopped at Jeli town in the state of Kelantan to have a delicious late lunch. We also saw a beautiful mosque in Jeli. Soon after Jeli, we found a row of stalls selling toys.
About 25 years ago when traveling along the East-West Highway was still a novelty, my wife and I stopped at one of the stalls to buy toys for our children. Now, on our return journey, we stopped at the stalls to buy toys for our grandchildren. We arrived at Dungun around 7.30 in the evening, and checked into an exquisite hotel overlooking the South China Sea. This hotel was of course not present 50 years ago.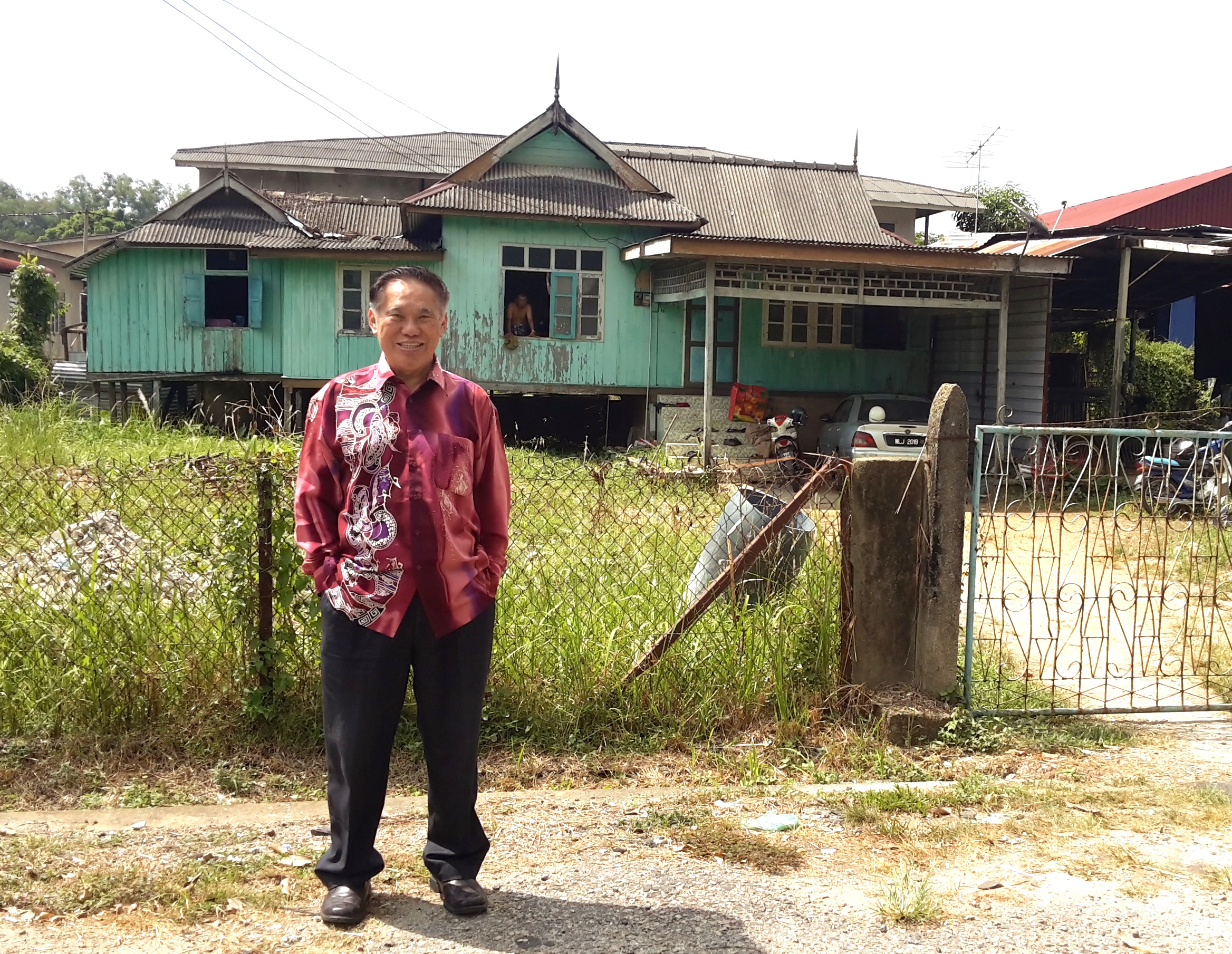 Grandmaster Wong in front of a decrepit house where 40 years ago he learned Shaolin Kungfu from Grandmaster Ho Fatt Nam
---
Dungun has changed beyond recognition. Sura Gate, the entrance to Dungun, is splendid, The railway line, which led to Bukit Besi where there was an iron mine, is no longer there, replaced by a spectacular road. The shop, which teachers used to call Bobby's where we used to have lunch and a lobster costed only 50 cents, was nowhere to be seen. The "Nine Continents Restaurant" where we sometimes had our meals, was also absent.
But "Lean Feng Yuan" which means "United Fragrant Garden" in Dungun town was still operating. My youngest son, Chun Yian, and his wife, myself and my wife, had a delicious meal there. The chef and owner of the restaurant, who was a pupil of the school half a century ago, was in the kitchen cooking. I went to the kitchen to meet him, and he could still recognize me. However, according to Chun Yian, he looked older than me.
The next morning, I attended the reunion of Dungun English Secondary School. It was great meeting many old pupils who could still remember me. Some of them mentioned that I had put on some weight.
In the afternoon Chun Yian drove me and our wives to Nibong, a small village outside Dungun where half a century ago I learned Wuzuquan at Sifu Chee Kim Thong's house. I also kept a lookout for the old cinema where every weekend I saw kungfu movies. But I found neither the house nor the cinema.
We then drove to Paka and Kerteh, now made prosperous by petroleum and which are about 10 kilometers and 17 kilometers south of Dungun. Paka, which means "Hundred Families" in Chinese, was a small village 50 years ago, but now it is full of splendid buildings. Kerteh is a petroleum town, with refineries on both side of a very wide road, and off-shore decks to drill petroleum in the sea.
The next morning we drove to Kuala Trengganu, about 80 kilometers north of Dungun, where my wife and I spent a few years of our newly married life. As we drove along Rantau Abang, about 10 kilometers from Dungun, I recalled that half a century ago two fellow teachers and I spent a night on the beach. In the middle of the night, we were awoken by a boy, whom we paid, to see a gigantic turtle, the size of a small car, coming ashore to lay eggs.
Kuala Trengganu is a beautiful city, with Islamic architecture. It is of course very different from what it was about 40 years ago. As we approached Kuala Trengganu, my wife and I looked out for the Malay house we used to live in, which was oppoiste the Royal Palace. The Royal Palace, of course, still glisters in the sun, but the Malay house was no longer there. We then went to another house we used to live in, which was part of an old palace. The other house was also no longer there, the whole area being built over by new houses.
We went to Pekan Cina, or China Town. "Mei Heong" or "Beautiful Fragrance", the restaurant where my wife and I used to give ourselves a treat to delicious meals once a while was no longer there, but "Chee Seng" or "Ambitious Success", a grocery shop where my wife did her weekly shopping on my motor-cycle, still ran its business.
I made a point to visit the Malay house where I learned Shaolin Kungfu from Sifu Ho Fatt Nam about 40 years ago. The road leading to the house had totally changed, but I persisted. Finally we found a small road leading to the house. The house was decrepit, but it was here 40 years ago that I had my kungfu "enlightenment".
We then took the East-West Highway home. It was a long drive, but memorable and enjoyable.
Grandmaster Wong Kiew Kit,
2nd May 2017,
Sungai Petani.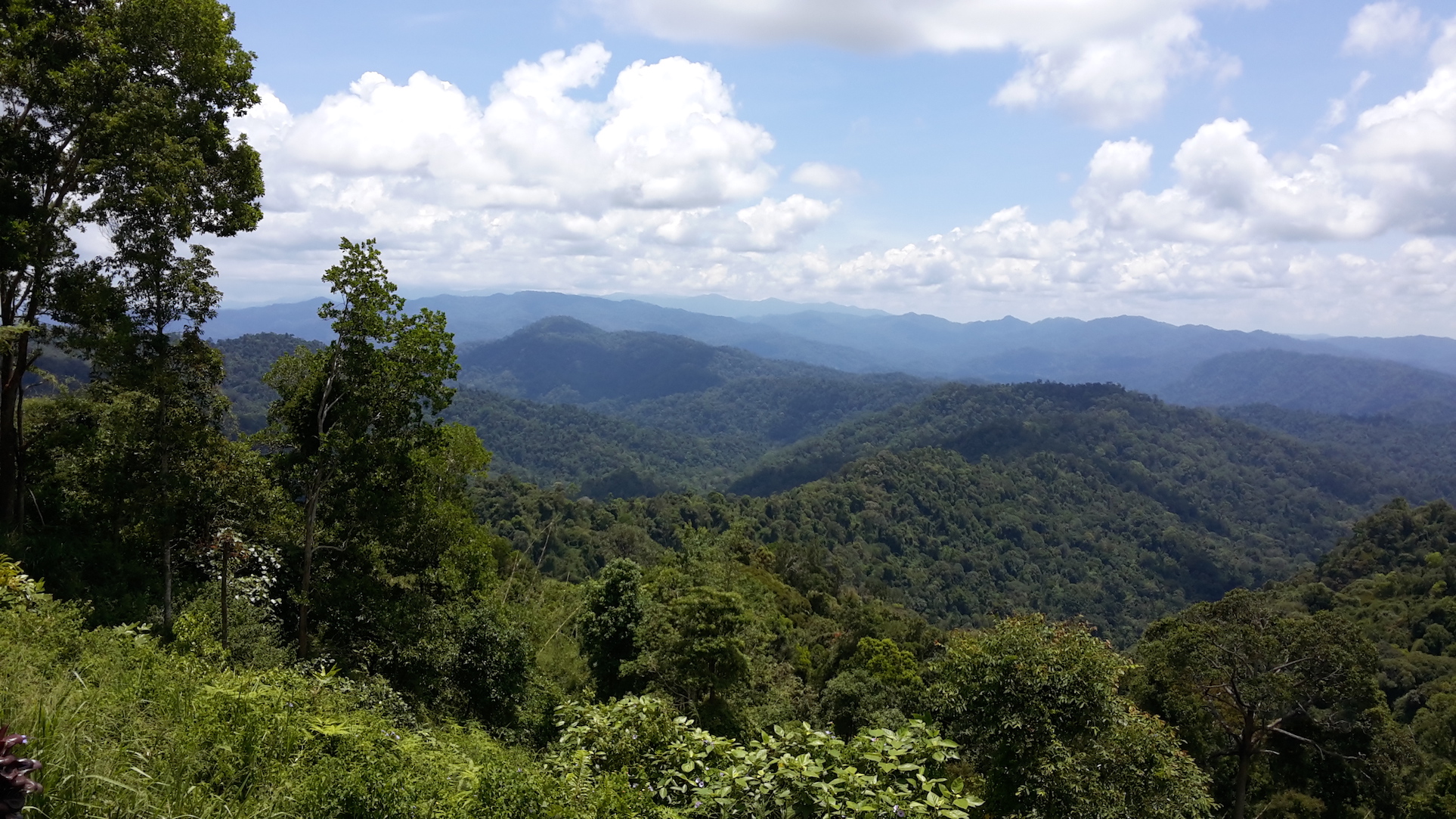 A scene along the East-West Highway
LINKS
Travels in Malaysia
Vido Show of Kuala Trengganu, National Park and Raub, 17 May 2019
Courses and Classes
---
---