SARI ATER -- INDONESIA 2017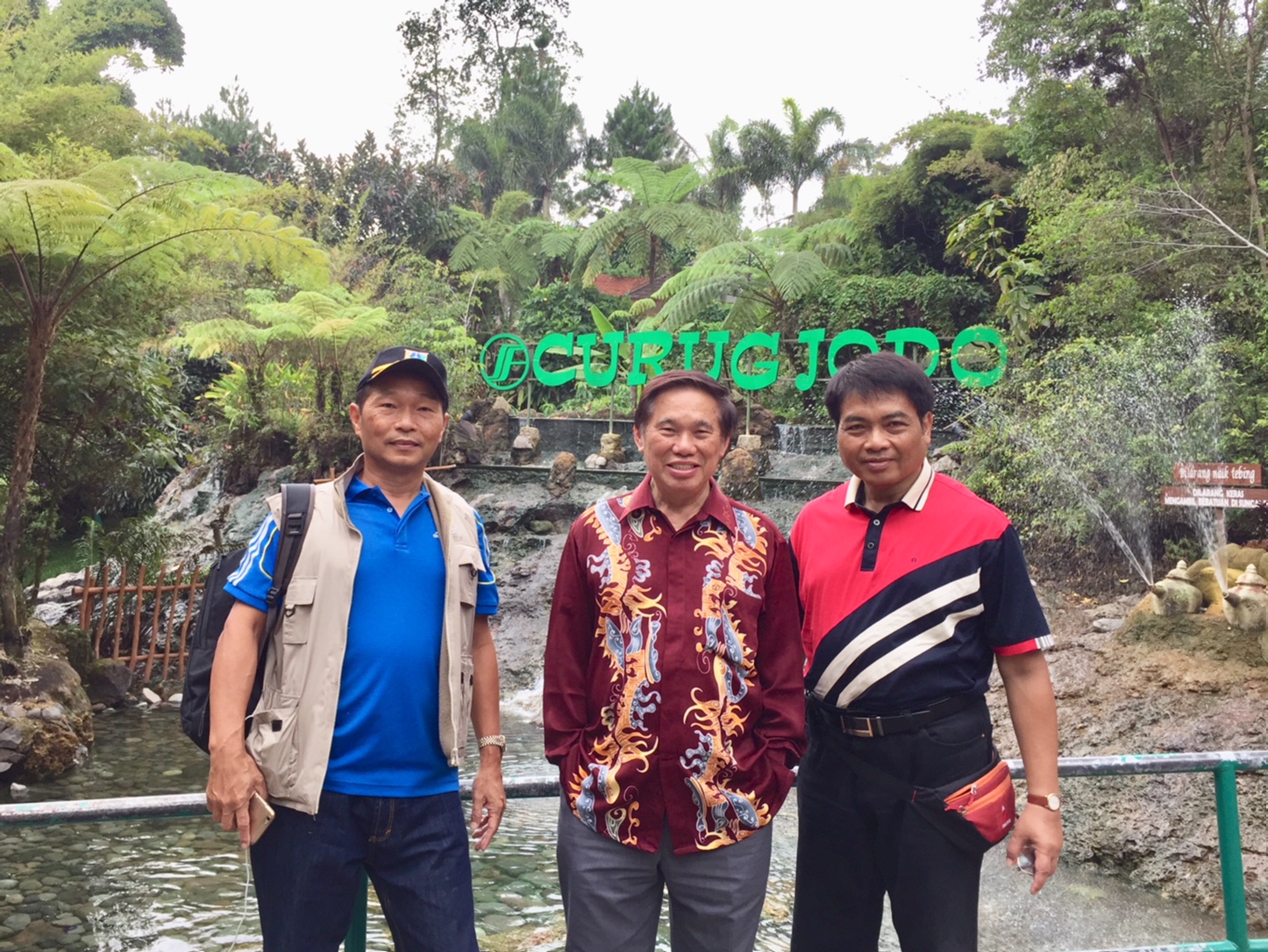 Hartono, Grandmaster Wong and Sifu Joko at Sari Ater
---
---
On 14th October 2017 Hartono took me and Joko for some sight-seeing. We started very early at 5.00 am so as to avoid the morning traffic. But still the traffic was quite heavy at this early hour, though Hartono said that according to Jakarta standard it was mild. But the roads were soon packed with cars and trucks.
We stopped at a rest station near Bandung at about 7.00 am for breakfast, but being used to the delicious food in Jakarta, we did not find the restaurants at the rest station appealing. So we drove on. Probably due to hunger we came to another rest station where there were hardly any restaurants, and where we hurriedly had something to fill our stomach. I had some warm hot chocolate and some bread.
Soon we reached "Saung Abah", which means "Honorable Father" in Indonesian. It was a tourist attraction, with ponds and a running stream with chalets on top. We had a delicious breakfast in one of the chalets. I particularly liked a fried fish, which was fresh and very tasty. Hartono told me that the food was of a local tribe.
Along the way there were many houses, reminding me of Japan where a person could hardly tell one city from another as the houses ran continuously. There were also many tea plantations on the way. Indonesia is famous for tea.
We then turned into a lovely Hot Spring Tourist Spot called Sari Ater, which is also called Ciater as the water came from a crater. There were many hot springs and fountains. The Indonesian people believe that the water is good and has medication effect. Hartono and Joko dipped their feet into a hot spring while I enjoyed myself in the surrounding greenery.
"The water is very hot," Hartono exclaimed. Soon they came out of the hot spring and joined me to take some photographs for memory.
"Here is a nice spot for some photos," Hartono said. "Young couples like to take photos here, but it is not for us as we already have our beautiful wives."
Wong Kiew Kit
22nd October 2017
LINKS
Video Show in Indonesia
Travels in Indonesia
Courses and Classes
---
---