A LOVELY TRIP FROM DUBLIN TO KILLARNEY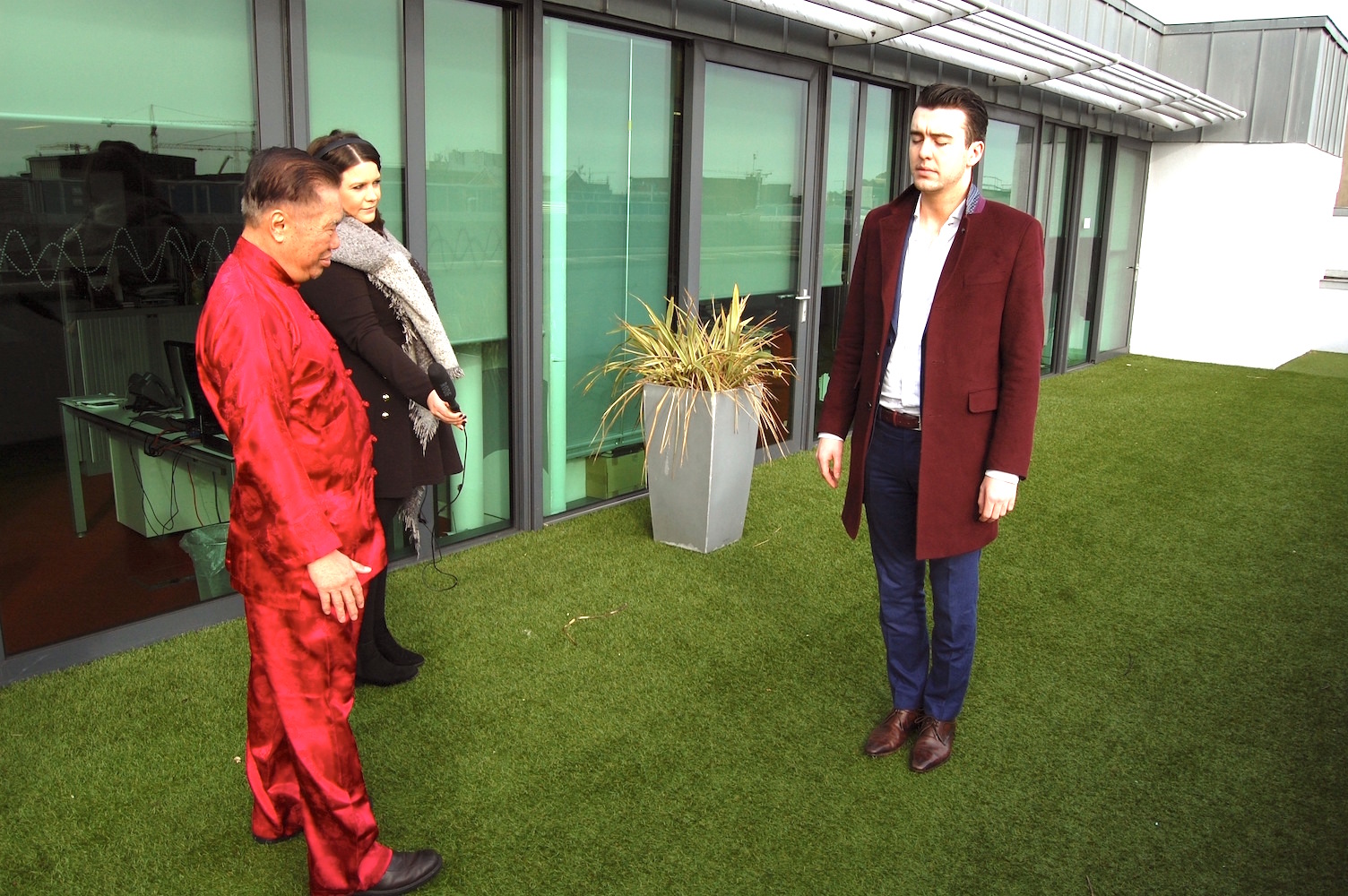 Grandmaster Wong showing Al Porter how to perform chi kung
---
I landed from Singapore at Dublin on 24th February 2017. Joan (Sifu Joan Browne), John and Kevin (Sifu Kevin Barry) were at the airport to welcome me.
We went straight for lunch, and then to the University College of Dublin to give a talk on how "Zen Training can Make Business Enjoyable and Successful", organized by John and Professor Wholigen of the university.
The next morning I had an interview with Today FM Radio Station, the most prestigious radio station in Ireland broadcasting throughout the country. As we were early we had a quick tour of Dublin, seeing some millionaires' houses in a rich area, the long canal, and St Stephen's Green, which is a popular park in the city.
At the radio station, Al Proter, regarded as the most popular interviewer of Ireland, and his charming assistant, Alison, interviewed me in an open lawn with a lot of fresh air in the wintry morning. Just before the interview, I surprised Alison who kindly served as coffee, when I requested her to put five packets of sugar into my drink, when most Irish would not have any or at most one packet.
The interviewer, Al Porter, was a handsome young man. He asked me some very interesting questions, allowing me to explain what chi kung was and its benefits. I also explained the difference between chi kung, which is energy exercise, and gentle physical exercise using chi kung technique. The crucial difference was energy flow, which gave chi kung benefits.
The most astonishing moment was when I did a forward roll followed by a double jump as I explained that chi kung, besides giving good health and longeveity, also gives us vitality. He was more surprised when I told him I was over seventy.
After the talk we headed for Killarney in Kevin's car, but along some lovely country roads instead of driving along expressways. We drove along the Long Mile Road and was stuck in traffic. But we did not tear our hair or bang Kevin's car; I took the opportunity to tell the others some interesting stories, including the lesson I learned from my father when I was a little boy.
My father told me that God is very fair. I recalled a real occasion of seeing some dogs wallowing in snow in Finland above the Arctic Circle in winter, which I recorded in my autobiography, "The Way of the Master". God is fair. He gives dogs thick fur to wallow in the snow, and fair skin to women to wear beautiful dresses.
We passed some lovely countryside in the county of Willow, which is known as the "Garden of Ireland". We stopped at a petrol filling station in Blessington village, not to get some petrol as Kevin has his car with a full tank, but some drinks. Instead of bottled water, I took the opportunity to have an ice-cream. Actually a stick of ice-cream was not enough. I told the group that when I drove to Taiping, a beautiful town in Malaysia, to teach chi kung many years ago, I always -- repeat: always -- stopped at a petrol filling station to get two sticks of ice-cream to enjoy on the way.
Around lunch time Kevin suggested to have some delicious meals. We drove into and around the small towns of Baltinglass, Tullow and Ballon, but could not find a restaurant that would serve delicious food. So we drove to the city of Kilkenny when we had a really delicious meal in a big restaurant full of people.
Kilkenny is charming, with shops of classical architecture on the main road. It is a very popular tourist destination. We visited Kilkenny Castle, situated not far from the city centre. The castle had a very big lawn. Although it was built in 1195 to control the River Nore which flows through the city, to me the castle looked more like a luxurious mansion than a defence fort. There were even a chamber for a Chinese bed and a staircase of Moorish design in the castle.
We drove on. By the time we arrived at Cork, the second largest city in Ireland after Dublin, it was night time. John told me that Cork had the second deepest natural harbour in the world after San Francisco. He also said that in the past Cork was called "Venice of the North", but now many rivers had been covered up or diverted.
We saw Elysian Tower, the tallest building in Ireland. It was about 70 metres high. Then we drove along the main street, St Patrick's Street. Actually the street was a river before, but the river was covered up. St Patrick's Street was beautiful, full of colourful lights. There were also a lot of people walking on the pavements.
"This is life," I said. "When I was in San Francisco lately in last November, I was disappointed to see the streets quite deserted."
"It's Friday night, Sifu," Joan commented.
We had a delicious dinner in a Chinese restaurant. We were served fried prawn crackers before the meals.
"It's interesting," I said. "In Europe having prawn crackers before meals in Chinese restaurants is common. In America, you have small crackers with a piece of paper inside telling your fortune. You don't have such things in China, or in Malaysia."
After dinner we headed straight tor Killarney. As it was dark and I could not see much outside, I had a nap. By the time I opened my eyes, Kevin told me that we were already in Killarney.
"Aha, this is Brehon," I said as we drove into Brehon Hotel where I stayed for the duration of the courses. By the time I reached the counter desk, with John pulling along my big suitcase, Joan already had my room keys, or cards which are more correct. "They're very efficacious," Joan said.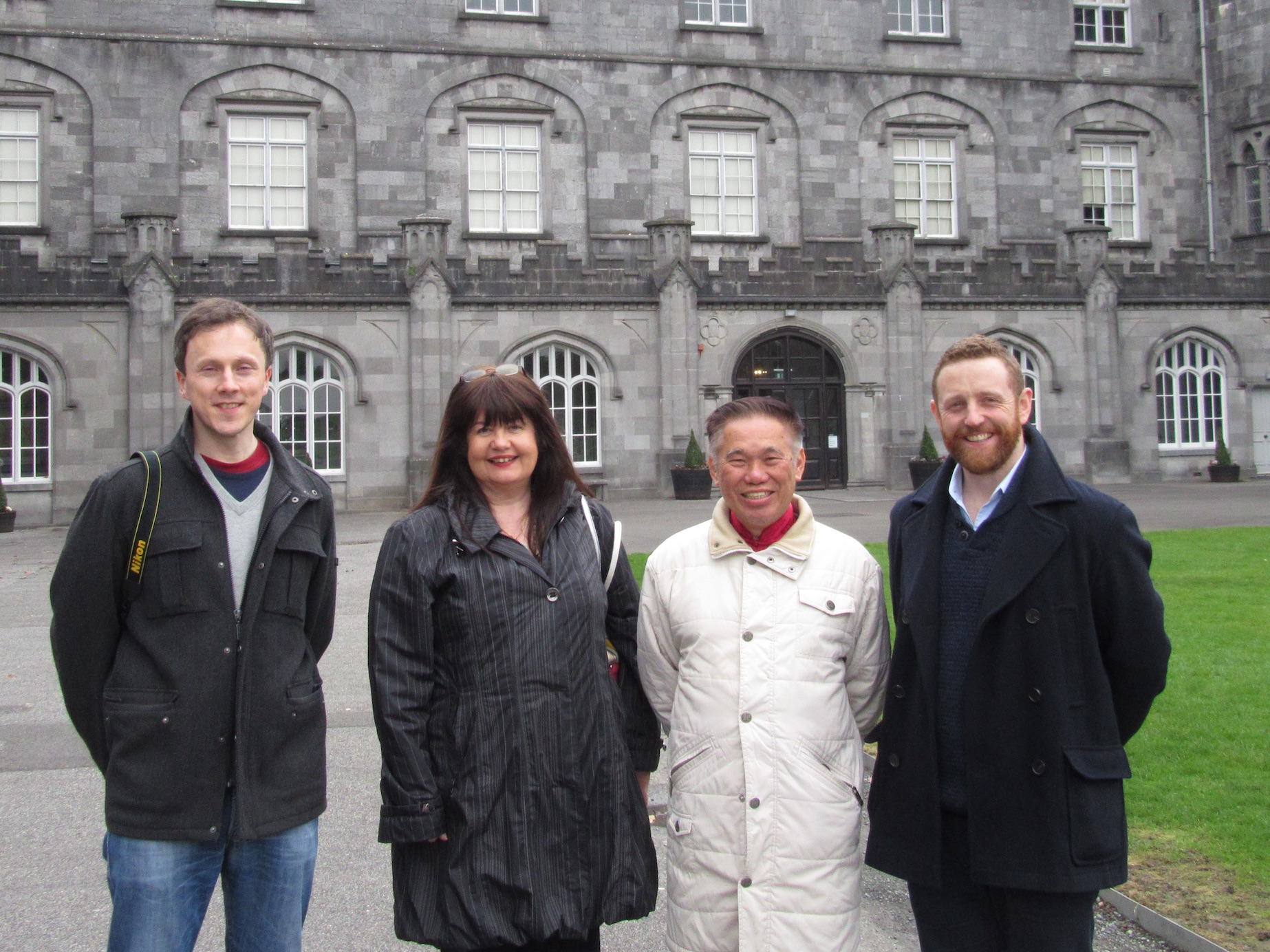 Sifu Kevin, Sifu Joan, Grandmaster Wong and John at the Kilkenny Castle
LINKS
Ireland Travels
Courses and Classes
---
---