THE FABULOUS KING'S ROAD TRIP 2016
OSLO FORT AND CITY SQUARE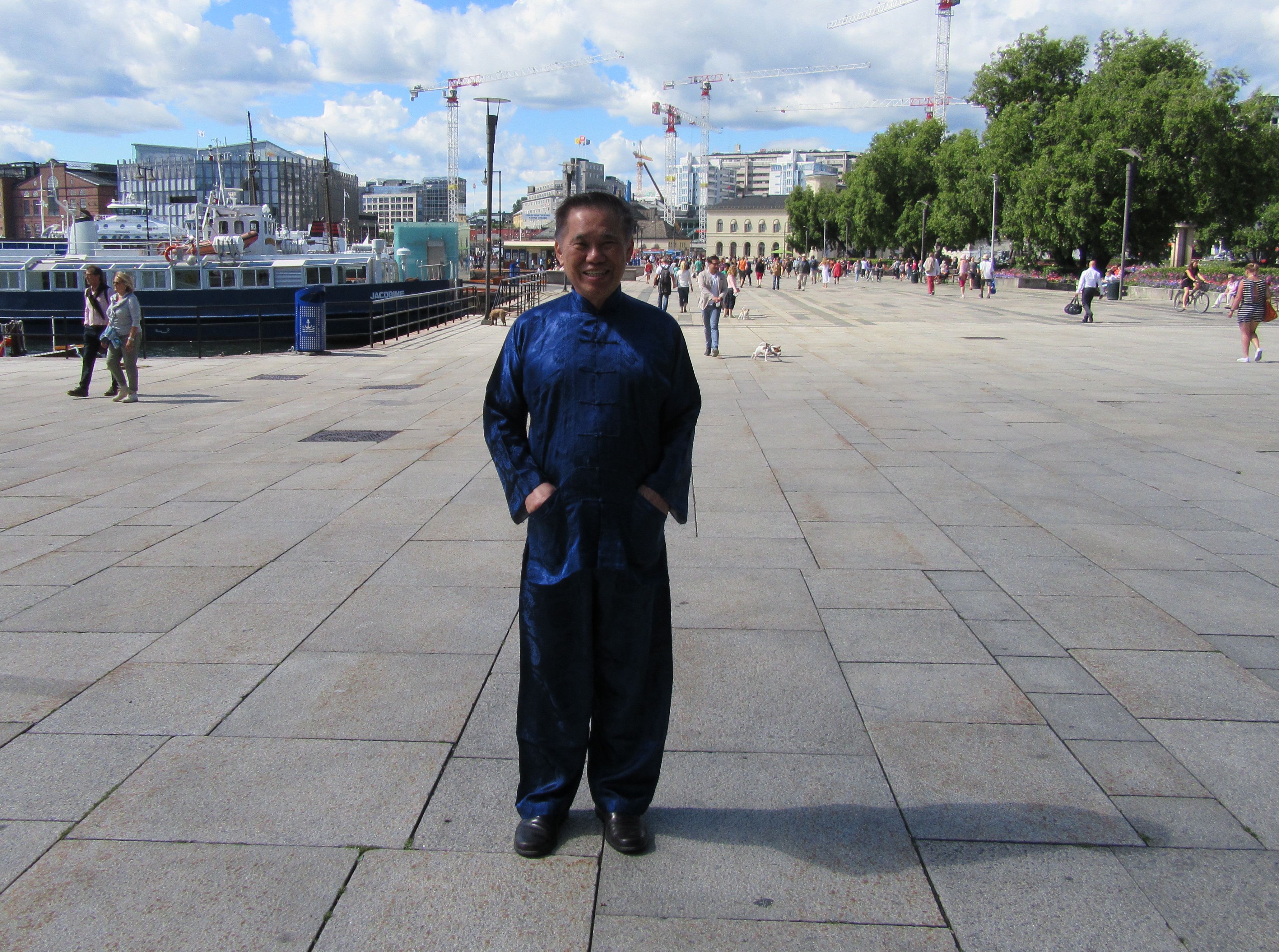 At the Oslo Fjord Front
---
---
After the morning course on 28th July 2016, Omar, Nessa and I went to Akershus Fortress, or Akershus Castle, at the Oslo Fjord. Nessa dropped us near the pier and she drove along to find a parking space. Omar and I admired a statue of Peter Tordenskiold overlooking a large square full of tourists. We went up a small hill to the fortress where we waited for Nessa who came soon, after parking the car near City Hall, exhibiting that our luck of finding a suitable parking space worked very well.
Akershus Fortress was a medieval castle for the kings after the capital was moved from Bergen in 1299. It was also built to protect Oslo. It had an odd appearance, with some pyramid-shaped structures at the centre. Omar explained that this was an effective way to deflect cannon balls shot at the castle. Nearby was the old Norwegian mint. Akershus Fortress is a national symbol for Norway and figures in many famous historical events and battles.
We had lunch at Festningen Restaurant, which was part of the large fortress complex. There were many tourists who took, what was to me, a long walk up the small hill to eat at the restaurant overlooking the Oslo Fjord. Not only the view was beautiful, the food was delicious.
Before the evening class we walked past the National Theatre, passing by the statues of Bjørnstjerne Bjørnson who wrote Norway's national anthem, Ludvig Holberg and Henrik Ibsen. They were all Norway's famous writers.
After the evening class, we went to Spikersuppa, which is a beautiful park in the centre of the city square where the main road passes through. "Spikersuppa" in the Norwegian language means "the nail shop". Nobody seems to know why this beautiful park has this strange name. Probably it was an old location for making iron nails.
This beautiful park is also called "Eidsvolls Plass". It reminds me of the beautiful square in Helsinki, where when I was in Finland, Markus took me to have sumptuous meals in a spacious restaurant with large window panes on one end, or to drink coffee at roadside cafes on both sides to see life passing by.
There was an elegant fountain in the centre of the Oslo city square. There were, of course, a lot of people enjoying themselves at the square, most of them I believe were tourists. There were also a lot of beautiful flowers. On one end of the city square was the medieval-looking Parliament building, and on the other end was the colonial-looking National Theatre.
Later we had dinner at the "Olympen", which was named after the Greek mountain Olympus. But the restaurant looked to me like a classical music hall with long chairs and red curtain. All the course participants were present. The food was delicious, and the company enchanting.
I had some opportunities to tell some interesting stories. When I had coffee and ice-cream for desert after a typical Norwegian pie, for example, I told all those present that I had to stay away from coffee for a few months because while I taught chi kung in a coffee plantation in Colombia organized by Piti, the expresso I had everyday by the courtesy of the plantation owner was so exquisite that all other coffee tasted bland. I also told them about the three rounds of large scopes of ice-cream I had at San Gimignano in Italy with Attlio while waiting for Pio at a village well.
Wong Kiew Kit
29th July 2016,
Oslo, Norway.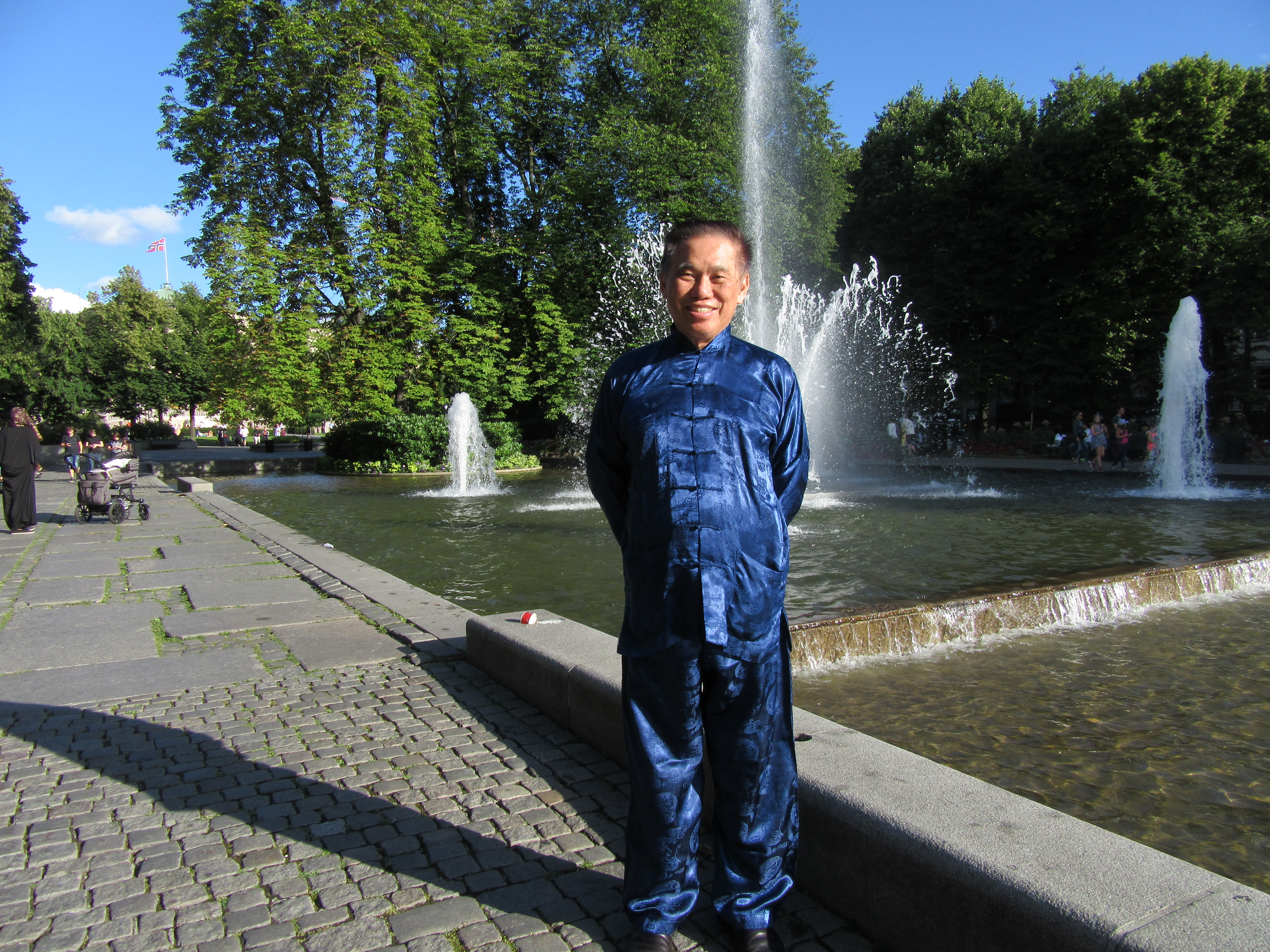 At the Oslo City Square
LINKS
Overview
Courses and Classes
---
---