THE FABULOUS KING'S ROAD TRIP 2016
THREE COUNTRIES IN ONE DAY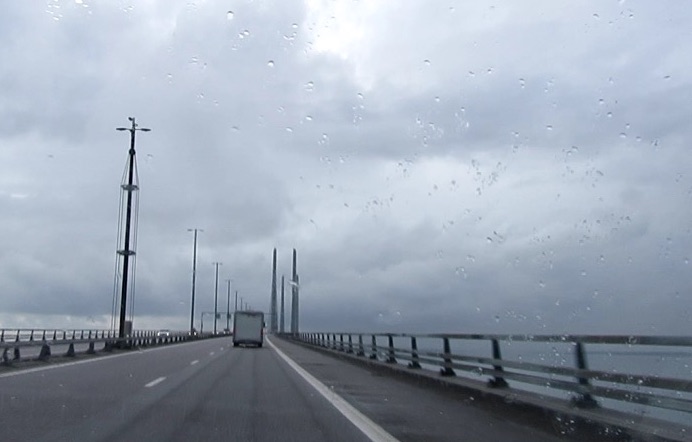 The bridge joining Sweden and Denmark
---
---
Being in three countries on the same day is nothing great if you are at a tripoint, i.e. a point where three countries meet. There are more than 100 such tripoints in the world. Many years ago I was at the tripoint of Germany, Belgium and Holland. Within a minute I could literally jump from one country to another.
Today, 30th July 2016, Markus and I were not at a tripoint, but passed through three countries. We had breakfast in Norway, lunch in Sweden and dinner in Denmark.
After breakfast we soon crossed the border and drove along the west coast of Sweden with beautiful islands, farms and seaside. The route took us through the southern land of Sweden called Götland, which was the home of the famous King Beowulf of the English national epic.
The scenery was quite similar to the earlier Norwegian coast, except without the iconic fjords further north. Nevertheless, Markus told me that when he and Nessa crossed the east-west border from Sweden to Norway a few days earlier, they could see noticeable differences.
At about 12.00 noon we arrived at Gothenburg, or Goteborg in Swedish, the second largest city in Sweden and home of the safe and comfortable Volvo cars. Gothenburg was a charming city with many tall, majestic buildings and large green parks. We had lunch in Haga, the old town of Gothenburg with picturesque walking streets and antique shops.
After lunch we drove around admiring the city. Cars of all sorts, not just Volvo, were not permitted to enter its main street where a lot of pedestrian enjoyed a pleasant summer. However, if you didn't like to walk along the main street, you could ride a tram.
We continued our journey along a highway. Surprisingly, there was a continuous flow of cars, especially in the other direction. There were also a lot of modern, gigantic windmills along the way. To me, these modern windmills were not as romantic as the classical ones in Holland, though the modern windmills produced a lot of power, and the romantic ones were for show.
At about 5.00 pm we came to a toll, the only one in our whole journey. We drove over Øresund Bridge, the road connecting Sweden and Denmark across the Øresund Strait. The bridge itself is 8 kilometers long, concluding with a 4-kilometer tunnel.
Previously, in my ignorance, I thought Copenhagen was situated at the northern tip of Denmark and wondered how a bridge could connect the wide spread of water separating Denmark and Sweden. Now I know that Copenhagen is on an island, and the strait between the two Scandinavian countries is not too wide.
We checked into our hotel, the delightful Phoenix. I quickly gave my credit card to the counter-clerk, but Markus was equally quick to snatch it away.
I have heard much about the mermaid in Copenhagen. Though she was made of metal and therefore could not sing us mermaids' songs, we took a taxi to see her. I was quite surprised to find her relatively tiny.
We went to an Indian restaurant to have dinner. I secretly passed my credit card to a waitress. The curry dishes of chicken and lamb were appetizing, and not too spicy even for Markus. I told Markus the adventure of Chun Nga and Eugene in New York trying spicy food, which ranged from mild to suicidal.
"How was the suicidal chili?" I later asked Eugene, knowing very well that Chun Nga would find the suicidal mild.
"It was not suicidal at all," Eugene replied with a tincture of disappointment, "It was plain mild!"
Then came the time to pay the bill -- in Copenhagen, not New York. I didn't know how Markus became a magician. He waved my credit card in his hand. The waitress handed him the bill to sign.
Wong Kiew Kit
30th July 2016,
Copenhagen, Denmark.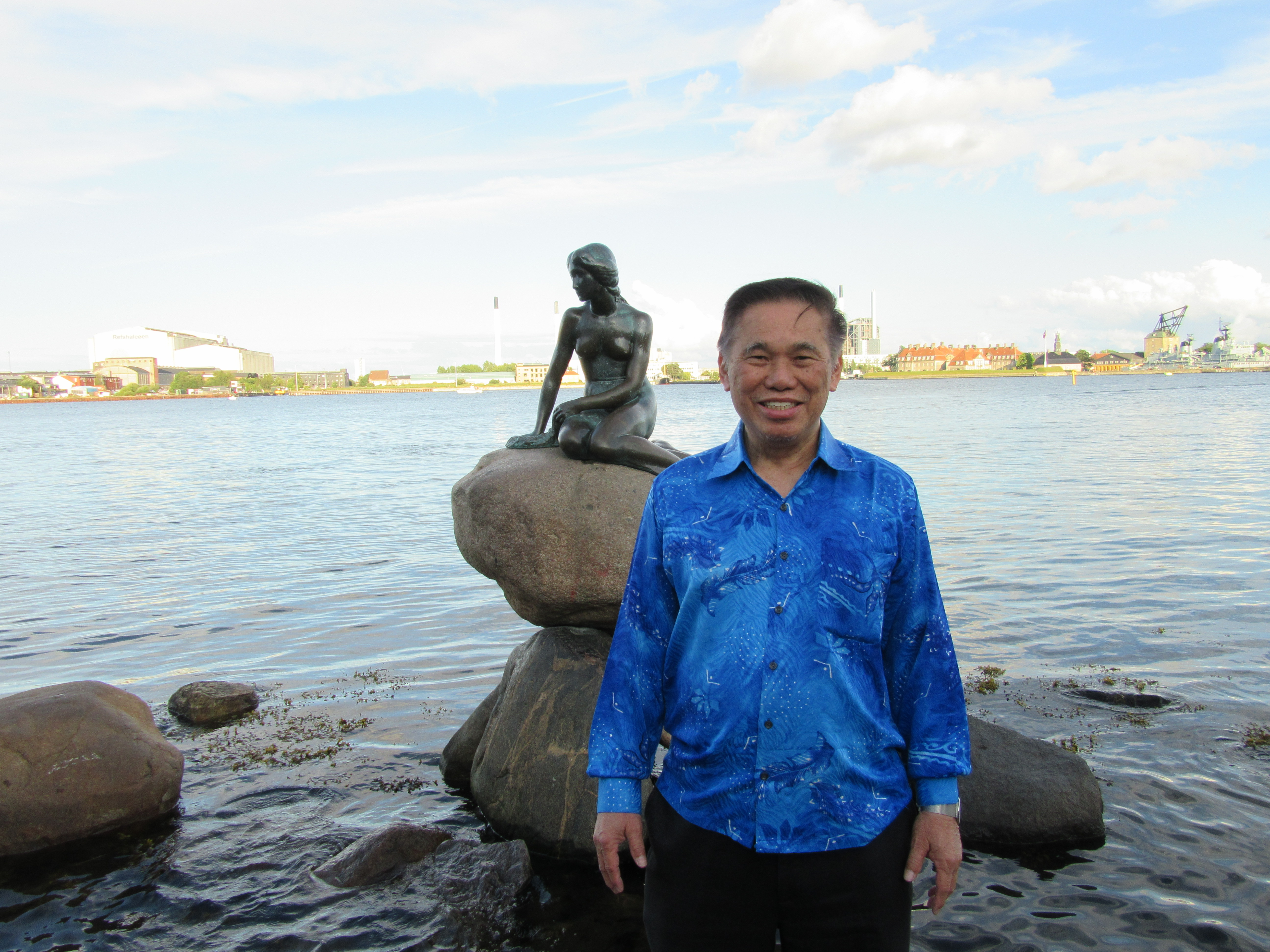 Grandmaster Wong and the famous mermaid in Copenhagen
LINKS
Overview
Courses and Classes
---
---