THE FABULOUS KING'S ROAD TRIP 2016
RETURNING TO HELSINKI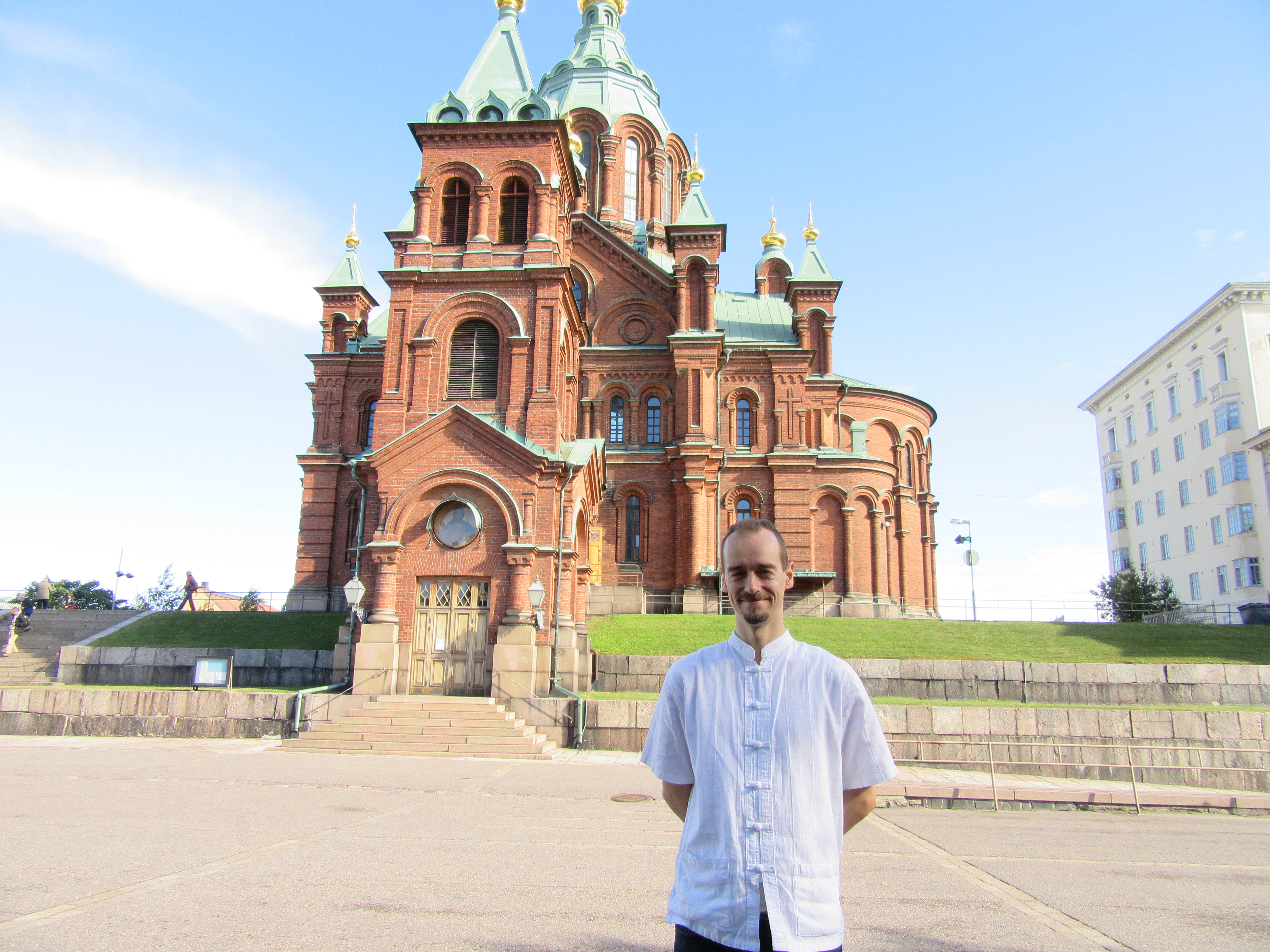 Sifu Markus Kahila in front of Uspenski Cathedral in Helsinki
---
---
The overnight boat trip from Stockholm to Helsinki was lovely. Markus and I had some interesting and beneficial talk about chi kung and kungfu on the comfortable ship while seeping hot chocolate. It was also one of the best and smoothest hot chocolate I ever had.
Helsinki is one hour ahead of Stockholm. In other words, when it is 11.00 pm in Helsinki, it is only 10.00 pm in Stockholm. I discovered the time difference just before I went to bed. My hand phone, which adjusted local time automatically, showed an hour ahead of my wrist watch.
At about 9.15 am, Finland time, on 2nd August 2016 we arrived at Helsinki at the southern harbour. After leaving the boat, Markus drove me to visit the beautiful Uspenski Cathedral, a Greek Catholic church built in Russian design dedicated to Virgin Mary. The church was filled with iconography and drawings of the Catholic faith.
I remember I saw the beautiful green dome of the church from my hotel when I came to Helsinki many years ago to teach the Iron Wire Set and the Taming-Tiger Set. I also saw an ice-breaker breaking the frozen sea for other ships to use. To rekindle memory, Markus drove me to the hotel.
We then drove to the city centre and main shopping areas. We passed the University of Helsinki, and arrived at Senate Square, a huge square in the city centre and landmark of Helsink where, Markus recalled, my wife and I took a beautiful picture there. In line with "Sifu's Parking", we were very lucky to find just one spot to park our car.
Up a flight of wide steps stood the Evangelical Lutheran Cathedral, or the Helsinki Cathedral, with its noble white building and emerald-colored dome. Its inside was simple but dignified, in contrast with the ornate decorations of the previous church. The cathedral has become an icon for Helsinki.
Down below the cathedral was a huge square with a monument of many human figures and colorful flowers. A road-side musician was playing a lovely tune with his violin.
Then we drove to a bay, the Elintarhanlahti Bay, where many years ago in winter I walked over the sea -- when it was deeply frozen. Markus pointed out the restaurant where after walking over the sea we had some hot food.
We also drove to the Eira disctrict where some of the wealthiest people in Helsinki lived. Then we went to the nearby southern coast of Helsinki and stopped at a cafe overlooking the sea. Remembering the tasty hot chocolate we had on the boat the previous night, we ordered two glasses of hot chocolate with ice-cream on top. Scandinavian hot chocolate must be special. It also turned out to be the best hot chocolate I ever had.
In front of us in the sea were some small piers with tables but no chairs. I thought the piers were specially provided by the cafe for customers to enjoy their drinks. But no. Markus told me the tables were for people to wash their carpets!
Around noon we went to the popular Helsinki square known as Esplanadi, where years ago Markus took me to some of the cafes on the sides to enjoy coffee. Again, we were lucky to have "sifu's parking". A car was just leaving its parking space as we arrived.
The Helsinki Square as I called it, was actually not a square. It was a long rectangular park with a lot of tourists as well as locals. At one end of the park was the Runeberg Statue. At the other end overlooking the Market Square was Havis Amanda, a fountain with a mermaid in the form of a nude woman rising from the water and four fish at her feet spouting water. There was a beautiful mermaid in Copenhagen, there was also a beautiful mermaid in Helsinki.
Markus and I had lunch at Restaurant Kappeli, or Chapel Restaurant, an exquisite restaurant in the park. We were cloistered in a corner with large glass windows and had reindeer steak.
Wong Kiew Kit
2nd August 2016,
Stockholm, Sweden.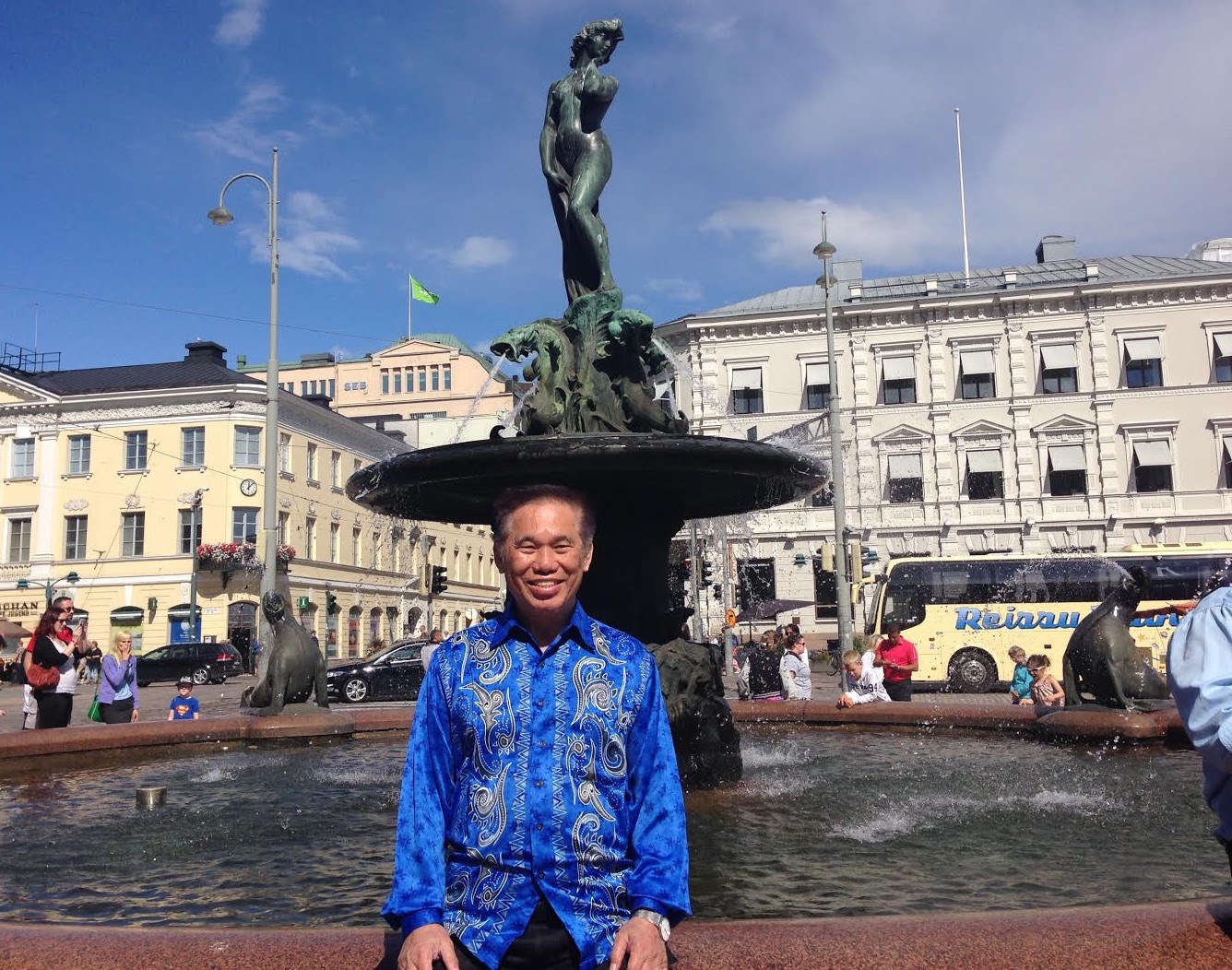 Grandmaster Wong at the Mermaid Fountain in Helsinki
LINKS
Overview
Courses and Classes
---
---