THE FABULOUS KING'S ROAD TRIP 2016
SEA CRUISE AROUND HELSINKI SEA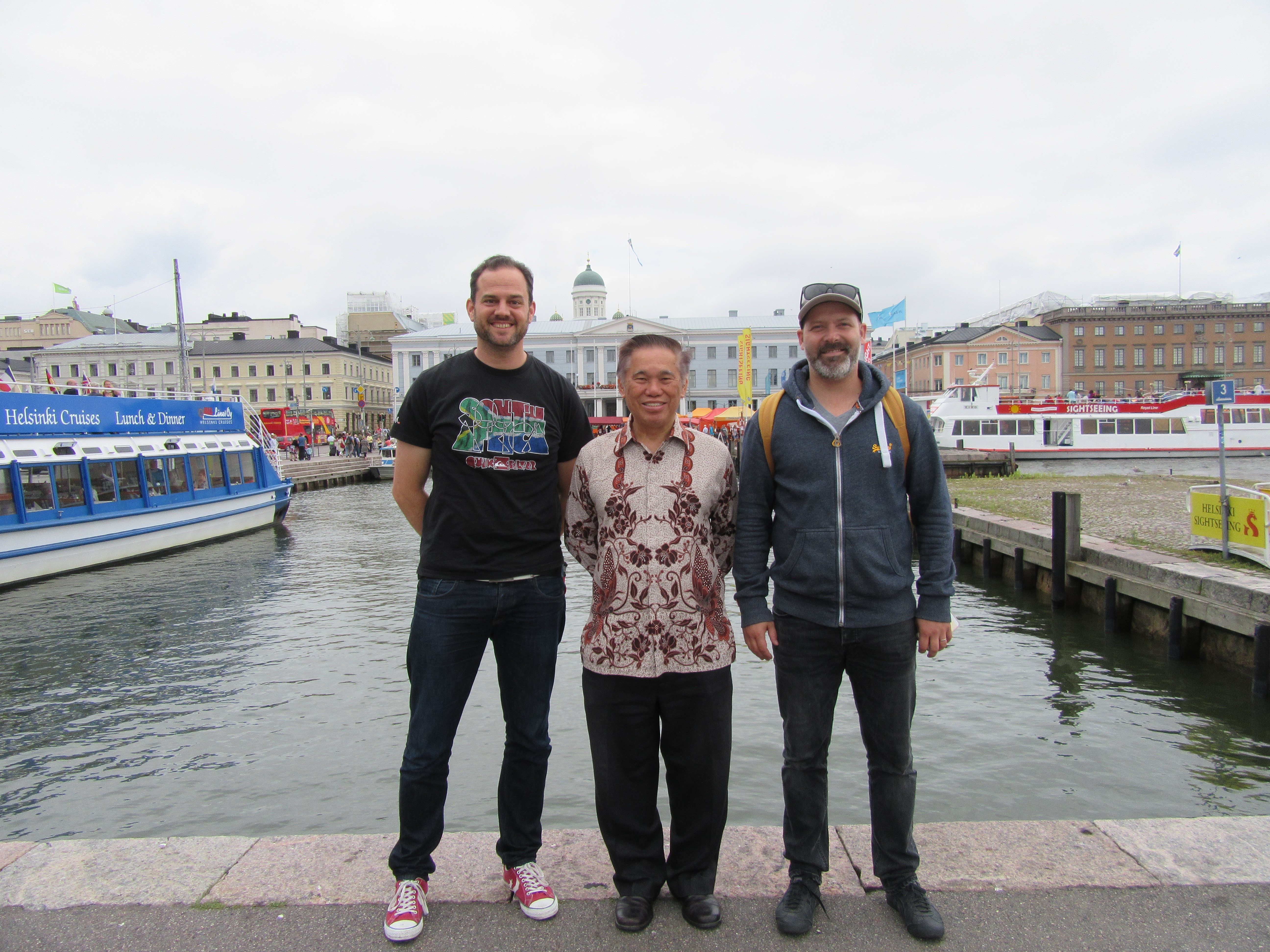 Ylves, Sifu Roland and Grandmaster Wong at the Helsinki Harbour
---
---
From 3rd to 5th August 2016 we had Selection of 72 Shaolin Arts in the morning, and Shaolin Lohan Kungfu in the afternoon. On 6th August we had Fundamentals of Chi Kung, and on 7th August Essence of Chi Kung. Everyone enjoyed and benefited from the courses very much.
On the morning of 8th August 2016, Markus, Roland, Yves and I headed out of Helsinki via the Kuusisaari-Lehtisaari way, which was a picturesque garden road linking some nice islands to Helsinki and the surrounding areas by bridges. We continued past the garden city of Tapiola and on to Haukilahti and Westend, which were coastal residential areas mainly for the wealthy at the outskirts of Helsinki. Roland then took Yves to the Helsinki Airport for him to take a plane back to Geneva.
Markus then took me on a boat trip cruising the sea around Helsinki. Markus reminded me that at the previous cruise in 2006, there was a thick fog making it impossible to see farther than 10 feet, let alone to appreciate the views.
We had a delicious lunch on the boat. After lunch we went up to the upper deck of the boat to enjoy an expansive sea view. This time the weather was fine, which allowed us to enjoy the eastern archipelago of Helsinki, including the Suomenlinna maritime fort, the islands connected to the mainland often only by ferry traffic, and the mansions and saunas built everywhere along the edge of water
We passed an overhead bridge as the boat ventured out to the open sea. I thought the bridge, with cars waiting on both ends, would open in the middle to let our boat pass through. But instead it swung to one side. It was an interesting experience.
After the cruise we went through the indoor market at the harbour. I believed the indoor market was necessary in the very cold Helsinki winter. A great variety of produces, including fresh meat and cheese, were sold at the market. It was very crowded.
In the evening, Markus' parents, Kaijo and Irma, invited me for dinner at their house. There was a beautiful garden around it. I recalled many years ago Simu and I were also invited to their house for lunch, and while we admired the garden outside it was freezing cold.
I reviewed with Kaijo the chi kung he had learned from me earlier. I am glad he is healthy and agile. I am also glad that I found Irma, who also learned chi kung from me, radiant with health and looked much younger than when I first saw her many years ago.
Wong Kiew Kit
10th August 2016,
Helsinki, Finland.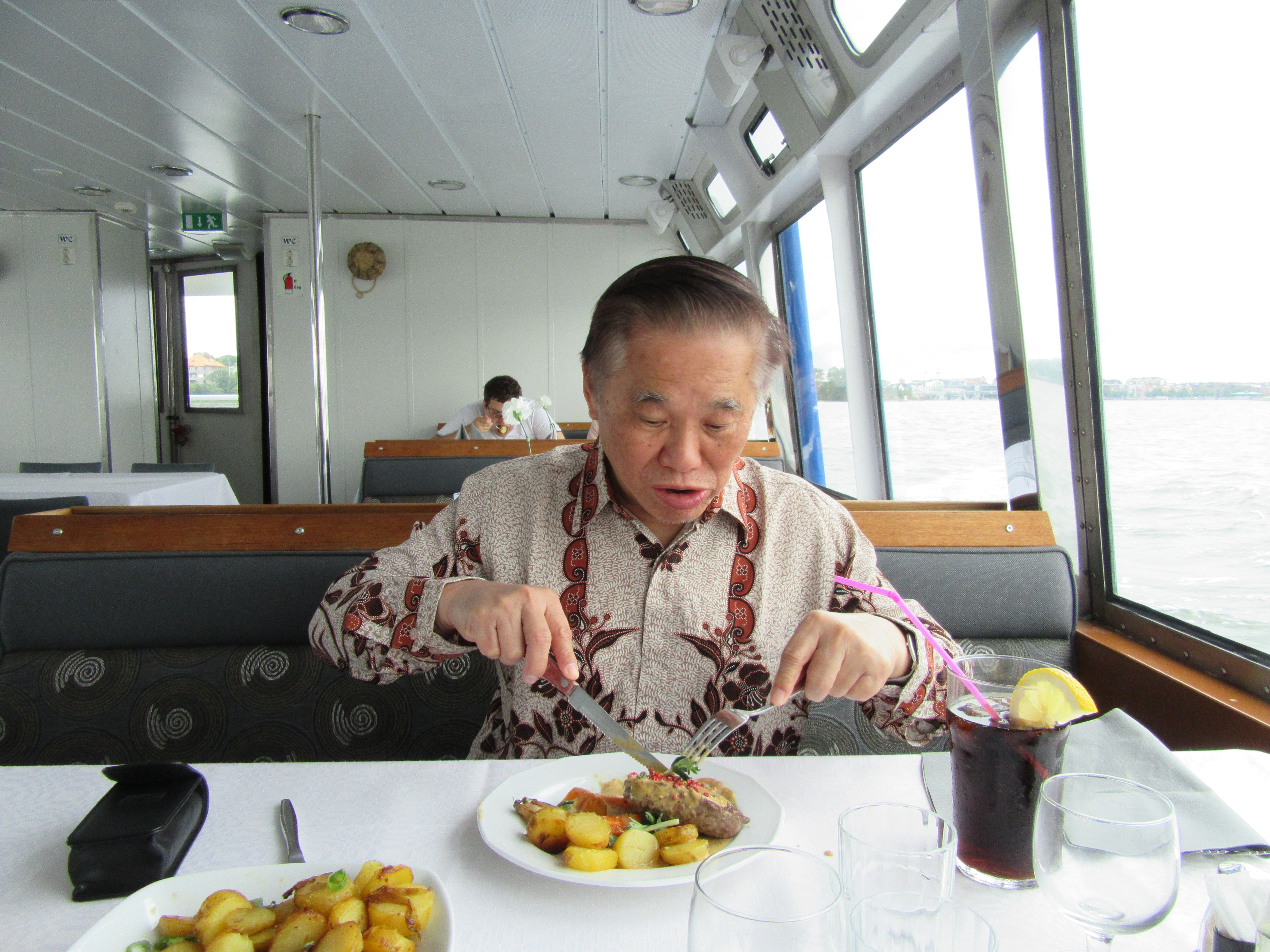 Grandmaster Wong enjoying lunch on board a boat
LINKS
Overview
Courses and Classes
---
---