THE FABULOUS KING'S ROAD TRIP 2016
FROM HELSINKI TO TALLINN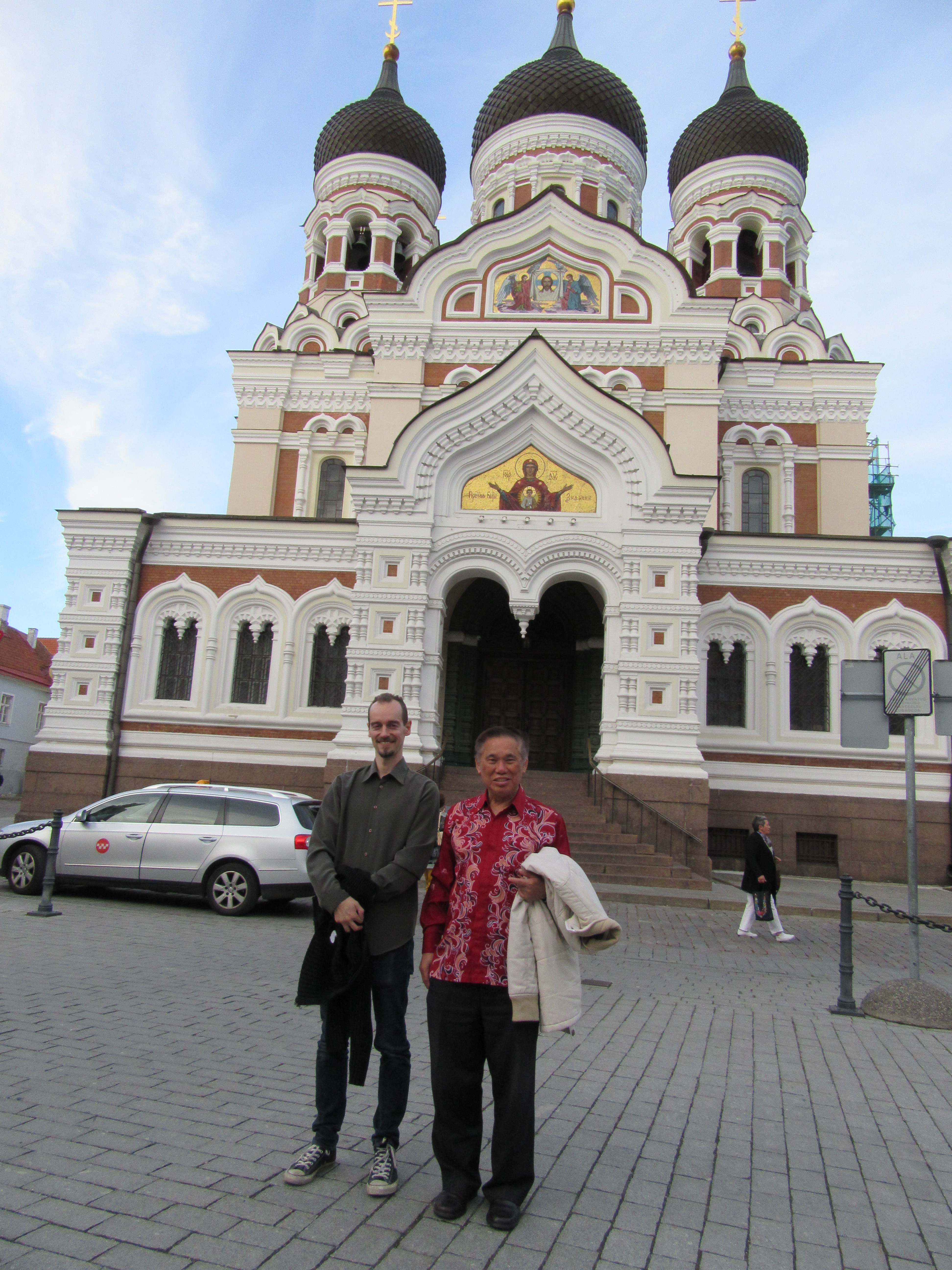 Sifu Markus Kahila and Grandmaster Wong in front of Russian Orthodox Cathedral
---
---
On the morning of 9th August 2016 Roland and I had breakfast in a restaurant on the west coast of Helsinki. The restaurant was unique. It was covered with wood, and from afar it looked like a huge piece of rock. The Gulf of Helsinki came right to the edge of the restaurant. After breakfast, Roland took me to a tour of both the western side and the eastern side of Helsinki.
At about noon, Roland, Markus and me had lunch at the oldest Italian restaurant in Helsinki which served some excellent mutton. The restaurant was founded about 40 years ago by a former ship chef who had sailed the Mediterranean Sea and learned to prepare Italian food.
After lunch Markus and I drove to a beautiful coastal site bordering Helsinki and stopped by a walking bridge crossing the bay and offering a nice vista to the surrounding seaside of Helsinki. The view was picturesque. Markus told me that he and his wife, Nessa, often came here to walk along the bridge and admire the scenery.
Nearby was a workshop and house of one of Finland's most famous painters, Akseli Gallen-Kallela, who lived in the early 20th century. We had hot chocolate and ice cream at a cafe in the exquisite compound. I recalled that a few years ago in winter the place was all covered with snow, and I had some memorable pictures taken there.
At 3 pm we boarded a ferry from Helsinki to Tallinn. The ride was only just over two hours, but there was high winds on that day and the front of the boat was breaking strong waves which made the ride bumpy. It was quite unforgettable.
We arrived safely at lovely Tallinn, and made our way to our hotel in the old city. Soon, we drove around Tallinn center in a taxi, seeing sights such as the Toompea Castle which was the house of Estonia's parliament, the 19th century Russian orthodox Alexander Nevsky Cathedral, as well as a very nice high balcony offering a sweeping view to the entire city of Tallinn.
Then we had dinner at a famous restaurant, Olde Hansa. According to our taxi driver, it was impossible to have a place to eat at the restaurant, but Markus had the foresight to make a reservation even before we arrived at Tallinn. A special feature of the restaurant was that there were no electric lights at all. It was all lit by candles, numerous of them, just like in medieval times. The waiters and waitresses too wore medieval dresses, and the food was of course medieval. The rose pudding was specially exquisite.
Wong Kiew Kit
10th August 2016,
Helsinki, Finland.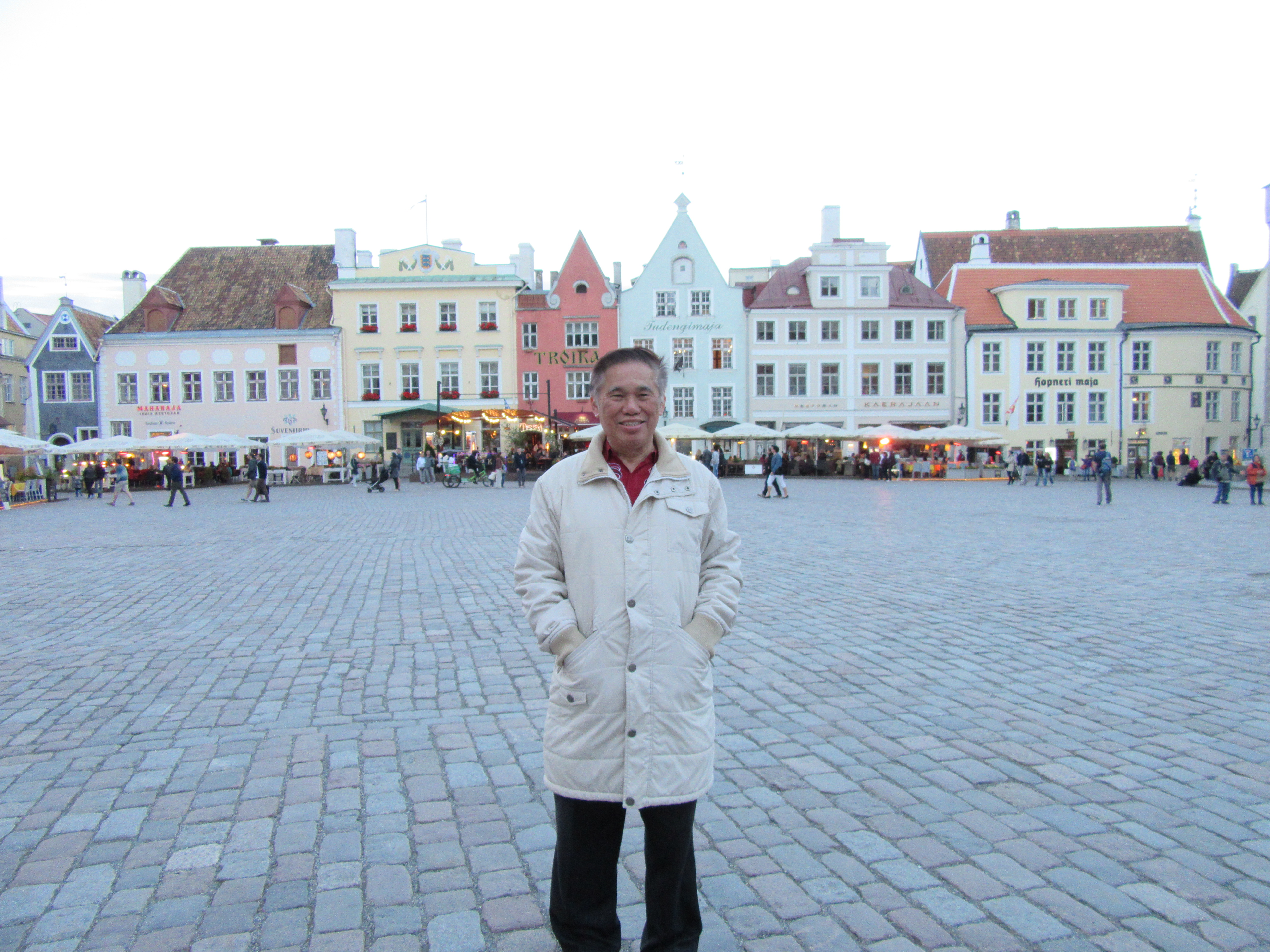 Grandmaster Wong in the town square of old Tallinn
LINKS
Overview
Courses and Classes
---
---