VISITING I-CITY AND THE HISTORICAL CITY OF MALACCA JUNE 2017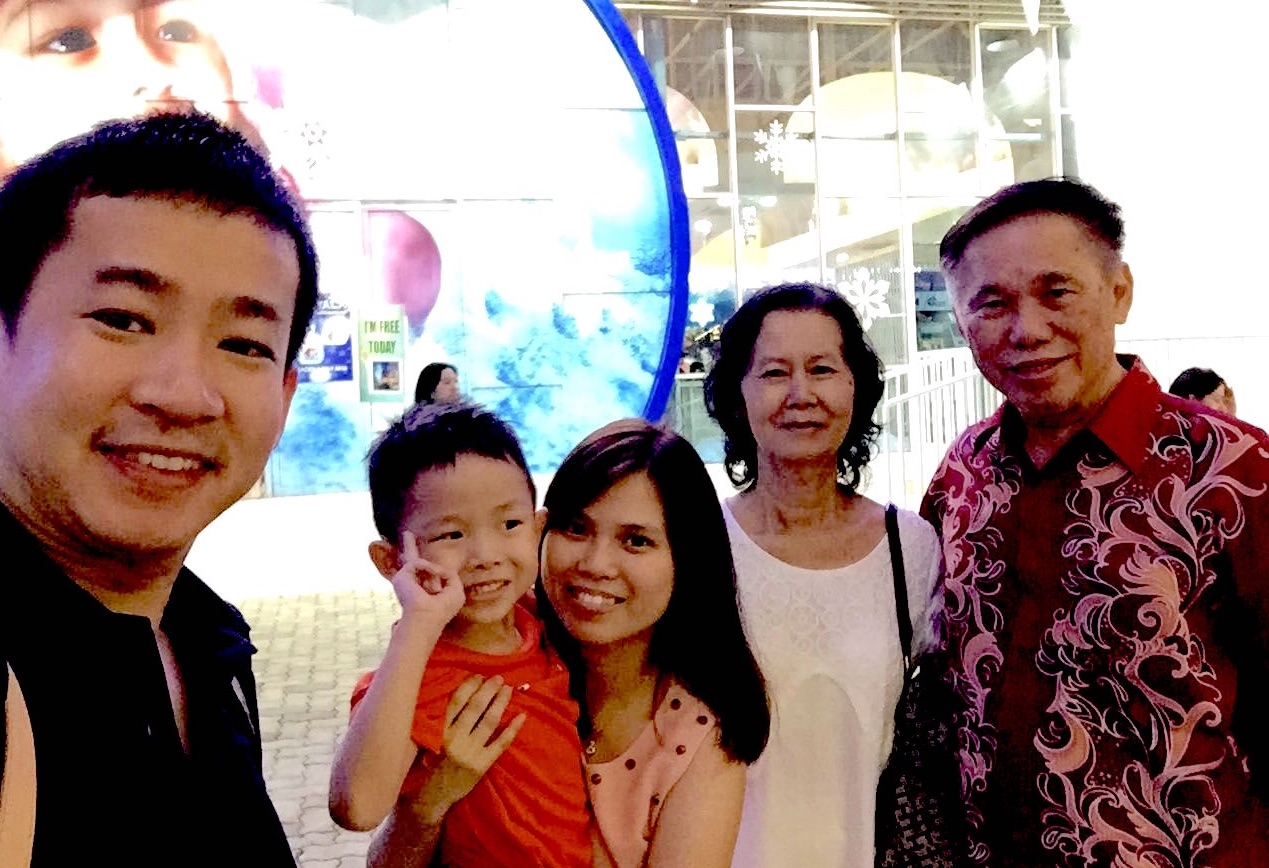 Nyet Choon, Rowan, Siew Foong, my wife and me at I-City
---
---
During the Hari Raya Aidilfitri, which were from 24th to 27th June 2017, my wife, myself, my youngest daughter, Siew Foong, my grandson, Rowan, and Nyet Choon visited the historical city of Malacca in Malaysia. On the way we stopped at Shah Alam to visit the I-City by night.
We started the journey early in the morning at about 7 o'clock. As it was a public holiday for Hari Raya (which means Festival Day in English), we expected the roads to be packed. Luckily in the early part of the journey the traffic was tolerable, but the traffic became quite packed towards noon. On the other side of the highway from Kuala Lumpur, however, the traffic was jammed with cars hardly moving.
We stopped at Ipoh, which was between Penang in the north and Kuala Lumpur in the middle of Peninsula Malaysia, for breakfast at about 9 a.m. The restaurant, which was in classical Chinese architecture, was packed with people, and there was a long queue waiting to order food.
We arrived at Shah Alam, the capital of Selangor, which is a state in Malaysia, at about 2 o'clock. After having lunch, checking into our hotel and a quick dinner, we visited I-City, a 73-arce theme park with colorful display of digital lights. It was a picturesque forest of artificial maple and pine trees, and plastic peacocks, flamingos and giraffes.
I-City is a fairytale wonderland for children. There was even snow in equatorial Malaysia at the Snowalk in I-City. There were a gigantic Ferris wheel, a two-tier carousel, a super swing, bumper cars, a happy train, funfair games, souvenir shops and many restaurants.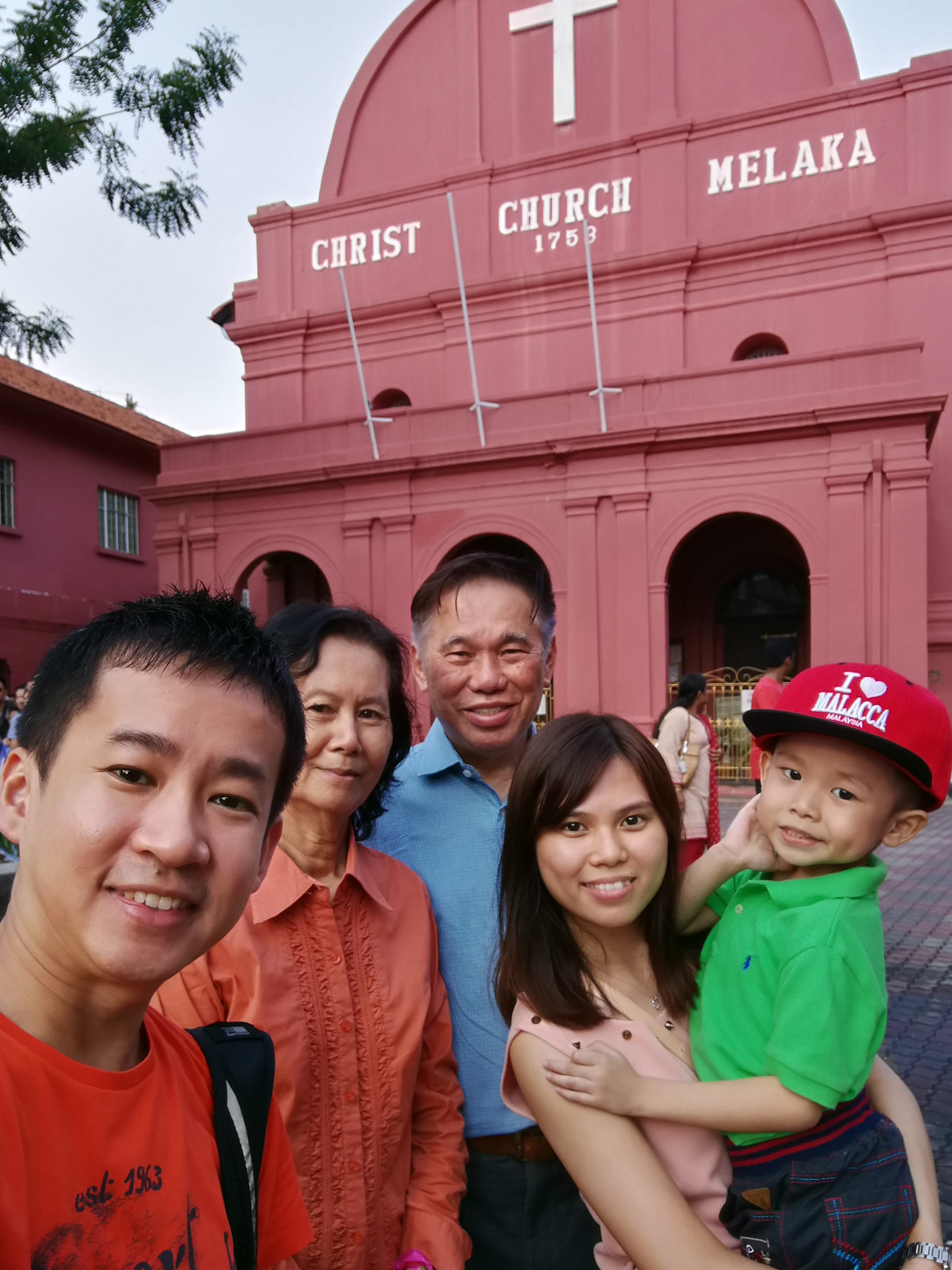 Nyet Choon, my wife, me, Siew Foong and Rowan in Malacca
The next day we went to the historical city of Malacca, where the first Europeans, the Portuguese, settled there in 1641. We had lunch in Malacca, then checked into our hotel.
In the evening we went to the Red House, where the early Dutch had their headquarters. My wife and my daughter spent a lot of time shopping at the stalls along the Red House, while Nyet Choon, my grandson, Rowan, and I mingled with the huge tourist crowd.
The next morning we went to the famous Jonker's Street of Malacca where historical buildings and tourists' shops were located, and where the place was crowded with thousands of tourists from all over the country.
After lunch we went to A Famosa Resort, a theme park about 40 km from Malacca City. It was a vast area with a Water Theme Park, Safari Wonderland, Old West, an international golf course, resort hotel and villas.
We went to Old West with its Cowboy Town, and had dinner in a Chinese restaurant there. Then we went for a show by the A Famosa Resort which was held in an open space. However it started to rain heavily, spoiling the fun at the Resort. Nevertheless we had a gala time.
We returned to our hotel in Malacca City at night and returned home the next morning.
Wong Kiew Kit
6th July 2017
Sungai Petani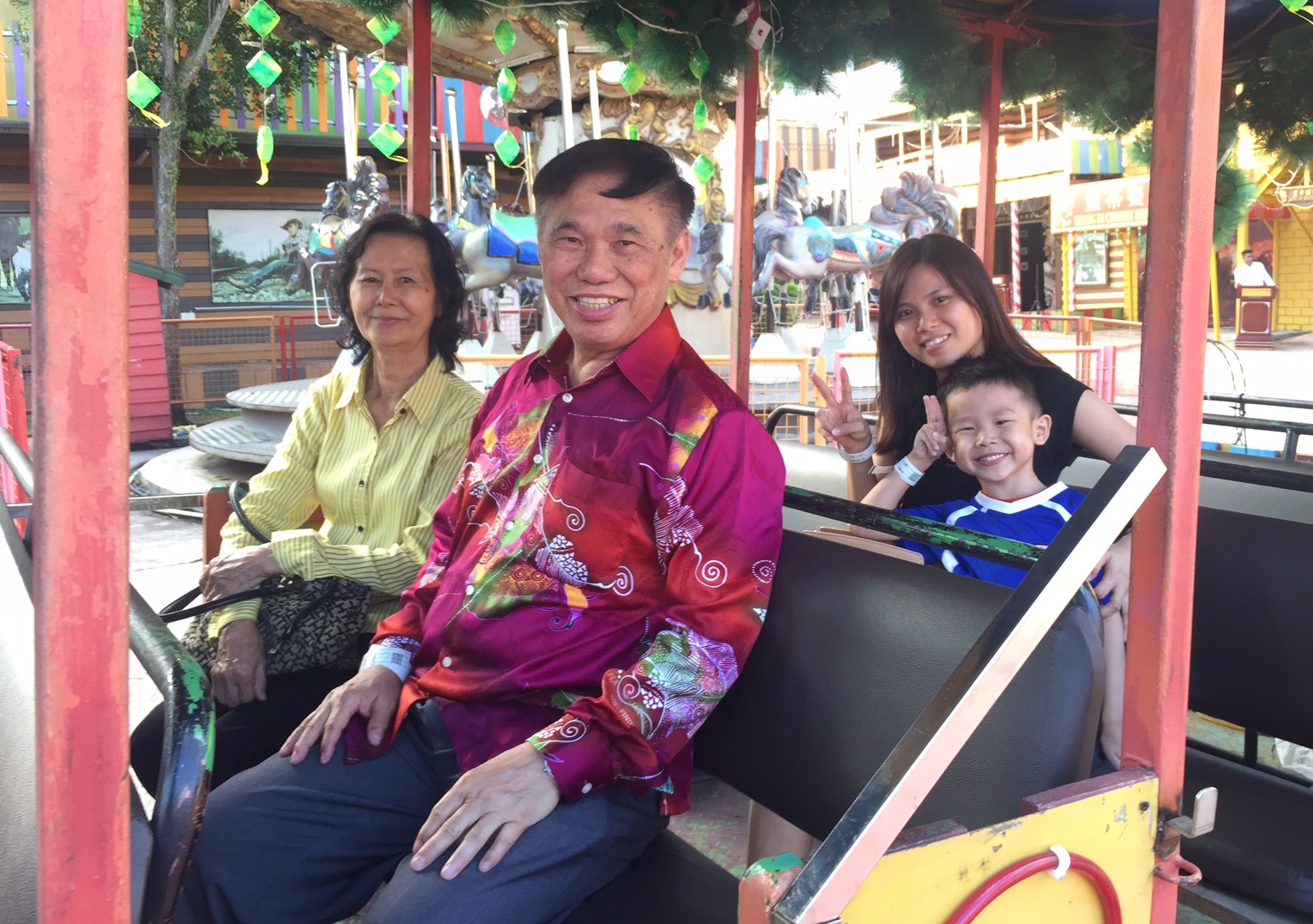 My wife, me, Siew Foong and Rowan at Cowboy Town in A Famosa Resort
LINKS
Travels in Malaysia
Visit to Malacca, 4-6 June 2918
Courses and Classes
---
---