TRAVEL ARTICLE OF FRENCH VILLA REVISITED
8 FEBRUARY 2019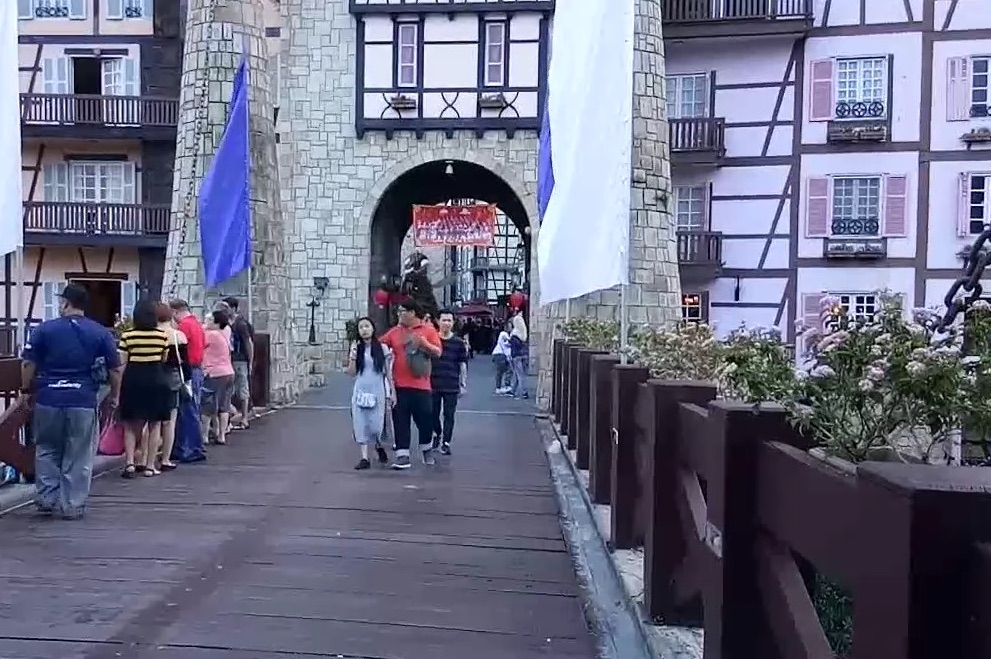 The drawbbridge is for decoration
---
---
Taking advantage of the Chinese New Year festival holidays, my wife, Siew Foong, Nyet Choon, Rowan and I left our house on 7th February 2019 at about 7.00 o'clock in the morning. We had a sumptious breakfast of "tim sum", or little pieces of delicious food to please the heart, which is a favorite breakfast for many Chinese, and is called "yam char" in many Western countries. "Yam char" literally means "drink tea", though the breakfast people do not just drink tea but eat "tim sum".
To save time as we intended to reach Kuala Lumpur in the afternoon, we first took the highway from Sungai Petani to Ipoh, which was about half our destination. In Ipoh we had delicious chicken rice by a road side at "Lou Wong" which means "Old Wong", a seller of chicken rice famous in the whole country.
From Ipoh we took country roads away from the main highway. We traveled along the main trunk road before the highway was built. We saw a number of cave temples for which Ipoh is famous. We passed Kampar where my youngest son had his university education.
We bye-passed Kuala Lumpur where we would go later and went up a hilly road to Genting Highlands, a popular holiday resort where a lot of people go there for gambling in a famous casino. We saw many cars going up to Genting Highlands. I commented that the GPS (Global Positioning System) which our driver, Nyet Choon, made full use of, was wonderful. As an old-timer, I would have first traveled to Kuala Lumpur, then taken the familar old road to Genting Highlands.
We branched off at a small roundabout towards Berjaya Hill Resort where the French Villa is located. We saw some castles and came to a roundabout with a fountain. Rowan, who just began primary school this year, suggested that we should see a rabbit farm first. So we took advantage of daylight to see a rabbit farm, and to come back to the French Villa later.
There was nothing much to see at the rabbit farm, but Rowan had a gala time. We saw some rabbits with red, round eyes. We also went to a children playground with a lot of balls.
We then returned to the French Villa. There was a beautiful French Arcade in front with a lovely drawbridge. I believe the bridge has never been drawn; it is just for decoration. There was also a number of small fountains on the right as we approached the French Villa, and an exquisite pond with elegant swans and of course a lot of tourists. Nearby there was also a small Dinosaur Park.
At the entrance there were, like the last time I visited the French Villa, two colorful horses, not real ones. The French Villa was charming. There were many lovely ochids. I suppose they were not natural. It is a custom for Chinese to welcome the New Year with orchids, called "lan hua" in the Chinese language. At the far end of two rows of delightful shops was a tall tower. There were of course many tourists. There were also many restaurants which were already full. But we managed to get a table for ourselves at one of the restaurants. It must be "sifu's luck".
After dinner we went to our hotel in Kuala Lumpur. Siew Foong told me that the Genting Highway was jammed as there was a motor accident. So we went to Kuala Lumpur by an old road. I remember I asked my wife whether it was the same road we used about 50 years ago to travel from Kuala Lumpur past Genting, which was surely not developed then. By the time we reached Kuala Lumpur it was quite late at night.
Wong Kiew Kit
12th February 2019, Sungai Petani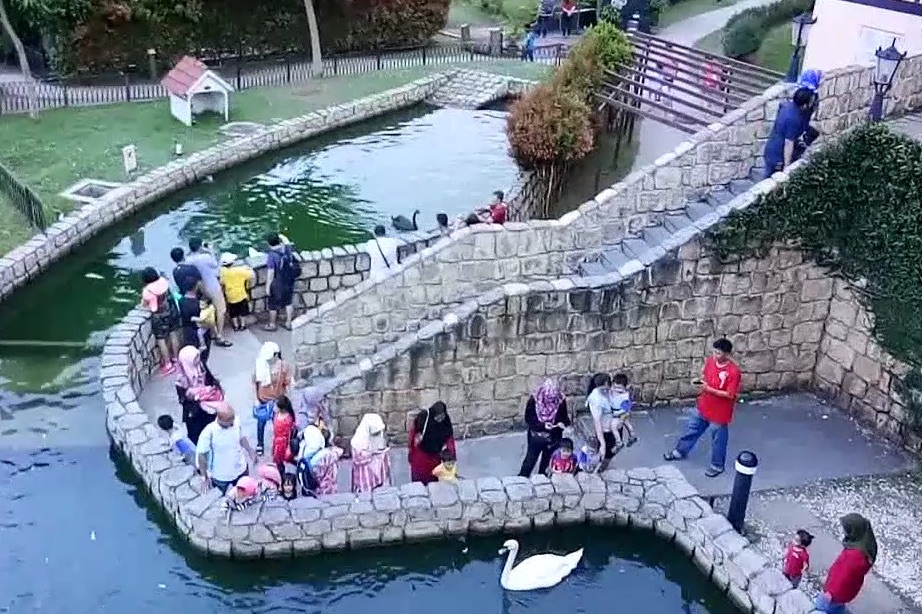 Elegant swans in exquisite pond
LINKS
Video Show of French Villa Revisited
Travels in Malaysia
Courses and Classes
---
---