REVISITING THE RED SQUARE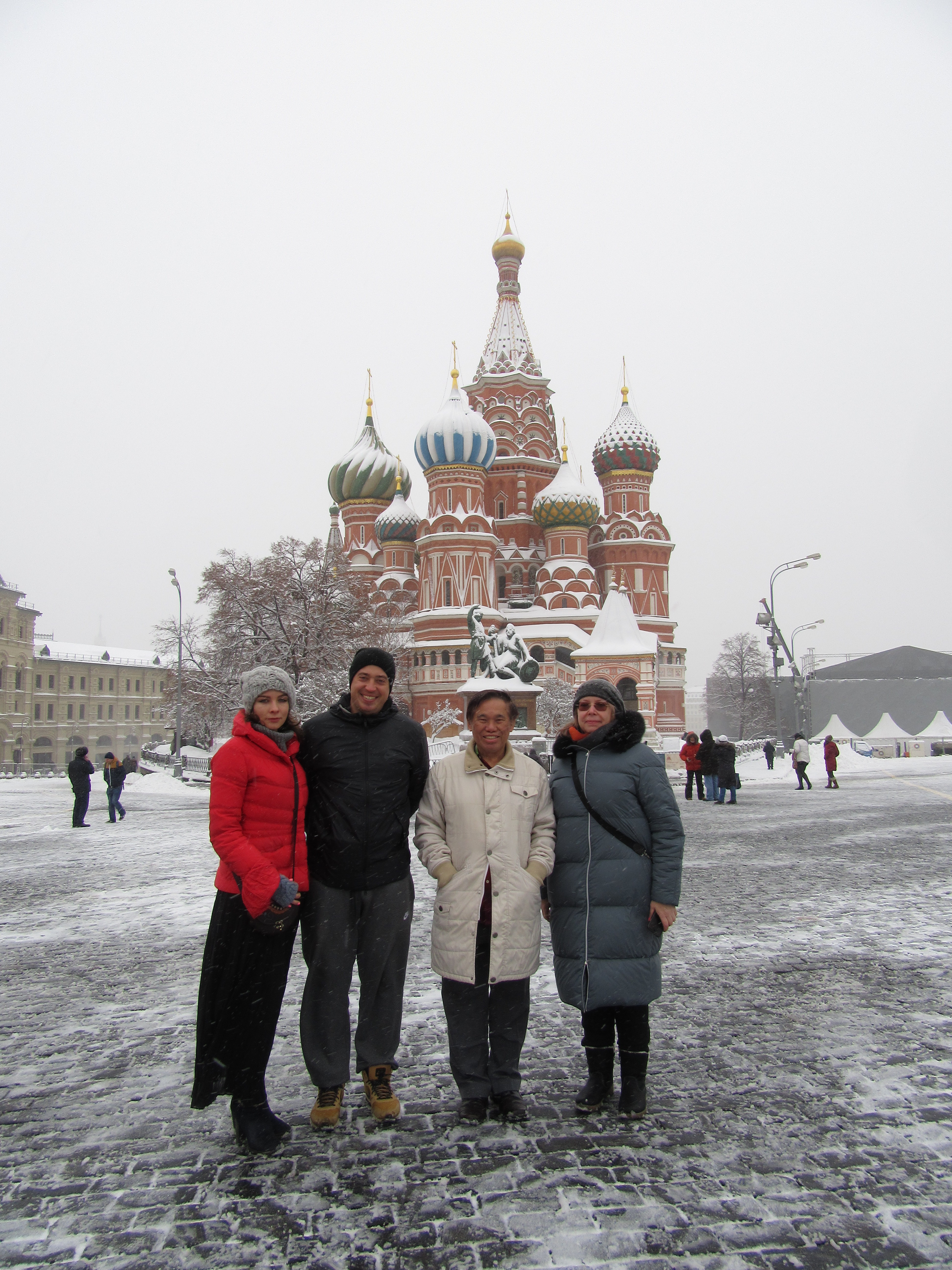 Rita, Sifu Alexey Garshin, Grandmaster Wong and Oksana in front of St Basil Cathedral
---
---
At 11.00 am on 31st January 2018 Alexey (Sifu Alexey Garshin), Rita and Oksana took me to the famous Red Square in Moscow. I visited the Red Square in 2009 when I first went to Russia at the courtesy of Julia (Sifu Julia Jettkandt) and Irene (Sifu Irene Bassal). That time it was summer with the Red Square glimmering in the sunshine, and this time it was winter with the Red Square all covered with snow.
Alexey was very considerate when we left the hotel. He asked me to be careful with the snow. He extended a helping hand as I stepped on to the frozen snow which could be slippery as I came out of the luxurious hotel, Alfa Hotel, where I was staying. But I was too confident. The next second I slipped on the glistering sheen of ice. Luckily I could break-fall immediatedly. Rita, who was my translator from English to Russian, and was immediately behind me, came to my help. But before she arrived, I was up instantly.
Rita was sympathetic and asked if the fall was alright for me. I replied that another person over 70 years old might have broken his bones, but I was perfectly fine. I recalled that just before my trip to Moscow, I did break-falls and rolling about at a Monkey course in Lapland, which must have contributed much to my being unhurt despite the slip.
I recollected that when I was in Finland in winter where many people would wear winter shoes but I only had ordinary shoes on, I slipped only once with my computer in my hands, and I did a beautiful break-fall. Markus (Sifu Markus Kahila) who was with me then, expressed amazement that I only slipped once and performed a lovely break-fall.
On another occasion in Lapland in winter where everything was snow white and there was no sunlight for more than 20 hours a day, I tumbled over a stump of snow and did a forward roll. Markus thought that I was so elated seeing the fairyland of Saariselka that I rolled forward on purpose with glee.
To reach the Red Square in the centre of the city, we had to drive for about 13 kilometers, but it took about an hour in the normal Moscow traffic. I asked Alexey how big Moscow was. He said that Moscow was about 60 kilometers from north to south, and about 50 from east to west. It was a very big city with about 12 million people. I told the people in the car that many European countries, like Ireland, Switzerland, Austria and Scotland had about half the population of the Russian capital.
The colorful Saint Basil's Cathedral, an important icon of Russia, greeted us handsomely as we arrived at the Red Square. On the other side was a long line of fun fair stalls with flashy lights glittering in the snow. I remembered that the fun fair was not there in 2009 when I first visited the Red Square.
We met Anton in the Red Square, and he joined us in the tour. We did not spend much time at the Red Square but went straight to the Historical Museum on the other side of Saint Basil's Cathedral. When I first visited the Red Square, I did not go into the Historical Museum, but just passed it.
The Historical Museum was majestic, and it looked much bigger inside with its many exhibition halls than its outside. It had many exhibits from prehistorical times to the modern. I was particularly interested in models of sailing boats and weapons, especially spears.
Although it was majestic, the Historical Museum in Moscow was not as grand as the Chinese Historical Museum, not in Bejing, which was actually pathetic with just some broken furniture, nor in Taipei which was reputed to have so many exhibits that it could show for three years with different exhibits every day, but in the Chinese section of the Royal Ontario Museum in Toronto. There were huge statues and huge paintings the size of a large wall, and elegant displays of jade on loan from a wealthy collector.
The Historical Museum of Moscow, thought august, was not as grand as the Imperial Museum at Saint Petersburg, the cultural capital of Russia, which I also visited in winter some years ago all covered with snow and lined with gold. The Imperial Museum at Saint Petersburg really showed the grandeur of the Russian Empire.
After leaving the Historical Museum, we went to the Gum. "Gum" stands for "Glavnyj Universalnyj Magazin", which means "State Department Store". One of the largest of these Gum stores was in the Kitai-gorod part of Moscow facing the Red Square. It was currently a shopping mall selling a great variety of goods. I visited this Gum store many years ago when I visited the Red Square. At the middle was a fountain where people met.
We returned to the hotel and had lunch at about 3.00 pm. Alexey was concerned that lunch at 3.00 pm might be late for me, but I told him that when I taught chi kung in Kuala Lumpur, which was notorious for traffic jams, I sometimes skipped my lunch. After lunch, while the other people remained in the restaurant talking non-sense, I returned to my hotel room to get ready for the first Moscow course 2018 for Eighteen Lohan Hands Part One.
Wong Kiew Kit
1st February 2018, Moscow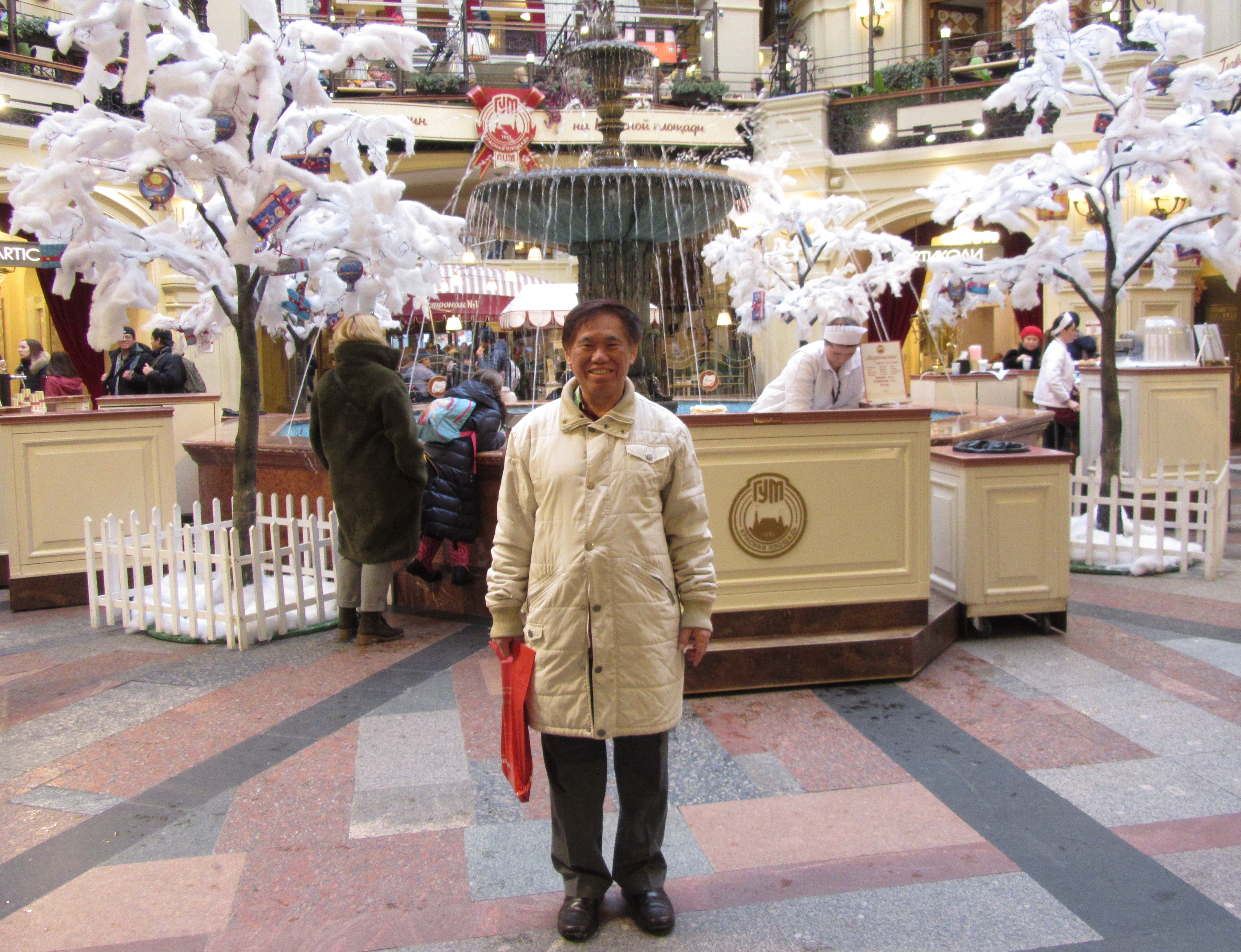 Grandmaster Wong in front of the fountain at a Gum store at Red Square
LINKS
Travels to Russia
Courses and Classes