FROM CHRISTCHURCH TO FRANZ JOSEF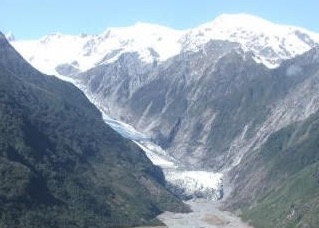 Fanz Josef Glacier
---
---
It was my first visit to New Zealand, which is well known for its beautiful scenery. Sippe (Sifu Sippe Douma) made this visit possible by organizing some chi kung courses, called Chi Kung Grandmaster Class, in Wellington.
On 20th October, I flew from Melbourne in Australia to Christchurch, the largest city on the South Island of New Zealand, and the seat of the Canterbury region. I arrived at about midnight, and Sippe was at the airport to meet me. Sippe commented that "each and every time such an instantaneous burst of vitality when Sifu walks through the airport doors amidst a stream of slow-walking, tired fellow travellers." We stayed in a boarding house. Christchurch has about half a million people, making it the third most populous in New Zealand after Auckland and Wellington.
Early next morning on 21st October with the tight travel schedule we drove quickly through Christchurch, still impacted strongly by the 2011 earthquake with many building still collapsed or in scaffolds. We visited a park with a beautiful stream and lovely trees, and a covered restaurant. Although it is the beginning of summer in New Zealand, which is in the Southern Hemisphere, it was still windy.
Sippe at the driver's seat and I as a sight-seeing passenger, we drove across the South Island from the eastern to the western side of the island in Abram's comfortable car. Abram was to join us in our travels later.
The journey took us about four and a half hours to reach Franz Josef, a famous glacier area and a world heritage area named after Emperor Franz Joseph 1 of Austro-Hungarian Empire of the 19th century just before its collapse in the First World War.
We drove across Arthur Pass, the highest (about 1000 metres high) and the most spectacular pass across the Southern Alps of New Zealand. It was a rolling landscape with beech trees on the eastern side, and after passing the highest point with dense rainforest on the western side.
Eventually we arrived at the town of Franz Josef and checked into Westwood Lodge. The Glacier Country was breathtaking, and one of the most accessible rivers of ice in the world, plunging down through rainforest almost to sea level.
We visited the entrance of the hiking path towards the Fox Glacier, which was about 20 kilometers or 12 miles to the south. It was a rainy day and the pathway was closed for safety reasons. We walked up to the starting point and viewed the glacier from afar.
Wong Kiew Kit
1st January 2018, Sungai Petani
LINKS
Travels in New Zealand
Video Shows in New Zealand
Courses and Classes