FROM GLACIER COUNTRY TO THE OLDEST CITY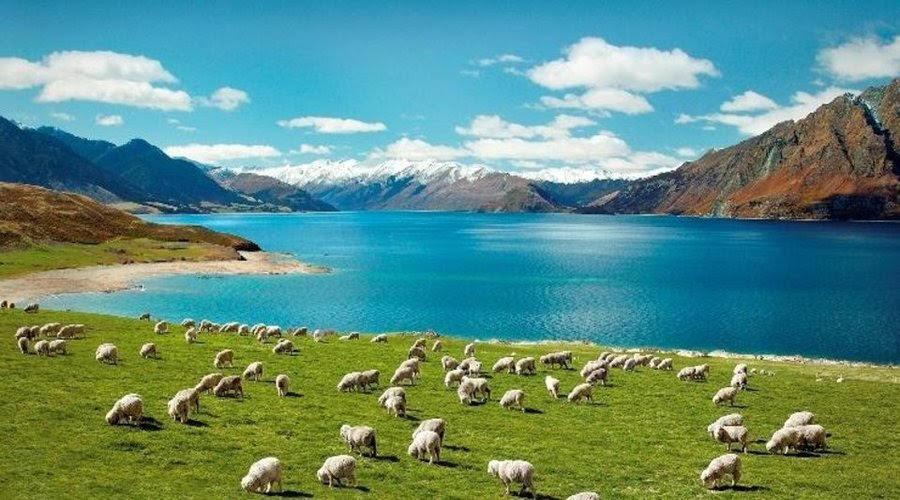 There were many, many more sheep than people
---
---
The next day, 22nd October 2015, Sippe and I drove from the Glacier country at Franz Josef to Nelson, the oldest city of New Zealand and situated at the top of South Island. On the way, I was reminded how little populated was New Zealand. And we remarked that there were many, many more sheep than people.
New Zealand has an area of about 268.000 square kilometers and only about 4.5 million people. By comparison, it is about the size of the United Kingdom which has about 64 million people.
I remarked that during my travels I always drove through the centre of each city, and so, even though some villages were extremely small with only a handful of houses, we visited each "centre".
We passed through a number of small towns on the beach. They were idyllic, reminding me of fishing villages but with hotels and restaurants. In Ross, which was important during the gold-rush in the 19th century, and now has only about 300 people living in it, you could go for bush walks, bird watching, fishing and hunting. In Hokitika, with a resident population of about 3000 people, you could find nature at your doorstep with mountains, rivers and beach surrounding the town.
Greymouth is the largest town on the western beach on the South Island of New Zealand, with a population of about 10,000. It is located at the mouth of the Grey River at the foot of the Southern Alps of South Island. On a clear day, Mount Cook (or Aoraki), the highest mountain of New Zealand with a height of about 3,700 metres (or 12,300 feet), can be seen from the town. Greymouth has a history of jade hunting, gold mining and dramatic river floods.
After Greymouth we made a stop at the western coast and walked around the Punakaiki Pancake Rocks and Blowholes. The rocks really looked like pancakes, and these ancient formations took 30 million years to form. A blowhole is formed as waves enter a sea cave and the waves travel upward with great preasure.
We also passed through some small towns in the interior of South Island. Murchison is a small town with only about 500 people. It is sometimes called "the whitewater capital of New Zealand", as it is here where four rivers meet. Whitewater is formed when rapids make the water appear whitish. Murchison is where hikers can experience great outdoors.
Richmond is a bigger town with a population of about 14,000 people. It is just about 13 kilometres south of Nelson, and for statistical purposes it is considered as part of Greater Nelson. Richmond is a service centre for farms, orchards, wineries, beaches, art galleries, beautiful river valleys, horse treks and national parks, and has a variety of shops and eating places.
Sippe commented that "it is a beautiful part of New Zealand with a road through the Alps following a river meandering through a stunning scenery, shining in New Zealand's special coloured light of the sun." I engaged in many conversations about kungfu and chi kung for children, about my ongoing books, and about Sippe's request for a book on how to live life, such as relationship, raising children, work, and making decisions. I also recollected on my disappointments around students leaving our school, about Bodhisattvas and Immortals.
Eventually we arrived at Nelson on the eastern shores of Tasman Bay in South Island. It is a city of about half a million people, making it the 12th most populous city of New Zealand, and is well known for art festivals. There are more than 350 working artists in the area. Nelson is also well known for sunshine. It is situated between mountainous area in the interior and shallow bay facing the sea, and is considered the "geographical centre of New Zealand".
Wong Kiew Kit
2nd January 2018, Sungai Petani
LINKS
Travels in New Zealand
Video Shows in New Zealand
Courses and Classes