WELLINGTON AND THE CHI KUNG GRANDMASTER CLASS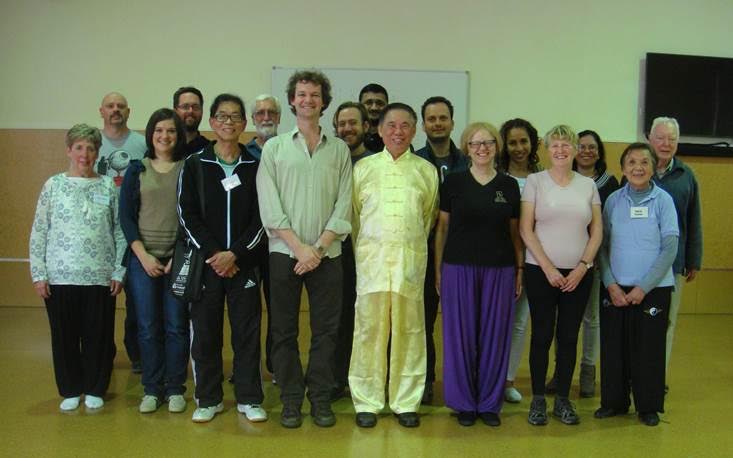 The Chi Kung Grandmaster Class. In the middle were Sifu Sippe Douma, Abram Grae and Grandmaster Wong
---
---
Early next morning on 23rd October 2015 Sippe and I drove to Picton, which is located at the Marboroungh Sound, a collection of ancient sunken valleys filled with waters from the Pacific Ocean. Picton is a picturesque seaside town with a population of about 4500 people, and home to great cafes, restaurants, galleries and specialty shops. We took a ferry across Cook Strait, the sea surrounded by mountains between South Island and North Island.
Cook Strait is about 22 kilometres (or 14 miles) wide at its narrowest point. It is one of the most dangerous and unpredictable waters in the world. But our ferry is a cruise ship, stable and comfortable with viewing decks, cafes and bars. Sippe drove Abram's car onto the ferry.
After about three hours across stunning Marlborough Sounds, we arrived at Wellington, surrounded by hills and a rugged coastline. We checked in at Amora Hotel.
Wellington is the capital city of New Zealand with a population of over 400,000 people. It is known to be the world windiest city, but I didn't find it as windy as Chicago in the United States. But unquestionably, it is the world's southernmost capital of a sovereign state. It is also the cultural capital of New Zealand, and has many architectural sights, including the Executive Wing of New Zealand Parliament Buildings, commonly known as the Beehive because of its appearance.
In Wellington, we had chi kung courses at Te Whaea, which is the national dance and drama centre of New Zealand. On Saturday, 24th October 2015, we had Chi Kung for Health and Longevity. On Sunday, 25th October, we had Chi Kung for Vitality, and on Monday, 26th October, we had Chi Kung for Mental Clarity and Spiritual Joy. Abram Grae joined us at the courses and subsequent travels.
Janet, Marie and Ferne helped a lot with organizing the venue of the courses and with catering. Janet and Colin Chew took me, Sippe and Abram for lunch at Little Penang, a Malaysian Restaurant. We had "Sifu's luck" when finding a parking spot quickly in busy Wellington. "Sifu's luck" is coined by Shaolin Wahnam students to mean that finding a parking space even in a busy place never fails!
Many interesting questions were asked during the courses, and some of them were posted as Questions 1, 2 and 3 here, as Question 1 here and as Questions 3 and 4 here.
We also visited Wellington Cable Car that went up the Botanic Garden. Interestingly, I did not see any kiwi, the national symbol of New Zealand, during this trip.
Wong Kiew Kit
3rd January 2018, Sungai Petani
LINKS
Travels in New Zealand
Video Shows in New Zealand
Courses and Classes