LAKE TAUPO AND THE HUKA FALLS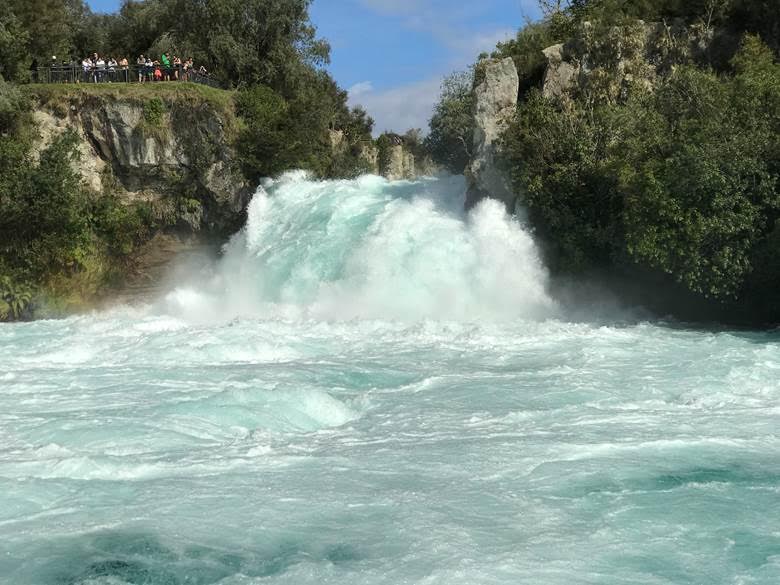 The Huka Falls
---
---
After the chi kung courses in Wellington, on 27th October 2015 Abram as driver drove Sippe and me as passengers in his comfortable car to Lake Taupo, the largest lake of New Zealand. The journey took about 6 hours, first passing near the western coast, then went inland, and reached the eastern coast at Napier, and then went inland again to reach the big lake in the centre of North Island.
We drove past towns like Upper Hutt and Masterton, though in little populated New Zealand they were regarded as cities. Eventually we reached Palmerston North, a city with a population of about 85,300. In the native Maori language, it was known as Papa-i-Oea which meant "How beautiful it is", but the locals called it "Palmy Town" or "Swamp City".
Soon we passed Hastings, known as a premier wine-producing region. Hastings is about 18 kilometres, or about 11 miles, inland of the coastal city of Napier. These two neighbouring cities are often called "The Bay Cities" or "The Twin Cities" and their combined population of about 133,000 people, makes it the sixth-largest urban area in New Zealand.
Next we drove to Napier at Hawke's Bay on the east coast of North Island. In 1931 a massive earthquake destroyed much of the city. The city council rebuilt the city immediately, and the new buildings reflected architectural styles of the times, such as stripped classical, Spanish mission and art deco as well as Maori features, making Napier known as the Art Deco City.
Napier is also the largest wool centre in the Southern Hemisphere, as well as the largest producer of apples, pears, and stone fruit in New Zealand. But the most memorable was that we had ice-cream in a shop opposite Marine Parade facing the ocean.
We then passed through Kaweka Forest Park with alpine shrub lands and beech forests. We drove through some small settlements like Te Pohue, Te Haroto and Rangtaiki, which were rich in Maori history.
We reached the lakeside town of Taupo, situated on the shore of Lake Taupo which enabled visitors to fish for trout and for boating.
Beautiful Lake Taupo, which was about the size of Singapore, was formed from a huge volcano. Its most recent eruption, in 181 AD, was so large that it covered the sky as far away as Europe and China. At the Craters of the Moon in the lake region, one could find geysers, steaming craters and boiling mud pools.
Lake Taupo was a great place for water-skiing, sailing and kayaking. At some beaches, swimmers and paddlers could enjoy warm, geothermal water. It was also a region for year-round mountain biking, and excellent hiking.
Just less than 6 kilometres north of Lake Taupo is Huka Falls, which are the largest falls on the Waikato River, the longest river in New Zealand and it flows to Lake Taupo. At the Huka Falls, the Waikato River which is normally about 100 metres wide, is forced through a 15-metre gorge over a dramatic 20-metre drop.
Every second 220,000 litres of water gushes over the cliff face, and then rush under a pedestrian bridge shooting out over 8 metres beyond to create a beautful blue green pool. The name Huka is the Maori word for "foam", as the falling water and rapids form whitish foam. Here one could see one of the great natural wonders of the world in action!
Wong Kiew Kit
4th January 2018, Sungai Petani
LINKS
Overview
Courses and Classes