SAN JUAN, COLONIAL TIMES AND MODERN METROPOLIS OF CARIBBEAN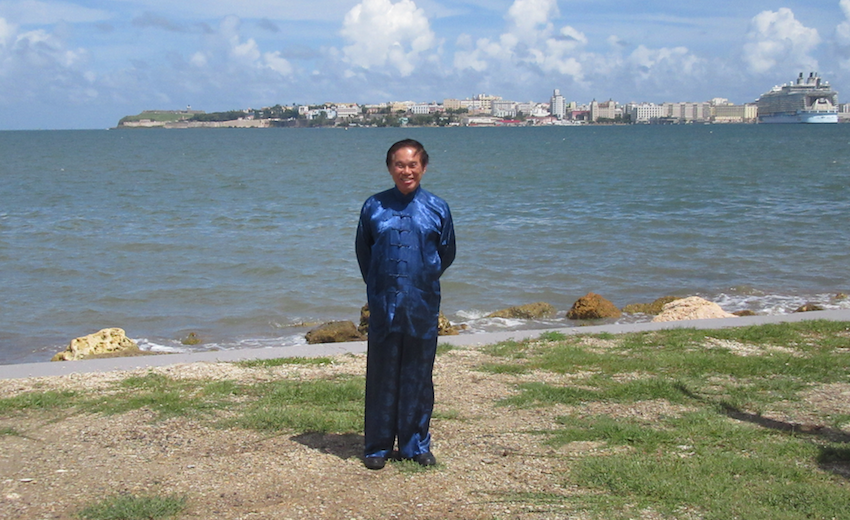 San Juan, Mixture of Old and New
---
---
I arrived at San Juan from New York in the evening on 22nd September 2018. Angel was at the airport to fetch me. I came out quite early as there was no immigration because Puerto Rico was a United States territory.
When I was at the New York International Airport, the immigration was surprisingly very fast. Eugene met me at the airport and took me for lunch before boarding a plane for Puerto Rico.
I taught chi kung courses in a marina building in Puerto Rico on 23rd and 24th of September. From 25th to 27th September, Angel took me for a tour of Puerto Rico. We went to many places that local Puerto Ricans might not have been to.
On 23rd September 2018 Angel, Iris who was Angel's girlfriend, and I visited Old San Juan, which was like going back to colonial times. There was an old fort known as Castillo San Felipe del Morro. Then we walked along cobblestone streets in the old town. We visited the smallest house in Puerto Rico, with only a small door and a small window. Then we visited Capilla del Cristo, which was a small chapel on a cliff known for its healing powers.
Next to Capilla del Cristo was Parque de Las Palomas, which was a park for pigeons. The pigeons lived in cut-out holes at the back wall. Then we walked along Fortaleza Street with a lot of umbrellas hanging on top of the street. There were many shops selling souvenirs, art pieces, clothes and jewelry. We also saw La Fortaleza, the official residence of the Governor of Puerto Rico.
Going down some streets from the old town, we came to a seafront where ocean liners were berthed at jetties. This was new San Juan, the capital of Puerto Rico and metropolics of the Caribbean.
On 24th September 2018 we went to Aguas Buenas, which was outside the city of San Juan. We stopped by the house where Angel and Iris were staying and had some tea. Then we visited a new house that Iris wanted to buy. There was something very special about this house. There was a huge angsana tree overlooking a mountain which look like a maiden lying down. The special thing was that Iris painted an exact picture of it before she even saw the scene.
San Juan, known as "La Ciudad Amurallada" or "the Walled City", was a lively city with tropical beaches, luxurious beachfront hotels, shopping and a vibrant nightlife. We spent some time travelling along busy streets in downtown San Juan. There were a lot of restaurants, and they were brightly lit at night.
I thought San Juan was a small town, but it was certainly bigger than what I imagined it to be. I particularly remembered a street where I thought I took my wife to. We went to a number of downtown streets but it was not the one I had in mind.
Eventually Angel showed me a street where I thought was the one I was looking for. When I went home, I told the incident to my wife. She said I was dreaming as she had not been to Puerto Rico.
Wong Kiew Kit
31st October 2018, Sungai Petani
LINKS
Video Shows Puerto Rico 2018 -- Overview
Travels in Puerto Rico 2018
Puerto Rico of the Carribean Sea 1-6 Nov 2014
Courses and Classes
---
---