TO THE CENTER AND THE SOUTH OF PUERTO RICO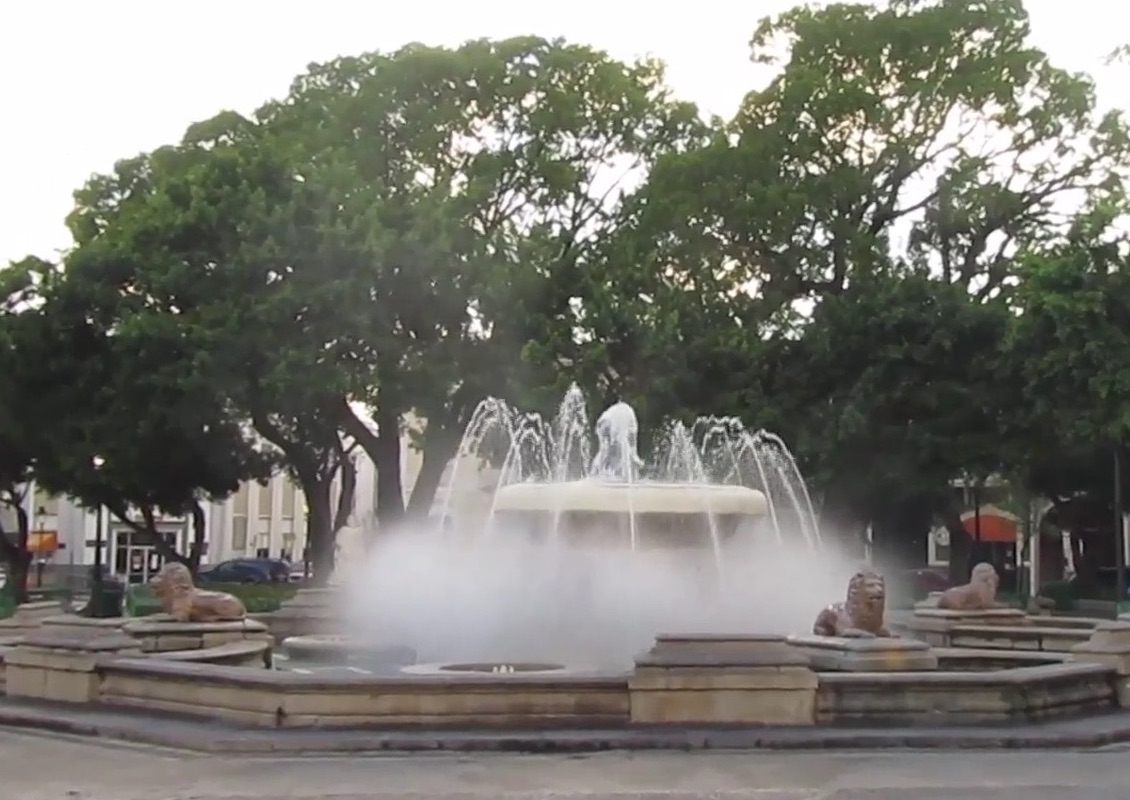 Ponce, the Pearl of the South
---
---
On 26th September 2018 from Arecibo we continued our drive up the "cordillera central" or central mountain range on Road 10 to Utuado, the biggest town in Puerto Rico in the mountainous central region. We went to the town plaza and surrounding areas, and enjoyed some tea and coffee.
The name "Utuado" is derived from the Taino word "Otoao" which means "between mountains". Taino is a principal native language throughout the Caribbean.
Utuado is known as "La Ciudad del Vivi" meaning "the City of Vivi". River Vivi ran through Utuado.
According to Angel, Utuado is the biggest town in Puerto Rico in terms of territory, but the population is relatively low with less than 40,000 inhabitants.
This reminds me that Jacksonville in Florida is the largest city by area in the United States. Its population (in 2017) however is bigger, about 892,000 inhabitants.
To me, both Utuado and Jacksonville are not very big. When I think of big cities, I think of New York, Mexico City, London, and Bejing, all of which I have been to.
Then we headed south to Ponce, a city in the south of Puerto Rico. We passed through Adjuntas, a small mountainside town. Adjuntas is known as "La Suiza de Puerto Rico" or "the Switzerland of Puerto Rico" because of its climate. Otherwise it is very unlike Switzerland.
Adjuntas is also known as "La Ciudad del Gigante Dormido" or "The City of the Sleeping Giant" because of a mountain called by that name. This, I believe, is more appropriate as Adjuntas is mountainous.
After about an hour, we finally reached Ponce when the weather cleared for a beautiful afternoon. Ponce is often known as "La Perla del Sur" or "the Pearl of the South". Ponce is also known as the "Ciudad Senorial" or "Majestic City", because of its many neo-classical buildings, decorative facades and artistic fountains.
We headed straight to El Parque de Bombas or Fire House right at the Plaza de Ponce or Ponce Plaza. The El Parque de Bombas was a historic fire station in Ponce. It was a beautiful and one of the most easily recognized landmark in Puerto Rico.
Plaza de Ponce was sometimes called Plaza Las Delicias or Plaza of Delights. In the plaza was a large beautiful fountain guarded by four lion statues. Around the fountain were delightful trees. Across a street was Ponce Cathedral, known as Catedral de Nuestra Senora de Guadalupe, or Cathedral of Our Lady of Guadalupe.
After enjoying ourselves for some time at the plaza, we headed back to San Juan by the north-south highway. We passed Santa Isabel where we could see red lights of wind turbines. At Cayey we stopped at a restaurant to have "lechon asado" or roasted pork for dinner.
Wong Kiew Kit
1st November 2018, Sungai Petani
LINKS
Video Shows Puerto Rico 2018 -- Overview
Travels in Puerto Rico 2018
Puerto Rico of the Carribean Sea 1-6 Nov 2014
Courses and Classes
---
---