BEAUTIFUL PEOPLE, BEAUTIFUL PLACES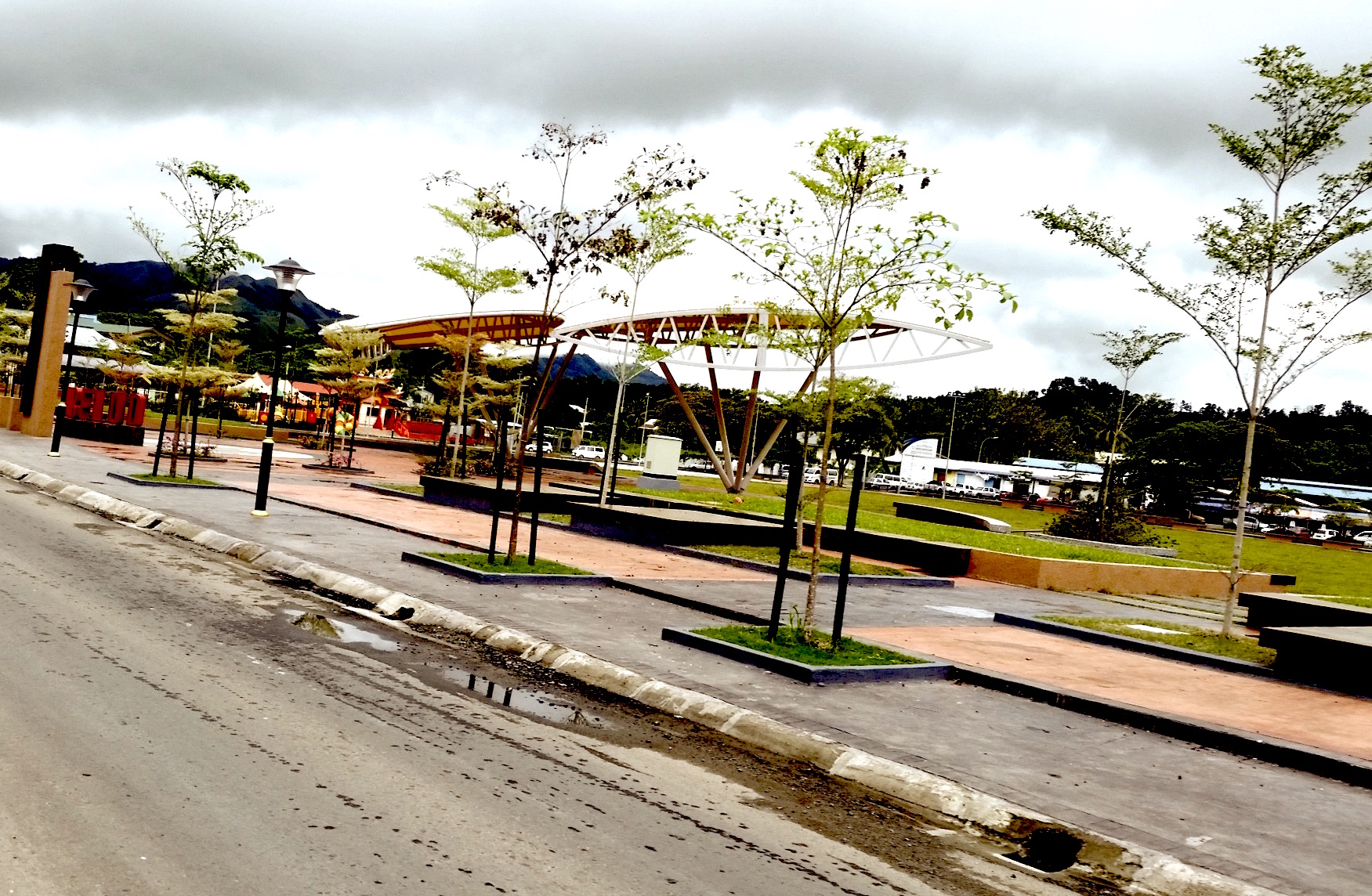 A beautiful scene in Kota Marudu along a highway
---
One of the most beautiful benefits of practicing genuine, high-level chi kung, as manifested in my recent Sabah trip, is to make every day a beautiful day, irrespective of rain or shine, windy or cloudy.
I crossed the South China Sea and landed on Sabah on 2nd April 2017, and attended a gathering of Bernie's class in Kota Kinabalu. Bernie's students asked me some interesting questions. Bernie's class, by the way, produces some excellent results where people with so-called incurable diseases were cured!
Dr Damian used to tell me that Sabah is the land below the winds. But to me, Sabah is simply a land of beautiful people and beautiful places. If you happen to see someone not smiling in Sabah, this someone is probably a foreigner.
Damian and his lovely wife, Dr Roseline, took me in their comfortable car to Kundasang, a small town below the famous Mount Kinabalu, the highest mountain in Southeast Asia, where we had our Intensive Chi Kung Course, followed by our Intensive Taijiquan Course.
Leigh, who was at an intensive course recently in Penang, took her husband, Riaan, and their two lovely children to my Intensive Chi Kung Course in Sabah. Their two children presented me a toy "Lion King" as a present. During the course, Peter Hum, a rich man from Singapore, asked me some illuminating questions. He said he would bring his wife and sister to attend my next Intensive Chi Kung Course.
During the following Intensive Taijiquan Course, I was particularly happy to see Dan, the Laughing Buddha, from Canada. He has been to my intensive courses many times. I saw Michael from Switzerland at the Ireland courses just before Sabah. Brandt from South Africa was relatively new, and he told Damian that if he were to leave on the second day of the five-day course, it would worth all the time and money spent coming to Sabah.
In between the two intensive courses on 6th April, Damian, Roseline and I went on a memorable trip to Kota Marudu, located between the two ears of the Sabahan wolf head. Damian told me that there were two routes, a jungle route and a coastal route. I suggested we could stop for lunch at a town I used to pass in a previous trip. So we took the coastal route via Kota Belud.
As we approached Kota Belud, which is a beautiful town with its own character, I told Damian that it was not the town I had in mind along the coast to Kudat, which is located at the northern tip of Borneo at the wolf's ear.
"That town must be Tuaran." Damian said.
"But I am glad I am now in Kota Belud. It is a beautiful town, and it is my first time here."
"Actually we were here before, but it was at night so you couldn't recognize the town. We had dinner here before returning to Kundasang from Kudat," Damian replied.
As it was still early, instead of lunch we had a drink at an exquisite cafe. Then we proceeded to Kota Marudu.
If you are a Westerner, you may be called a Mat Salleh by the locals in Malaysia. But here we are in Mat Salleh's territory.
"Before the British came," Damian told me, "Mat Salleh collected taxes from the people in this area. So he was not happy with the British, and the British chased after him. One day the British with guns and cannons ambushed Mat Salleh and his followers. The British thought they killed Mat Salleh, but according to inside sources it was his brother who looked like him. Nobody knows the where-about of Mat Salleh until today."
I was surprised to find Kota Marudu modern. Even the so-called old town was new. We had lunch in an elegant restaurant. The owner of the restaurant happened to come from the same village as Damian, Tambunan, so they had a nice talk after lunch. I had very delicious black pepper beef, the best dish I had taken in the whole trip. It is indeed very kind of Damian and Roseline, who are vegetarian, for me to enjoy my meat dishes at the same table with them.
One main reason why the beef was very delicious was because it was tender. Later, I told Roseline that the chef must have known a secret which another chef, who was my neigbour back in Sungai Petani, told my wife who later told me. Just wrap the beef in banana leaves and leave them overnight.
We returned to Kundasang by the jungle route, thus making a full circle. Damian and I agreed that it was actually not a jungle route, though we went through some inland jungles. There were houses along the route, and it was not as mountainous as the other coastal route. The other route was called "coastal" for convenience. It was not along the coast, though, especially at one time, the sea was not far away.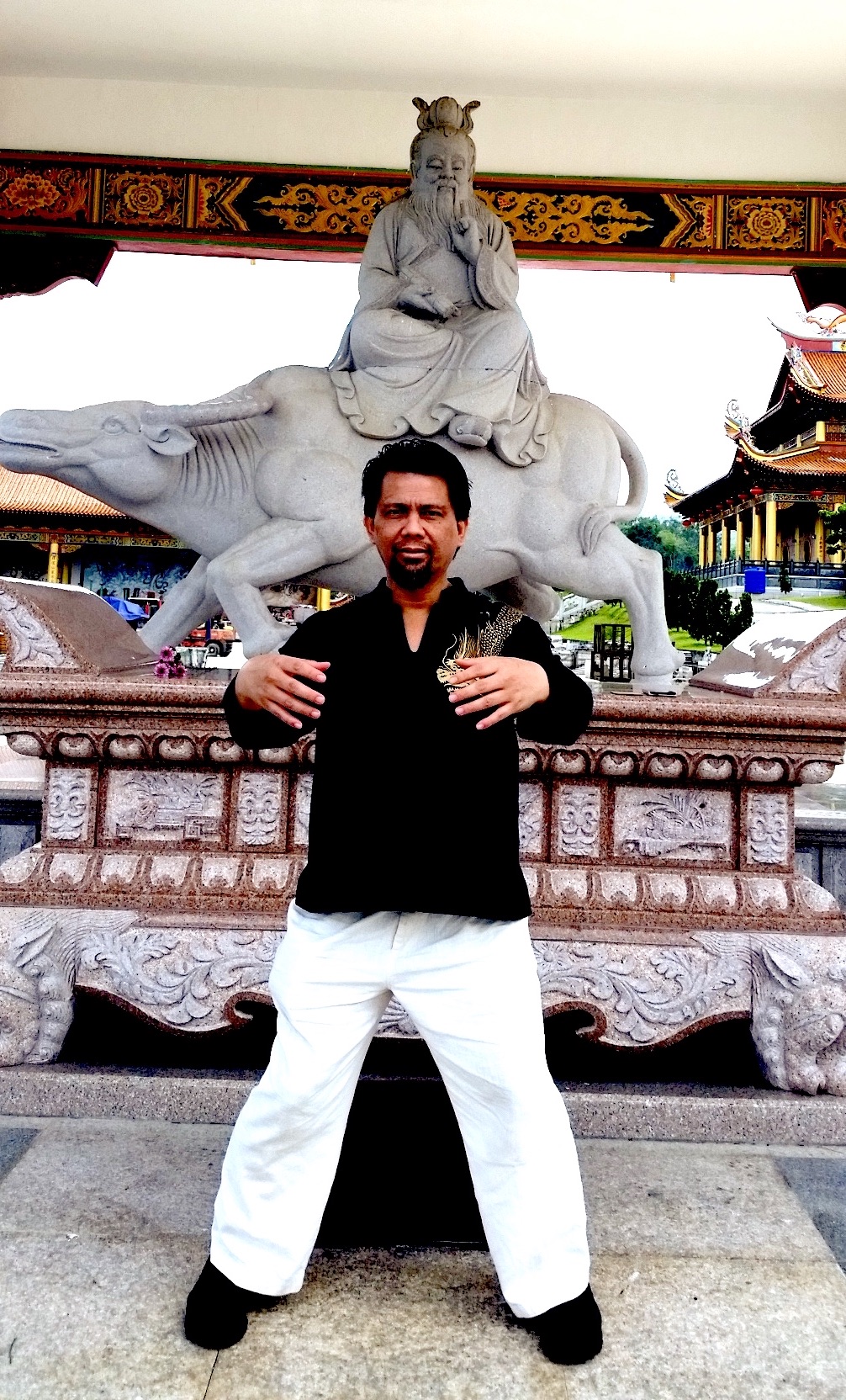 While Lao Tze sits on a green buffalo, Dr Damian sits on a Three-Circle Stance
---
After the Intensive Taijiquan Course, we drove down from Kinabalu Park at Kundasang where we stayed to Kota Kinabalu where I took my flight home. The journey down the mountain took only about 2 hours and my flight was in the evening, so we had plenty of time.
Damian took me to a busy town called Inanam, which is adjacent to Kota Kinabalu. At first I thought Inanam was Kota Kinabalu itself.
We went to a gigantic Taoist temple in Inanam, the Three Purities Temple. As you entered the temple, you could see Lao Tzu sitting on a green buffalo. This was a statue, of course. Nearby was a line of Taoist gods with faces of animals.
We found a statue of a monkey god. At first we thought it was the Great Sage Equal to Heaven, but on closer examination, it wasn't. At the beginning of the line, or the end, depending on your perspective, we found a dragon god in human figure but with a dragon head.
There were three large pavilions. The first pavilion was dedicated to the Taoist god, Ling Gung Da Di, which means "The Great Emperor of Spiritual Palace". Taoist gods are often called "Da Di" or "Great Emperors".
The second pavilion in the middle was dedicated to Bodhisattva Guan Yin. Damian was surprised to find a Bodhisattva, a Buddhist deity, in a Taoist temple. I told Damian that the Chinese do not differentiate between Taoism and Buddhism. In fact, the concept of religion is alien to the Chinese. Unless he is a Christian or a Muslim, a Chinese can be a Buddhist, Taoist and Confucian at the same time.
The third pavilion, which was also on the highest ground, was dedicated to the Three Heavenly Supreme Lords called Yu Qing Tian Zun, Shang Qing Tian Zun and Tai Qing Tian Zun, or the Three Purities called the Jade Purity, the High Purity and the Supreme Purity.
"According to the Chinese," Damian asked, "who is higher, a Heavenly Supreme Lord or a Bodhisattva?"
"It depends," I answered, "if the Chinese is a Taoist, the Three Purities are the highest. Many Chinese, however, regard a Bodhisattva as higher."
"Many Chinese," Damian commented, "would regard Lao Tzu as human, whereas they would regard Bodhisattvas as gods."
"A Bodhisattva is many times higher than a god," I said.
"The Three Purities," I continued, "symbolize the three highest attainments in Taoist cultivation. The Jade Purity represents a healthy, long life in this world. The High Purity represents immortality. The Supreme Purity represents merging with the Void."
After visiting the gigantic Taoist temple, we went for lunch in Kota Kinabalu, I was impressed at how large and prosperous the city had grown. At lunch we were joined by Emanuel and Terrenz and their small daughter, Emmylei, and Dr Senthuran and his wife, Doreen. Emanuel and Terrenz gave me some pepper, the pride of Sabah and Sarawak, as gifts for Simu, my wife. I played with little Emmylei.
After lunch we visited another temple, Pu Tuo Si or Pu Tuo Temple, dedicated to Bodhisattva Guan Yin. Pu Tuo is an island off Shanghai in China. There was a huge statue of Bodhisattva Guan Yin as we entered the temple, bestowing blessings on all visitors irrespective of whether they worship her.
In front of the temple building was the Pavilion of Heavenly Kings, with impressive and huge statues of the Four Heavenly Kings, and Maitreya, the Future Buddha, in front, and Wei Tou, a heavenly general, at the back of the pavilion.
Behind was a deer garden with a statue of a deer, in honour of Lumbini Garden where the Buddha gave his first sermon. Behind was an enormous hall, Da Hong Bao Dian, or Great Majestic Precious Hall, with statues of Buddhas and where monks and lay-persons could meditate.
We then went to the Shangrila Tanjung Aru Resort to have ice-cream. We sat at an impressive air-conditioned restaurant for a drink, but ice-cream was sold in the hot open air some distance away. Roseline, gallantly but unknowing to us, went out to get some ice-cream for the group.
Then we went to the airport to take my flight home. While Damian parked his car, Roseline got my luggage sent. It was quick and easy. I myself would be lost in the airport. Then she quietly went to buy a bag for me to put a package of pepper, a gift from Emanuel and Terrenz, to carry easily. It is great to have disciples like Damian and Roseline who go out of their way to make life comfortable for me.
Grandmaster Wong Kiew Kit,
15th April 2017,
Sungai Petani.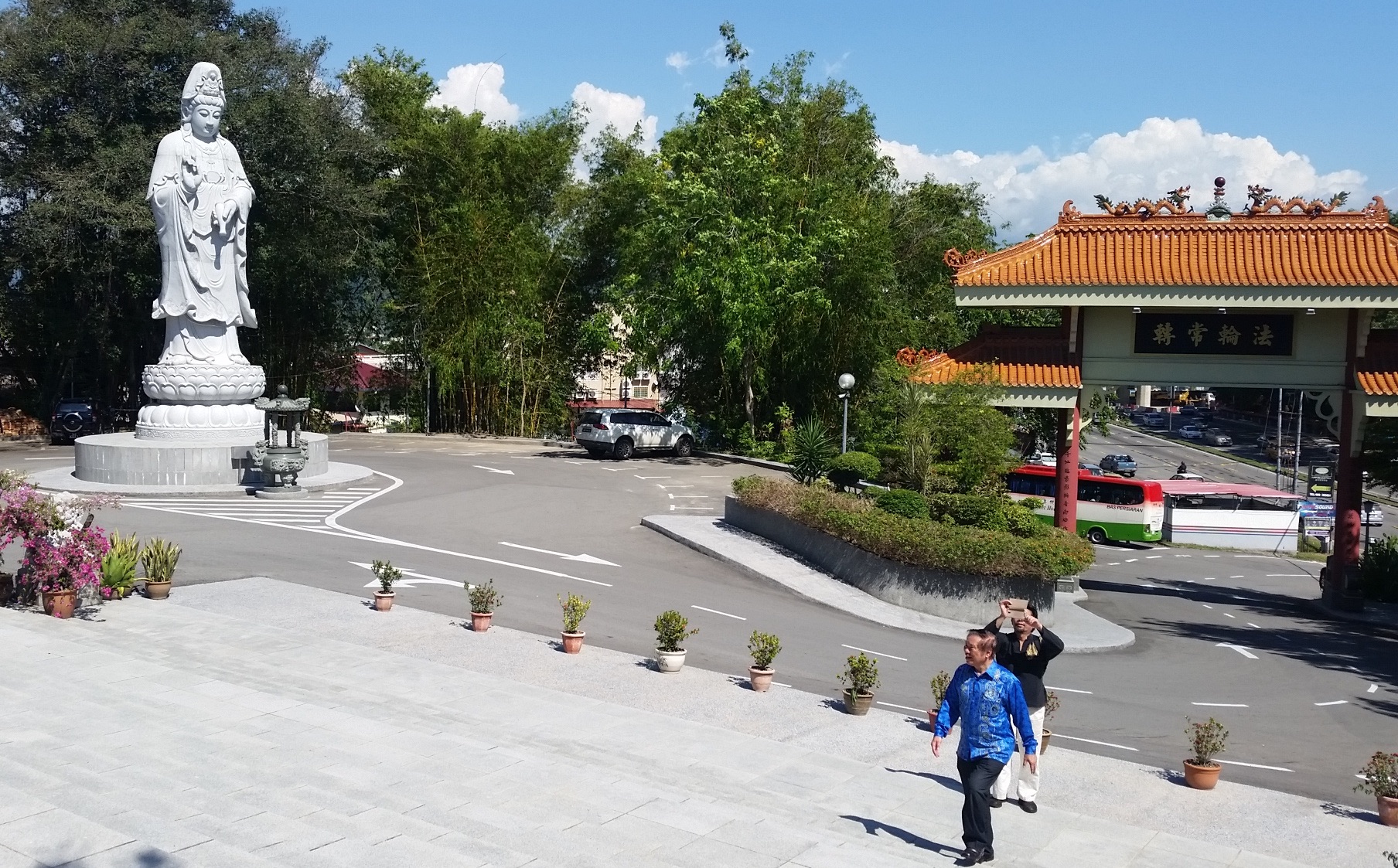 In the compound of Pu Tou Temple where Bodhisattva Guan Yin bestows blessings on all visitors
LINKS
Travels in Malaysia
Video Show of Sabah, the Northernmost Tip, Oct 2011
Courses and Classes
---
---