CIUDAD ENCANTADA AND THE ANCIENT TOWN OF CUENCA 2018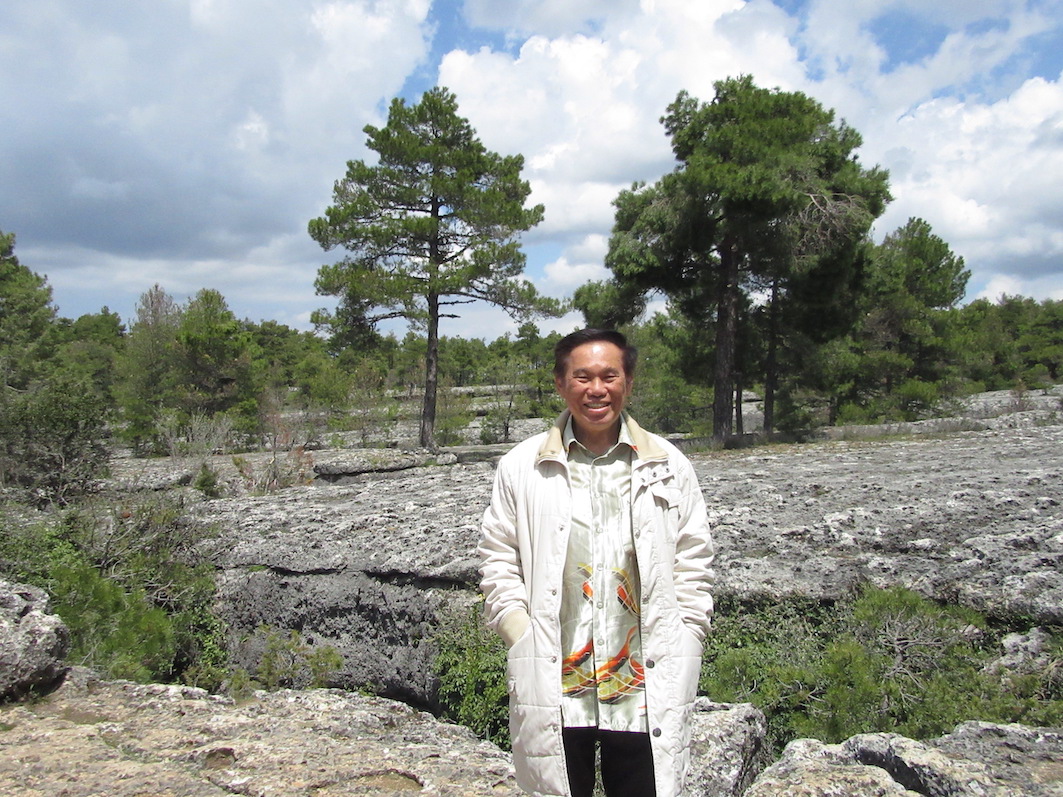 Grandmaster Wong at the Sea of Rocks
---
On 10th May 2018, before the chi kung courses in Madrid, Sifu Laura Fernandez Garrido and Sifu Manuel Tirado Lopez took me to visit Cuenca, which is about 170 km from Madrid. Before entering the town of Cuenca, we went to Ciudad Encantada, or Enchanted City, which is about 30 km away.
We started at about 11.00 am, which is actually 9.00 am solar time, as Spain uses continental European time, which is about the same time in Austria about 2250 km away. I remembered that many years ago I visited an ancient Spanish town where I found a sundial, a device that tells the time of day by the position of the sun. My watch, which told current Spanish time, showed 4.30 pm but the sundial showed 1.30 pm. It was winter then, and European countries pushed their time one hour ahead.
It was springtime when I visited Spain in May. The sun was shining, and Spain is well known for sunny weather. But the countryside was quite bare though the towns are beautiful with parks and fountains. Once Douglas, my most senior student in the West, told me that Spain in summer, especially southern Spain, was like a desert. I recalled how hot it was when I was in Alicante two weeks ago.
We turned from a main highway from Madrid to Valencia to another highway to Cuenca. I recognized that the Cuenca highway was new and straight, as when I drove to Cuenca many times many years ago, once with my wife, the old road was winding.
I could recognize some old buildings as we neared Cuenca, but many other buildings were new. But before reaching the town, before reaching a park at the outskirt of Cuenca which I recognized very well, we turned to another road leading to Ciudad Encantada, or the Enchanted City. Laura and Manolo, whom we call instead of Manuel, told me that we would later return to Cuenca for lunch.
It was also a new road, more comfortable for driving but less romantic. I recalled that years ago when I visited Ciudad Encantada, I had to go through Cuenca along a winding road along a river with beautiful mountain cliffs at the side. But as we neared Ciudad Encantada, we also passed through some beautiful mountain cliffs.
Ciudad Encantada was enchanting. I saw some souvenir shops at the entrance the same as I saw them many years ago. After a short distance from the entrance, we came to a huge mushroom, or a rock that resembled a huge mushroom. I believed this huge mushroom could be a symbol for Ciudad Encantada.
Then we saw some huge boats, or rock formations that resembled boats. Soon we saw some rock formations that resembled a Roman bridge. Laura told me that there were many Roman bridges, real ones, in Spain.
Next we came to a huge face, which did not appear to me to be happy. We then came to a seal balancing a ball. Of course all these were rock formations. It would be amusing to imagine a seal in inland Spain, but then millions of years ago Ciudad Encantada was part of the seabed of Thetis.
We then came to the "Slide", which was a long, narrow sloping path between gigantic rocks on both sides. There were some steps leading downward and railings nailed to the rocks.
After the "Slide" we arrived at a "Sea of Rocks", which was a wide spread of rock formations resembling rolling waves. We took some photographs at the "Sea of Rocks".
We came to a rock formation which looked like a wild animal, though it was not stated in the pamphlet supplied by Ciudad Encantada. Then we saw a battle between an elephant and a crocodile. Just before this battle was a rock formation resembling an elephant's head.
Then we went to some rock formations which looked like an entrance to a convent. We went further and saw, depending on your imagination, some boats or mushrooms. There was also a tortoise stretching its head.
Laura pointed to me an interesting rock. It was covered with greenery, whereas other rocks were bare. There was also the head of a bear, or if you like, a pig.
Laura also told me an interesting legend about Teruel, which is a town in eastern Spain. There were two lovers, but their parents prevented them from marrying, much like Shakespeare' tragedy, Romeo and Juliet. We found two rock formations resembling two lovers about to kiss each other, though their faces were not angelic.
We were quite hungry when we left Ciudad Encantada. There was a sign for a beautiful view about 1.5 kilometers away, but the delicious food in Cuenca was more attractive. So we decided to leave the beautiful view on another visit.
Manolo drove us up to the ancient town of Cuenca to have a delicious lunch. After lunch we went over to a large open platform to look at the ancient town from afar. Laura asked a local man about the famous hanging houses, which reminded me of Wudang Mountain in China.
We then drove along the main road which ran through the ancient town of Cuenca. We passed El Castillo, which was the remnant of an Arab Castle that allowed traffic to go through. We passed some lovely ancient houses and stopped in front of Cuenca Cathedral.
I told Laura and Monolo that I would take just a few minutes to go behind the frontal buildings to see the hanging house of Cuenca which I remembered many years ago. But Laura followed me, while Monolo remained in the car.
Cuenca Cathedral was majestic even from outside. I went along its side and towards its back where I found a statue on horseback. I went down some stairs, found the Cuenca Museum, went though a gateway and there in front was the famous hanging house of Cuenca. I took some videos and then hurried back to the car. We left Cuenca and drove to my hotel by highways.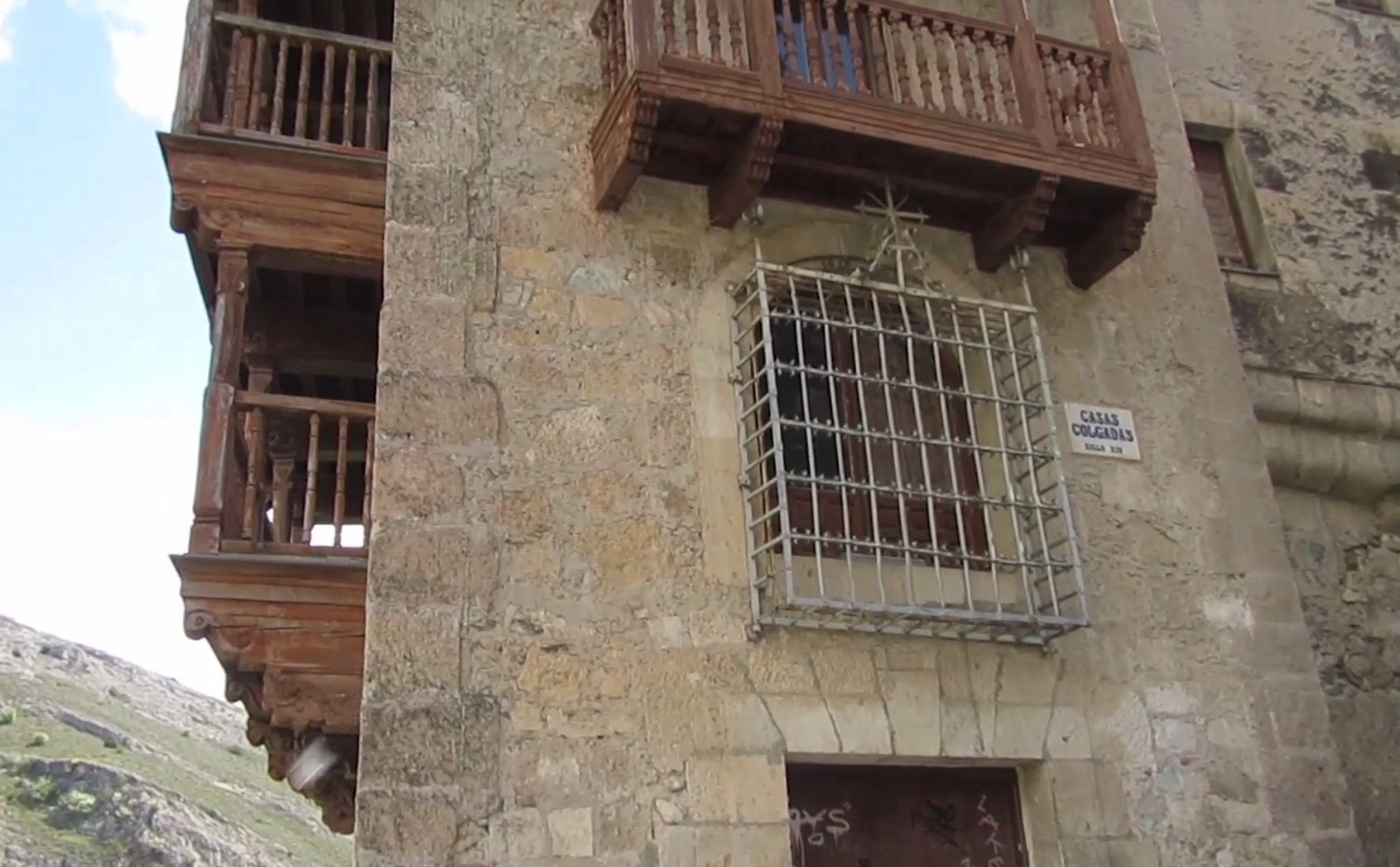 Hanging House of Cuenca
Grandmaster Wong Kiew Kit
Madrid, 12th May 2018
LINKS
Ciudad Encantada Video Show
Cuenca Video Show
Travels in Spain
Video Shows in Spain
Courses and Classes
---
---