GOING NORTH ON YONGE STREET, THE LONGEST STREET IN THE WORLD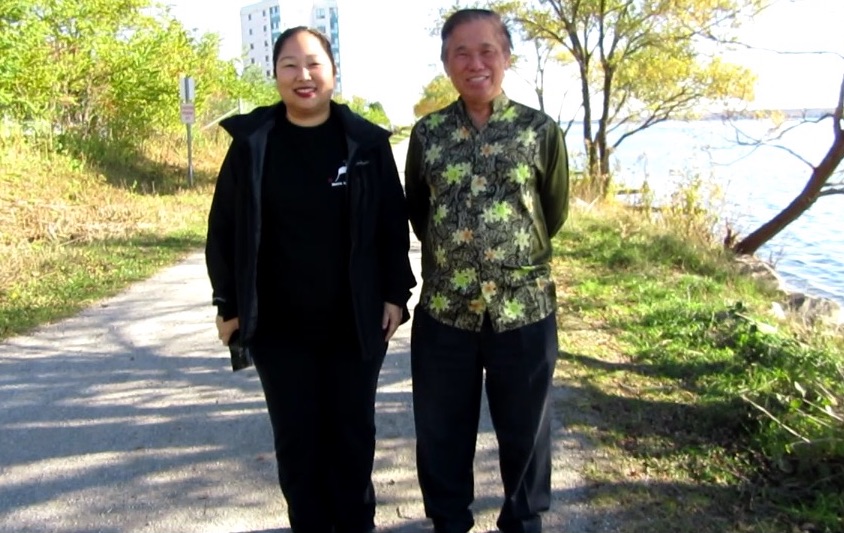 Emiko and me by Lake Simcoe
---
Yonge Street, which is 1896 km long, is easily the longest street in the world. Please take note that its length is 1896 km, and not 1896 meters. It starts at the bay of Lake Ontario in Toronto, goes through almost 2000 km of towns, cities and wilderness.
Emiko, Hubert and I went north along Yonge Street from Sheppard Avenue in North York in Toronto, and passed neighborhoods, which are actually towns on their own right, of Thornhill, Richmond Hill, Oak Ridges and Aurora. These neighborhoods are now full of buildings, but I remember that when I went along Yonge Street about 15 years ago, it was over rolling hills.
I recalled that some years ago I took my wife and three of my children, who are Wei Foong, Chun Nga and Siew Foong to Canada. While my wife and children went north to visit the Thousand Islands, which lie between Canada and the United States, I drove along Yonge Street. After some rolling country-side I reached a small town with a large market.
I told Emiko and Hubert it would be romantic to visit the same place again. We arrived at a place called Newmarket. We found a large market at the side of Yonge Street, but I was not sure it was the same market I saw many years ago thought they looked similar. The difference was that the market I saw many years ago was one long unit with many stores inside, whereas the market we saw on this trip was compartmentalized into different stalls even from outside. There were no other buildings around then, but many buildings around now. Emiko told me that the difference could be due to changing time.
We drove into Newmarket town which was nearby. I was not aware of any town near the market then. Newmarket is situated at the northern end of Great Toronto Area, often refered to as GTA, which had a population of about 6 million people, which was about one-sixth of the total population of Canada of 35 million.
Just north of Newmarket, Yonge Street split into two, with the old Yonge Street which stopped a few kilometers away, and the main Yonge Street which was sometimes called "Highway 11" going far north into Canada.
We reached a small pretty town called Bradford. Emiko told me that we had just left GTA. I was particularly impressed with the town hall of Bradford, which reminded me of Spanish architecture.
We continued along Yonge Street and arrived at the town of Barrie. Some people considered that Yonge Street ended at Barrie, as the road that continued was called "Highway 11". But I am more romantic than ordinary, and I prefer to call the road "Yonge Street".
Barrie is a beautiful city. We did not enter the city to see its beauty yet, we did so on our return journey. We stopped by a lake, Lake Simcoe, and admired its quiet magnificence. That part of the lake we saw was narrow. Hubert told me that it would open into a big spread of water further north.
We continued to Orillia, a little town, and then to Bracebridge. where we saw a bridge spanning a dam. We stopped by some stretch of water, which I was uncertain whether it was a river or a lake, but it was charming.
We had lunch in Bracebridge town. The restaurant was full and we waited for a long time. I found a waitress quite free. As she walked past us, I called to her. Either she did not hear me or pretended not to hear me. We continued waiting for some time. Then I went to the same waitress and said to her.
"Are you very busy?" I said in a voice loud enough for other customers to hear.
"Yes, I'm very busy," she answered.
"Then your boss should employ more waitresses, and sack some!" I said even louder.
She hurried away. Another waitress came to us and apologized. She then took our orders.
Hubert and Emiko told me their stories when it was necessary to be assertive. Hubert stopped a man bullying his girlfriend in a car. Emiko stopped another man, who was a head over Emiko, from bullying his wife in a restaurant.
Women, irrespective of whether they are young or elderly, single or married, should learn some kungfu, not to scare away their boyfriend or husband, but to be assertive when necessary. If they want to be feminine while being combat efficient, they should learn from our school Shaolin Wahnam.
Bracebridge is about 200 km from where we started our journey from Toronto. We drove back south along the same Yonge Street.
We stopped at Barrie and entered the city. It was lovely with Lake Simcoe besides it. We took a walk along the waterfront, where there was a lovely park with artistic decorations but looked natural. There was a walkway jutting into the lake. We took some pictures with alluring background.
We then had coffee in town. I told Hubert and Emiko that we could take coffee in Canada. Were we in England, and took coffee instead of tea, the people might throw us out of the pub or out of England. Tim Franklin who lived in England, I reminded them, was wise enough to take coffee in New Hampshire.
It was getting dark although it was only 5.00 pm, announcing that winter would soon be here. Interestingly, answering a question from Emiko on another occasion in the same journey, I found winter in Switzerland the most charming of the four seasons. But colorful leaves in fall, or autumn, made the present journey more beautiful.
I recalled that one of the most beautiful journeys I had in all my travels was from Niagara Fall to Niagara on the Lake in fall in Canada. The scenery was so beautiful that when I visited Canada again with my wife, we went from Niagara Fall to Niagara on the Lake again. But this time the season was summer, and the leaves were green. But the journey was also very beautiful, not because the leaves were not yellow, orange and golden as in fall, but my wife was with me.
We hurried south towards Toronto along Yonge Street. I was curious that the traffic was very heavy, with continuous streams of cars on the other side of the street. It was rush hour, I realized, with office workers going home from their Toronto offices.
We arrived at Richmond Hill in Toronto and had dinner in an Indian restaurant. While enjoying our dinner, and also during the journey, I shared interesting stories of my sifu, Sifu Ho Fatt Nam, with Emiko and Hubert. I told them, for example, how our patriarch, the Venerable Jiang Nan, transmitted the Shaolin arts to my sigung, Yang Fatt Khun, and how my sifu learned from my sigung, as well as how another sigung whose name I did not know, demonstrated the art of lightness by jumping up a 10-foot wall, and how my sifu defeated a three-time national Muay Thai champion.
By the time I returned to Toronto, it was past 9.00 pm.
Grandmaster Wong Kiew Kit,
8th November 2016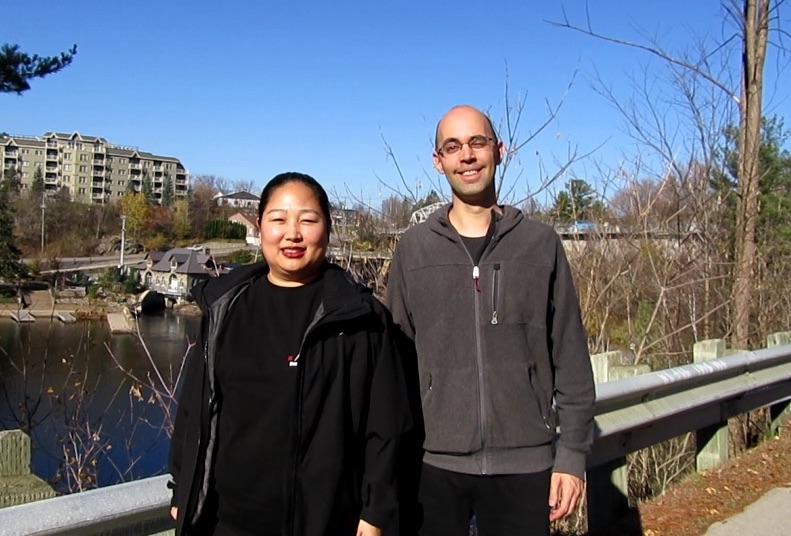 Emiko and Hubert in Bracebridge
LINKS
Travels in Canada
Courses and Classes
---
---