SINGLE WHIP -- TECHNIQUE FOR EXPLODING FORCE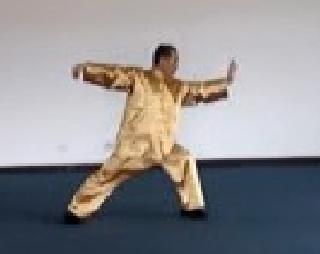 Grandmaster Wong exploding force with Single Whip
---
---
It is a common mistake, even among Taiji practitioners, that Taijiquan is only performed slowly and without force.
In practice, Taijiquan is often performed slowly for a few good reasons, such as ensuring the movements are correct, enhancing energy flow, and helping to relax. But it is also performed fast, otherwise it cannot be used for combat.
Taiji instructors frequently tell their students not to use strength. By this is meant muscular strength. If a practitioner tenses his muscles so as to generate muscular strength, he blocks his chi flow. It is chi flow which enables Taijiquan to be performed very fast and with tremendous force. The force generated by chi flow is internal force, which is very different from muscular strength.
The big problem with many Taiji practitioners is that they never have a chance to experience chi flow, which logically means they never have a chance to perform Taijiquan fast in a relaxed manner and with internal force. The problem has become so prevalent today that even some world known Taiji instructors question the reality of chi flow and internal force!
Many Taiji practitioners today are not even interested in chi flow and internal force. They are contented to practice Taiji for socialization and recreation, which is fine, but they miss some of the best benefits Taijiquan has to offer.
There are many ways to generate chi flow and develop internal force — if you know how. In fact, the very act of practicing Taijiquan is to generate chi flow and develop internal force. There are also many specific methods. "Cloud Hands" and "Grasping Sparrow's Tail" are two excellent methods.
The next logical stage, especially if you practice Taijiquan as a martial art which it actually is, is to "explode force", known as "fa-jing" in Chinese. You need three requirements
You must have accumulated some internal force.
You must be able to let your chi flow.
You must have a proper technique to enable you to explode force.
"Single Whip" is an excellent technique for this purpose. You explode your force like a lash of a whip. Once you know how to explode force using Single Whip, you can explode force using other techniques or patterns, just as once you know how to drive a particular car, you can drive other cars.
The pictures below show the movements of Single Whip. Take note of the foot position, the waist turning, the weight distribution, and the body movement. You must be relaxed in executing the movements. Tension would block energy flow.
Turning the waist helps to explode internal force from the dan tian. You should gently sink both your body as well as your chi as you strike. It is very important not to force your chi to sink; doing so may bring serious harmful side effect. Avoid the common mistake of raising your body or leaning forward.
Straightening both arms helps force to flow well. The hook hand at one end "locks" the force so that it can shoot out more powerfully at the palm on the other side. It is very important that the mouth is open when exploding force. Closing the mouth may result in the force bouncing back and hurting the internal organs. Exploding force is often accompanied by a shout of "herit".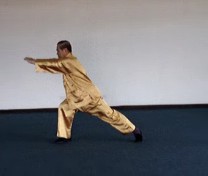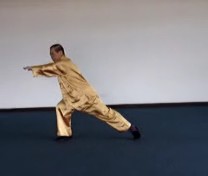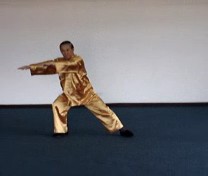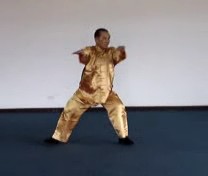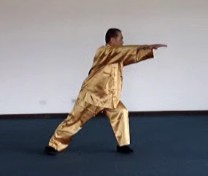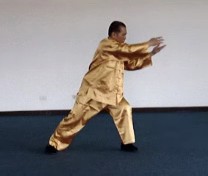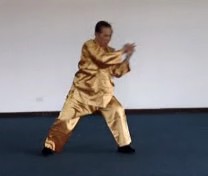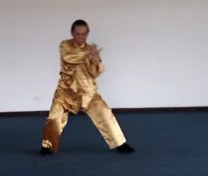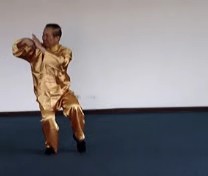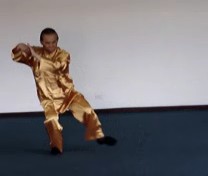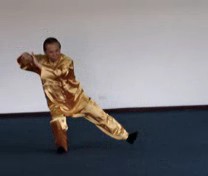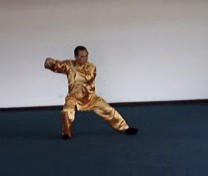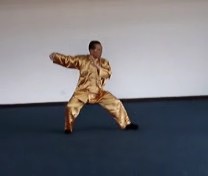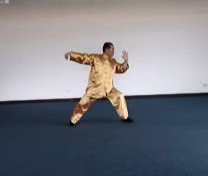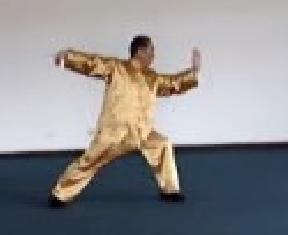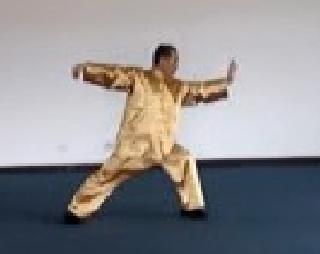 These Single Whip movements can be viewed in the video clips of the Wahnam Taijiquan Simplified Set in slow motion, and performed with force and speed
LINKS