FOUR TAIJIQUAN COMBAT SEQUENCES ON STRIKING, KICKING, FELLING AND CHIN-NA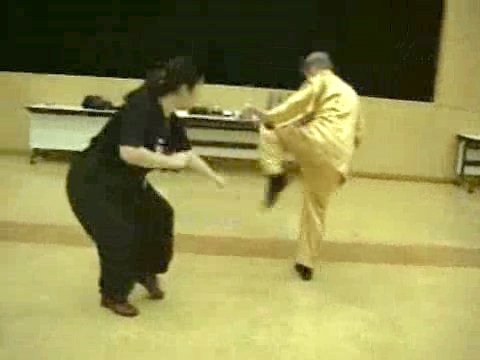 ---
---
After having learnt the basics, which is shown in Part 1 of this series, course participants proceed to learn combat applications. All the four aspects of attack and their defence -- striking, kicking, felling and chin-na ? are covered. It is inspiring that all the participants, including fresh beginners, are able to use Taijiquan for free sparring at the end of the course.
This video series is presented in two parts. Part 1, which can be accessed here is divided into the following sections, which also follow the order the lessons were taught.
This is Part 2, and is divided into the following sections.
This video series provides excellent reference material for those who wish to prepare themselves for more advanced Taijiquan courses at the UK Summer Camp in July 2008 and the Intensive Taijiquan Course in September 2008.
---
Please click on the pictures or their captions to view the videos.
Please note that you can download the video clips onto your own computer and view them at your leisure. Enter the webpage (not this one) where the selected video clip can be downloaded. Place your computer pointer at the picture or one of the links, and right click. Choose "Save Target As". Select the directory or sub-directory where you wish to keep the video clip. Click "Save".
---
You can also view all the videos here
---
---
Part 1 - Basic Skills and Techniques of Pushing Hands
---
We would like to express our thanks to Sifu Emiko Hsuen and Sifu Yumi Honjo for recording these videos
---
You can also view all the videos here
LINKS