COUNTERS AGAINST KNEE STRIKES, ELBOW STRIKES AND ELBOW DISLOCATIONS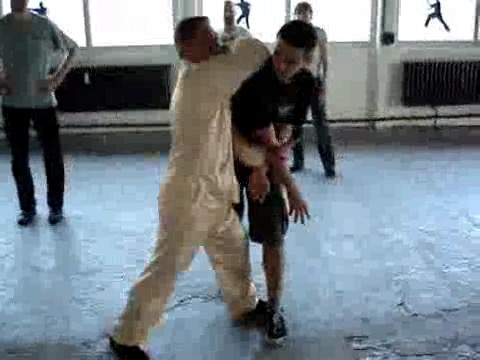 Knee strikes and elbow strikes are effective in close-quarter fighting. Muay Thai fighters use these attacks frequently. The video clips here show some effective counters against these attacks.
Another formidable attack is to dislocate an opponent's elbow. A suitable time to apply this technique is when an opponent executes an u skyward cannon punch or a upper-cut. Interestingly, the skyward cannon punch is also an effective counter against this elbow dislocation attack.
Please click on the pictures or their captions to view the videos.
Please note: you can download the video clips onto your own computer and view them at your leisure. Enter the webpage (not this one) where the selected video clip can be downloaded. Place your computer pointer at the picture or one of the links, and right click. Choose "Save Target As". Select the directory or sub-directory where you wish to keep the video clip. Click "Save".
---
Please click the picture or the caption below to view the video

Counters against Knee Strikes, Elbow Strikes and Elbow Dislocation from Wong Kiew Kit on Vimeo.
LINKS
Selection from Intensive Shaolin Kungfu Course in Frankfurt of June 2008
Counters against Knee Strikes, Elbow Strikes and Elbow Dislocations
Courses and Classes