APPLYING SHAOLIN KUNGFU AGAINST OTHER MARTIAL ARTS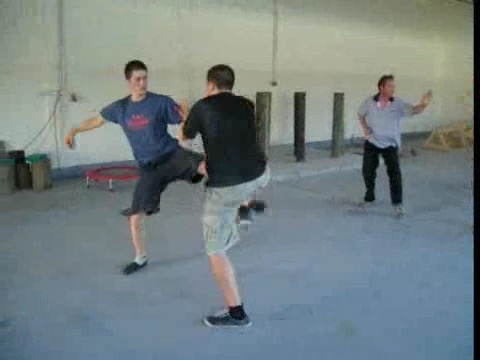 It is actually amusing to find many kungfu practitioners, including some masters, thinking that kungfu techniques are not as effective as Boxing or Kick-Boxing for combat. Hence, they discard kungfu patterns for Boxing or Kick-Boxing in their sparring.
The reason, of course, is not that kungfu is combat inefficient, but that these kungfu practitioners do not know how to apply their kungfu for combat. In the Intensive Shaolin Kungfu Course in Frankfurt in June 2008, course participants spent some time applying Shaolin techniques against opponents using Boxing, Kick-Boxing, Muay Thai and Wrestling.
Please click on the pictures or their captions to view the videos.
Please note: you can download the video clips onto your own computer and view them at your leisure. Enter the webpage (not this one) where the selected video clip can be downloaded. Place your computer pointer at the picture or one of the links, and right click. Choose "Save Target As". Select the directory or sub-directory where you wish to keep the video clip. Click "Save".
---
Please click the picture or the caption below to view the video

Applying Shaolin Kungfu against Other Martial Arts from Wong Kiew Kit on Vimeo.
LINKS
Selection from Intensive Shaolin Kungfu Course in Frankfurt of June 2008
Applying Shaolin Kungfu against other Martial Arts
Courses and Classes