EMOTIONAL CLEANSING IN COSMIC SHOWER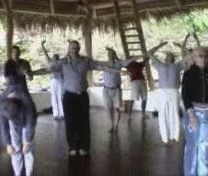 Emotional Cleansing In Golden Shower
After having read the incredible chi kung classes of Sifu Wong and their amazing benefits, many people may wonder.what a typical class is like and whether the benefits reported are true. This video clip taken impromptu shows such a class in action on the Blue Mountain in Costa Rica in February 2005 where some of these benefits are gained.
An important benefit of this chi kung course called "Cosmic Shower" is to cleanse emotional blockage. During the deep cleansing one of the participants, who is a trainer of senior executives, cried out in catharsis. Uninitiated persons might be worried hearing the cry. How did he and the other course participants feel? Wonderful. You can read some of their comments in video clips to be released later.
The size of the video clip is 5.03 MB.
Click here to download.
---
You can view the video by clicking on the picture of the caption below

Emotional Cleansing in Cosmic Shower from Wong Kiew Kit on Vimeo.
LINKS
Courses and Classes