SWIMMING DRAGON BAGUAZHANG SET
Picture Series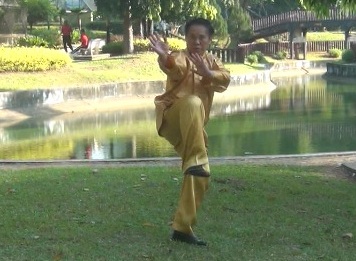 ---
---
The pictures here which show the names of the patterns in the Baguazhang Swimming Dragon Set are culled from the video series. The patterns are as beautiful to watch as they are effective for combat.
The are eight sequences in the set, and each sequences contains eight sophisticated applications typical of Baguazhang, making a total of sixty four typical Baguazhang applications. These sixty four applications are represented by sixty four patterns found here.
The patterns in the Swimming Dragon Set can be practiced as individual sequences. In fact, the sequences came first, then they were linked to form a set. The sixty four representative patterns culled from the eight sequences can be found here, and an earlier version can be found here.
In each sequence, there are four applications in the initiator's mode, and four in the responder's mode. Do you know what these characteristic Baguazhang applications are?
Sequence 1 -- Open Window Look at Moon
| | |
| --- | --- |
| | |
| 1 Green Dragon Tests Claw | 2 Open Window Look at Moon |
| | |
| --- | --- |
| | |
| 3 Green Dragon Returns Head | 4 Black Bear Fells Tree |
| | |
| --- | --- |
| | |
| 5 Lone Bird Flies Away | 6 Phoenix Robs Nest |
| | |
| --- | --- |
| | |
| 7 Green Dragon Emerges from Sea | 8 Reading Spring-Autumn Annual at Night |
| | |
| --- | --- |
| | |
| 9 Green Dragon Emerges from Sea | 10 Golden Eagle Catches Chicken |
| | |
| --- | --- |
| | |
| 11 Whirlwind Sweeps Leaves | 12 Yellow Dragon Plays with Water |
| | |
| --- | --- |
| | |
| 13 Green Dragon Tests Claws | 14 Open Window Look at Moon |
| | |
| --- | --- |
| | |
| 15 Scoop Needle from Sea Bottom | 16 Knock Door Look for Inn |
| | |
| --- | --- |
| | |
| 17 Separate Grass Search for Snake | 18 Reading Spring-Autumn Annul by Night |
| | |
| --- | --- |
| | |
| 19 Green Dragon Emerges from Sea | 20 Reading Spring-Autumn Annual by Night |
| | |
| --- | --- |
| | |
| 21 Green Dragon Emerges from Sea | 22 Control a Running Horse |
| | |
| --- | --- |
| | |
| 23 Reading Spring-Autumn Annual by Night | 24 Yellow Dragon Shoots Tongue |
| | |
| --- | --- |
| | |
| 25 Separate Grass Search for Snake | 26 Green Dragon Tests Claws |
Sequence 2 -- Pure Blade Cuts Grass
| | |
| --- | --- |
| | |
| 27 Green Dragon Tests Claws | 28 Pure Blade Cuts Grass |
| | |
| --- | --- |
| | |
| 29 Horizontally Sweep Thousand Armies | 30 Jing Er Assassinates Emperor |
| | |
| --- | --- |
| | |
| 31 Swallow Spreads Wings | 32 Wild Horse Charges at Fence |
| | |
| --- | --- |
| | |
| 33 Dark Dragon Enters a Well | 34 Old Dragons Draws Water |
| | |
| --- | --- |
| | |
| 35 Grab Horse Back to Stable | 36 Grab Horse Back to Stable |
| | |
| --- | --- |
| | |
| 37 Spiritual Snake Enters Hole | 38 Green Dragon Tests Claws |
| | |
| --- | --- |
| | |
| 39 White Sbake Shoots Venom | 40 Smooth Hand Lead Away |
| | |
| --- | --- |
| | |
| 41 Green Dragon Returns Head | 42 Serpent Enters Sea |
| | |
| --- | --- |
| | |
| 43 Smooth Hand Catch Spear | 44 Sparrow Turns Body |
| | |
| --- | --- |
| | |
| 45 Spiritual Monkey Rolls on Floor | 46 Green Dragon Tests Claws |
Sequence 3 -- Yellow Dragon Emerges from Cave
| | |
| --- | --- |
| | |
| 47 Green Dragon Tests Claws | 48 Yellow Dragon Emerges from Cave |
| | |
| --- | --- |
| | |
| 49 Leisurely Grab Goat | 50 Swimming Dragon Plays with Water |
| | |
| --- | --- |
| | |
| 51 Yellow Dragon Plays with Water | 52 Yellow Dragon Shoots Tongue |
| | |
| --- | --- |
| | |
| 53 Monkey Steals Peach | 54 Cloud Dragon Returns Head |
| | |
| --- | --- |
| | |
| 55 Swimming Dragon Plays with Water | 56 Swimming Dragon Plays with Water |
| | |
| --- | --- |
| | |
| 57 Green Dragon Tests Claws | 58 Green Dragon Tests Claws |
| | |
| --- | --- |
| | |
| 59 Smooth Hand Catch Spear | 60 Swallow Skips over Water |
| | |
| --- | --- |
| | |
| 61 Green Dragon Tests Claws | 62 Swimming Dragon Plays with Water |
| | |
| --- | --- |
| | |
| 63 Yellow Dragon Emerges from Cave | 64 Swimming Dragon Plays with Water |
| | |
| --- | --- |
| | |
| 65 Yellow Dragon Emerges from Cave | 66 Leisurely Grab Goat |
| | |
| --- | --- |
| | |
| 67 Separate Grass Search for Snake | 68 Heaven King Carries Umbrella |
| | |
| --- | --- |
| | |
| 69 Knight Tames Tiger | 70 Big Boss Strikes Elbow |
| | |
| --- | --- |
| | |
| 71 Yellow Dragon Shoots Tongue | 72 Naughty Boy Kicks Door |
| | |
| --- | --- |
| | |
| 73 Green Dragon Emerges from Sea | 74 Green Dragon Emerges from Sea |
| | |
| --- | --- |
| | |
| 75 Green Dragon Emerges from Sea | 76 Sleeping Buffalo Stretches Leg |
| | |
| --- | --- |
| | |
| 77 Catch Tiger In Mountain | 78 Green Dragon Tests Claws |
Sequence 4 -- Breeze Sways Lotus Leaves
| | |
| --- | --- |
| | |
| 79 Green Dragon Tests Claws | 80 Golden Cockerel Locks Throat |
| | |
| --- | --- |
| | |
| 81 Swallow Flies Aslant | 82 Yellow Dragon Charges at Face |
| | |
| --- | --- |
| | |
| 83 Breeze Sways Floating Green | 84 Knight Plays with Lion |
| | |
| --- | --- |
| | |
| 85 Knight Plays with Lion | 86 Fierce Dragon Across Stream |
| | |
| --- | --- |
| | |
| 87 Swimming Dragon Rushes Skyward | 88 Lazy Man Plucks Fruit |
| | |
| --- | --- |
| | |
| 89 Breeze Sways Lotus Leaves | 90 Breeze Sways Floating Green |
| | |
| --- | --- |
| | |
| 91 Breeze Sways Floating Green | 92 Yellow Dragon Shoots Tongue |
| | |
| --- | --- |
| | |
| 93 Green Dragon Tests Claws | 94 Green Dragon Tests Claws |
| | |
| --- | --- |
| | |
| 95 Green Dragon Tests Claws | 96 Golden Dragon Spirals Pillar |
| | |
| --- | --- |
| | |
| 97 Yellow Dragon Charges at Face | 98 Golden Dragon Spirals Pillar |
| | |
| --- | --- |
| | |
| 99 Reverse Hand Pluck Peach | 100 White Ape Presents Fruit |
| | |
| --- | --- |
| | |
| 101 Fierce Dragon Across Stream | 102 Leisurely Grab Goat |
| | |
| --- | --- |
| | |
| 103 Old Eagle Turns Body | 104 Spiritual Monkey Plucks Flower |
| | |
| --- | --- |
| | |
| 105 Spiritual Monkey Tests Cave | 106 Green Dragon Tests Claws |
| | |
| --- | --- |
| | |
| 107 Green Dragon Tests Claws | 108 Green Dragon Tests Claws |
Sequence 5 -- Strange Python Turns Body
| | |
| --- | --- |
| | |
| 109 Green Dragon Tests Claws | 110 White Snake Shoots Venom |
| | |
| --- | --- |
| | |
| 111 Golden Cicada Removes Shell | 112 Chop the Hua Mountain |
| | |
| --- | --- |
| | |
| 113 Crow Flaps Wings | 114 Strange Python Turns Body |
| | |
| --- | --- |
| | |
| 115 Black Bear Knocks Pillar | 116 Green Dragon Tests Claws |
| | |
| --- | --- |
| | |
| 117 Big Bird Flaps Wings | 118 Green Dragon Turns Body |
| | |
| --- | --- |
| | |
| 119 Cloud Dragons Lies on Pillow | 120 Wild Horse Charges at Fence |
| | |
| --- | --- |
| | |
| 121 Cloud Flakes Two Doors | 122 Phoenix Spreads Tail |
| | |
| --- | --- |
| | |
| 123 Green Dragon Charges at Face | 124 Green Dragon Tests Claw |
| | |
| --- | --- |
| | |
| 125 Green Dragon Tests Claws | 126 Lift Hand Touch Heaven |
| | |
| --- | --- |
| | |
| 127 Embrace Moon in Bosom | 128 Wild Horse Charges at Fence |
| | |
| --- | --- |
| | |
| 129 Lift Hand Touch Heaven | 130 Embrace Moon in Bosom |
| | |
| --- | --- |
| | |
| 131 Lift Hand Touch Heaven | 132 Leisurely Grab Goat |
| | |
| --- | --- |
| | |
| 133 Yellow Dragon Charges at Face | 134 Horizontally Sweep Thousand Armies |
| | |
| --- | --- |
| | |
| 135 Fierce Dragon Across Stream | 136 Fierce Tiger Descends Mountain |
| | |
| --- | --- |
| | |
| 137 Point at Sky and Earth | 138 Great Immortal Catches Serpent |
| | |
| --- | --- |
| | |
| 139 Wild Crane Kicks Leg | 140 Green Dragon Shoots Pearl |
| | |
| --- | --- |
| | |
| 141 Green Dragon Tests Claws | 142 Green Dragon Tests Claws |
| | |
| --- | --- |
| | |
| 143 Green Dragon Tests Claws | 144 Green Dragon Tests Claws |
Sequence 6 -- Big Boss Removes Helmet
| | |
| --- | --- |
| | |
| 145 Green Dragon Tests Claws | 146 Push Mountain into Sea |
| | |
| --- | --- |
| | |
| 147 Big Boss Removes Helmet | 148 Jade Girl Kicks Shuttle |
| | |
| --- | --- |
| | |
| 149 Spiritual Monkey Tests Cave | 150 Fierce Dragon Across Stream |
| | |
| --- | --- |
| | |
| 151 Snow Flakes on Top | 152 Lion Rolls Ball |
| | |
| --- | --- |
| | |
| 153 Knight Tames Tiger | 154 Reverse Hanging of Golden Lotus |
| | |
| --- | --- |
| | |
| 155 Yellow Oriole Dots Water | 156 Knight Tames Tiger |
| | |
| --- | --- |
| | |
| 157 Green Dragon Tests Claws | 158 Lion Plays with Ball |
| | |
| --- | --- |
| | |
| 159 Move Body Change Shadow | 160 Green Dragon Shoots Pearl |
| | |
| --- | --- |
| | |
| 161 Lift Hand Touch Heaven | 162 Lion Plays with Ball |
| | |
| --- | --- |
| | |
| 163 Separate Grass Search for Snake | 164 Green Snake Enters Grass |
| | |
| --- | --- |
| | |
| 165 Z-Shape Butterfly Palms | 166 Z-Shape Butterfly Palms |
| | |
| --- | --- |
| | |
| 167 Separate Grass Search for Snake | 168 White Monkey Presents Fruit |
| | |
| --- | --- |
| | |
| 169 White Monkey Presents Fruit | 170 Green Dragon Tests Claws |
Sequence 7 -- Green Dragon Returns Head
| | |
| --- | --- |
| | |
| 171 Green Dragon Tests Claws | 172 Dark Dragon Draws Water |
| | |
| --- | --- |
| | |
| 173 Green Dragon Returns Head | 174 Wind Strikes Brain-Gate |
| | |
| --- | --- |
| | |
| 175 Wind Strikes Brain-Gate | 176 Cloud Dragon Spirals Round |
| | |
| --- | --- |
| | |
| 177 Yellow Dragon Emerges from Cave | 178 Wind Strikes Brain-Gate |
| | |
| --- | --- |
| | |
| 179 Cloud Dragon Spirals Round | 180 Horizontally Bar Rushing Horse |
| | |
| --- | --- |
| | |
| 181 White Snake Shoots Venom | 182 Horizontally Bar Rushing Horse |
| | |
| --- | --- |
| | |
| 183 White Snake Shoots Venom | 184 Golden Cockerel Locks Throat |
| | |
| --- | --- |
| | |
| 185 Colorful Swallow Flies Aslant | 186 Colorful Swallow Flies Aslant |
| | |
| --- | --- |
| | |
| 187 Green Dragon Tests Claws | 188 Green Dragon Tests Claws |
| | |
| --- | --- |
| | |
| 189 Green Dragon Tests Claws | 190 Green Dragon Returns Head |
| | |
| --- | --- |
| | |
| 191 Cloud Dragon Rushes at Sky | 192 Cloud Dragon Rushes at Sky |
| | |
| --- | --- |
| | |
| 193 Cloud Dragon Spirals Round | 194 Cloud Dragon Spirals Round |
| | |
| --- | --- |
| | |
| 195 Cloud Dragon Spirals Round | 196 Horizontally Bar Rushing Horse |
| | |
| --- | --- |
| | |
| 197 Green Dragon Crosses Step | 198 Green Dragon Crosses Step |
| | |
| --- | --- |
| | |
| 199 Green Dragon Crosses Step | 200 Lift Hand Touch Heaven |
| | |
| --- | --- |
| | |
| 201 White snake Shoots Venum | 202 White snake Shoots Venum |
| | |
| --- | --- |
| | |
| 203 Green Dragon Tests Claws | 204 Green Dragon Tests Claws |
Sequence 8 -- Cloud Dragon Returns Head
| | |
| --- | --- |
| | |
| 205 Green Dragon Tests Claws | 206 Chop the Hua Mountain |
| | |
| --- | --- |
| | |
| 207 Immortal Lifts Pot | 208 Cloud Dragon Returns Head |
| | |
| --- | --- |
| | |
| 209 Cloud Dragon Returns Head | 210 Knight Tames Tiger |
| | |
| --- | --- |
| | |
| 211 Phoenix Robs Nest | 212 Green Dragon Crosses Step |
| | |
| --- | --- |
| | |
| 213 Green Dragon Returns Head | 214 Green Dragon Plays with Water |
| | |
| --- | --- |
| | |
| 215 Running Away with Spear | 216 Green Dragon Turns Hody |
| | |
| --- | --- |
| | |
| 217 Fierce Dragon Across Stream | 218 White Ape Presents Peach |
| | |
| --- | --- |
| | |
| 219 Separate Grass Search for Snake | 220 Green Dragon Tests Claws |
| | |
| --- | --- |
| | |
| 221 Lift Hand Touch Heaven | 222 Angry Bull Charges at Fence |
| | |
| --- | --- |
| | |
| 223 General Receives Horse | 224 Dark Dragon Draws Water |
| | |
| --- | --- |
| | |
| 225 Green Snake Enters Grass | 226 Push Mountain into Sea |
| | |
| --- | --- |
| | |
| 227 Separate Grass Search for Snake | 228 Fierce Dragon Across Stream |
| | |
| --- | --- |
| | |
| 229 Separate Grass Search for Snake | 230 Fierce Dragon Across Stream |
| | |
| --- | --- |
| | |
| 231 Old Eagle Catches Bird | 232 Old Eagle Catches Bird |
| | |
| --- | --- |
| | |
| 233 Separate Grass Search for Snake | 234 Green Dragon Tests Claws |
| | |
| --- | --- |
| | |
| 235 Green Dragon Tests Claws | 236 Flowing Breeze Swaying Willows |
LINKS
Baguazhang Review
Courses and Classes