SHAOLIN CRESCENT MOON SPEAR SET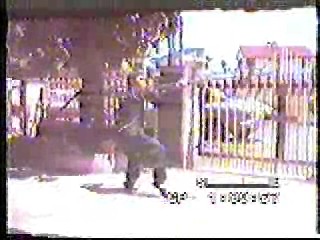 Shaolin Crescent Moon Spear — 1980s
The Crescent Moon Spear is also called the Lu Pu Spear, named after the famous warrior of the Three Kingdom Period who used this type of spear. It is a very special weapon because it incorporates the properties of five different weapons, namely the spear, the staff, the hook, the big trident and the dagger.
It is a northern kungfu weapon usually used on horseback, and is not often found in southern styles. This video where Sifu Wong demonstrates the Crescent Moon Spear was taken about 30 years ago in the 1980s. The Crescent Moon Spear used in this video was quite heavy as the whole weapon was made of metal. Good stances are necessary to perform this heavy weapon.
---
You can view the video here by clicking on the picture or the caption below. Click on the bottom right corner for enlarged viewing.

Crescent Moon Spear from Wong Kiew Kit on Vimeo.
LINKS
Courses and Classes