HIP THROWS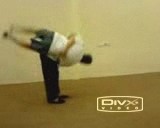 Next, Sifu Kai demonstrates some hip throws as used in Judo on Sifu Mark. In Shaolin Kungfu hip throws may be executed using the pattern "White Ape Uproots Tree" or the pattern "Immortal Draws Sword". In Taijiquan, "Emptying Rucksack" may be used for hip throws as well as for shoulder throws. Hip throws are forward throws.
The size of the video clip is 1.57 MB.
Click here to download.
LINKS
Courses and Classes