BRING HORSE BACK TO CAMP OF A SPEAR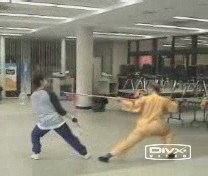 Application of Spear against Single Knife
As the main advantage of a spear is its length, a knife-holding exponent would use various techniques to close in. Once he is close to a spear-holding opponent, he would have a big advantage. Here Sifu Wong shows how a spear-holding exponent can overcome this difficult situation. Using a pattern called "Sharp Knife Trims Bamboo", Michael has closed in with his knife cutting into Sifu Wong's body. Without moving his legs, Sifu Wong leans his body fully backward employing the pattern "Bring Horse Back to Camp", not only avoiding the opponent's attack but counter-attacking him at the same time.
---
Please click the picture or the video below to view the video

Bring Horse Back to Camp of a Spear from Wong Kiew Kit on Vimeo.
LINKS
Application of Spear against Single Knife
Courses and Classes