HISTORY AND PHILOSOPHY OF
FIFTH BROTHERLOCTAGONAL STAFF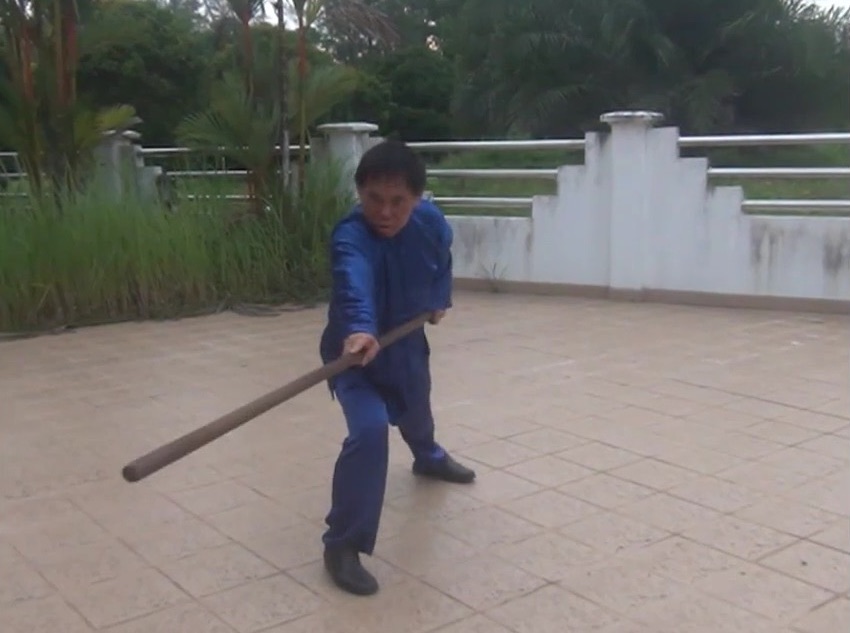 Grandmaster Wong demonstrated a pattern called "Yellow Dragon Emerges from Cave" from the Fifth Brother Octagonal Staff
---
The Fifth Brother Octagonal Staff, or Ng Long Pat Kua Khun in Chinese (Cantonese), is one of the four best known staff sets in kungfu. The other three are Six-and-Half-Point Staff, Ho Family Flowing Water Staff, and Left Hand Fishing Staff. Some accounts mention the fourth staff set as Poisonous Snake
I learned it from Sifu Chow Kok Chee, who learned it from his god-father, Soong Siew Por, who was a student of the great Shaolin master, Wong Fei Hoong.
The Fifth Brother Octagonal Staff was originally a spear used by Yang Wu Lang, or Fifth Brother Yang, a famous Song Dynasty general. He was ambushed and he escaped to the Wutai Mountain, or Five-Platform Mountain, where in a Buddhist Monastery in line with the compassion of Buddhism, he took off his spearhead and practiced his spear like a staff.
The Fifth Brother Octagonal Staff is a right hand staff, where the right hand is in front of the left hand in holding the staff, though in some of the techniques the left hand is in front. Its main techniques are thrusting, dotting, hitting and sweeping.
Wong Kiew Kit
29th December 2018
LINKS
Fifth Brother Octagonal Staff -- Video
Fifth Brother Octagonal Staff -- Pattern Names
Courses and Classes