PERESLAVL-ZALESSKY ON LAKE PLESHCHEYEVO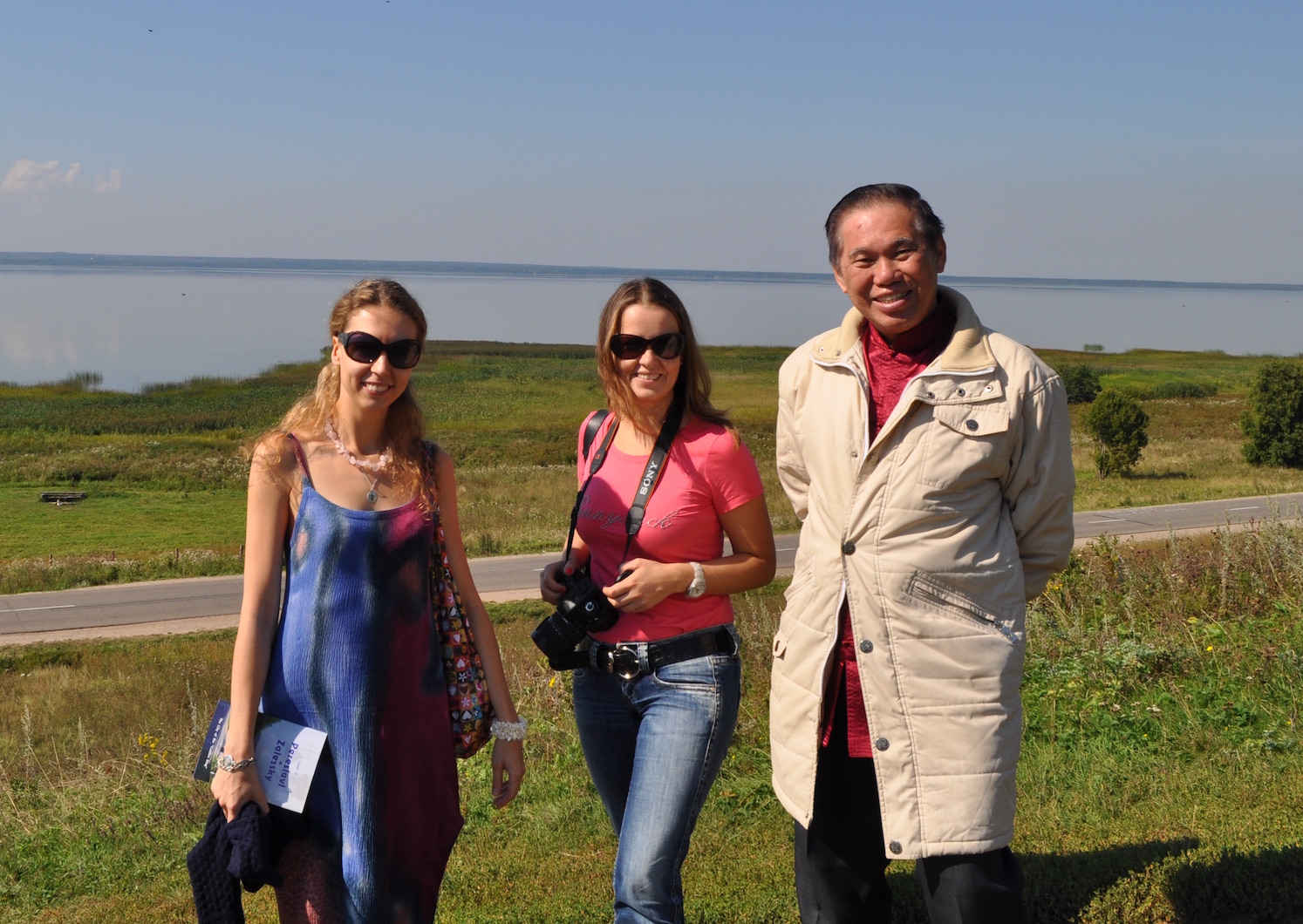 Liubov, Ksenia and Grandmaster Wong
---
---
Towards the end of August 2013, Julia Jettkandt with her 8-month old Clara, Artur Svethlichny, Ksenia Forafonova, Liubov Kurganova and me went for a tour of the Golden Ring.
The Golden Ring is a ring of cities northeast of Moscow, the capital of Russia. These ancient cities preserve Russian history, medieval architecture and culture, and are often called "open-air museums". The total distance was about 700 km, beginning and ending in Moscow.
These significant cities are Yaroslavl, Kostroma, Ivanovo, Suzdal, Vladimir, Sergiev Posad, Pereslavl-Zalessky and Rostov Veliky. But as we had only 3 days, we only visited Pereslavl-Zalessky, Rostov Veliky and Trinity Lavra.
We stayed in a lodging house at Pereslavl-Zalessky, which was located about 150 km from Moscow, and on the main road between Moscow and Yaroslavl. There was a beautiful garden in front of our lodging house with flowers from all over the world.
Pereslavl-Zalessky is located on the southeastern shore of Lake Pleshcheyevo, which was a resort for Russian tsars, or kings. Peter the Great, who modernized the Russian Empire, built his Botik (or little boat) on the lake which later became the forerunner of the Russian fleet.
There were many monasteries and churches in Pereslavl-Zalessky which showcases Russian architecture of classical times. One of the best known is Savior's Cathedral with its white stone and green domes.
The St. Nicholas Monastery was an impressive building with white stones and golden domes. It was a monastery for the Russian Orthodox Church built in the 18th century in Baroque style.
Among the several monasteries that remain in this ancient town, perhaps the most picturesque is the Goritsky Dormition Monastery, built in the 14th century, situated on a cliff overlooking the azure waters of Lake Pleshcheyevo.
In the 15th century, the monastery became an important spiritual center. However since 1919, the monastery was used as a history museum,
Wong Kiew Kit
12th February 2018, Sungai Petani
St Nicholas Monastery in Pereslavl-Zalessky, taken from http://www.icpf2015moscow.org/en/uslugi/kulturnaya-programma/maloe-zolotoe-koltso-rossii-4-dn3-n
LINKS
Overview
Travels to Russia
Courses and Classes