SEKINCHAN, HOME OF FISH AND RICE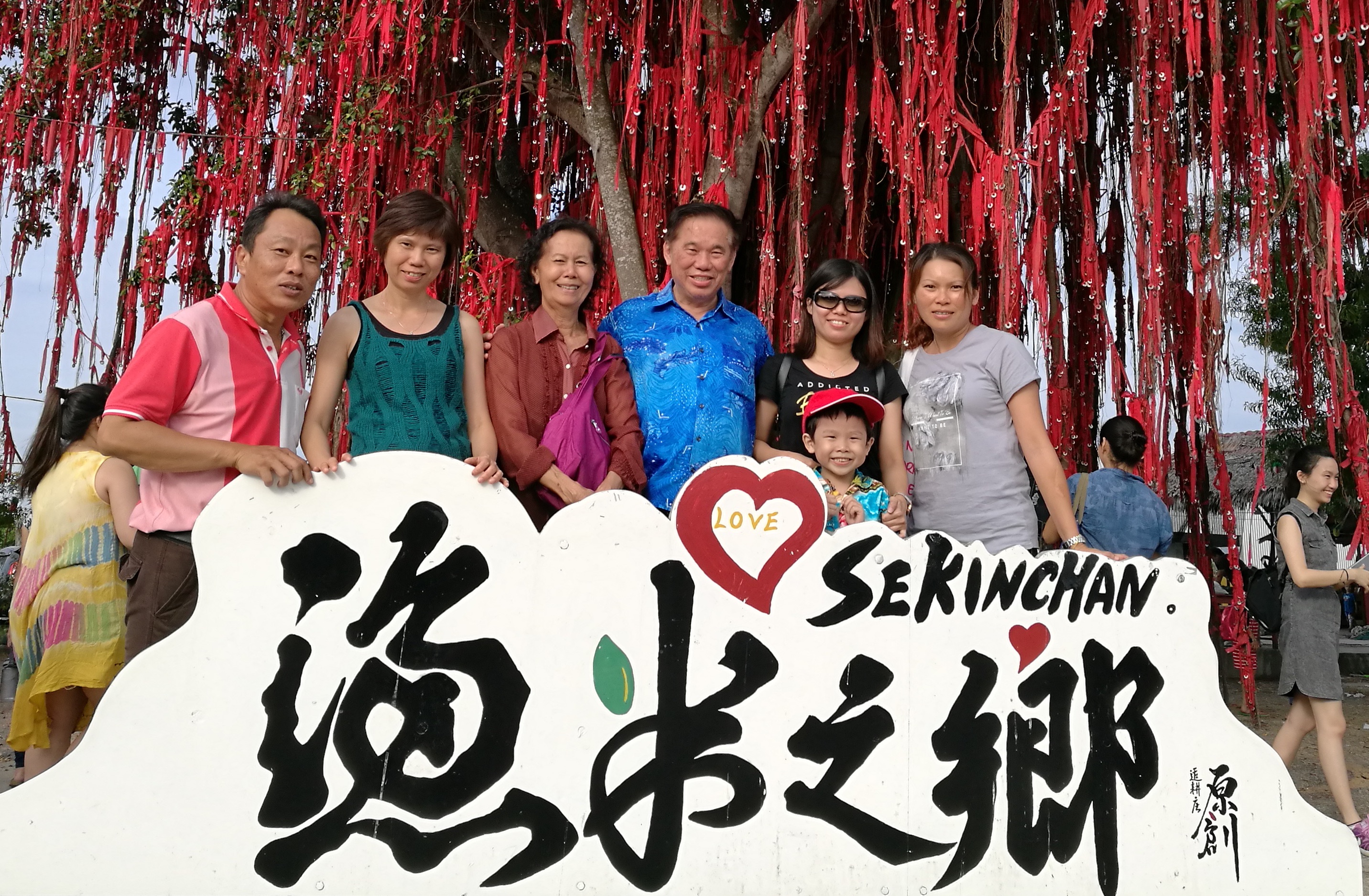 In front of a big board stating in Chinese "Home of Fish and Rice" with red candles on an ancient tree at the back. From left: Swee Huat, Sau Foong, Grandmaster Wong's wife, Grandmaster Wong, Siew Foong, Rowan and Wei Foong
---
---
On 15th June 2018 my wife and me, Sau Foong and Swee Huat, and Wei Foong left Bidor and traveled along the road to Teluk Intan (formerly known as Teluk Anson). Just before Teluk Intan, which is in the state of Perak in Malaysia, we turned left at a big junction to Sekinchan, which is in the state of Selangor. As it was holiday session, the roads were full of cars, but the cars were moving.
More than 20 years ago my wife and I passed though Sekinchan, which was then a small town on the coastal road from Teluk Intan to Kuala Lumpur. I also remember that about 10 years ago my wife and I and some family members also visited Sekinchan, known for its rice fields and fishing village.
Now Sekinchan has become very big, made famous by a local video series called "Home of Fish and Rice". My youngest daughter, Siew Foong, Hyet Choon and my grandson Rowan joined us at Sekinchan. Siew Foong mentioned that she taught Sekinchan was a small fishing village, but didn't realize it had become a busy tourist town.
We stayed in a big house belonging to Swee Huat's friend. It had a big compound and was in an enclosed area with guards at the entrance. I was much surprised when Rowan, my grandson who was just about 7 years old, told me that the grass in the lawn was artificial. I was surprised because the grass looked so real.
We wasted no time to go to the seaside. The road was full of cars with people coming for a holiday. We had to inch slowly forward. On the way we passed many fishing boats, a welcoming reminder that fishing was a very important occupation in Sekinchan.
At last we came to the beach. As expected we were lucky to find some parking space for our two cars. There was a Chinese temple with an ancient tree full of red candles. I was not sure whether the candles were real or were artificial for decoration.
In front of the ancient tree with a lot of red candles was a big board stating "Home of Fish and Rice". Many tourists were waiting in line to take photographs at the big board.
After taking some photographs we walked to the sea which was nearby. There were a lot of people at the beach.
After spending some time at the beach, my wife suggested that as there were a lot of tourists around, we better went to a restaurant early. There were already a lot of people at a restaurant, but as usual there was a lone table waiting for us.
I joked with Swee Huat, who is a Teochiew Chinese, that he could at last have some Teochiew cooking, as it was a Teochiew restaurant. Of course as Sekinchan is a famous fishing village, we had a lot of seafood, like fish, prawns and seashells, but we also had some vegetable for my wife though she was not vegetarian.
After a good night sleep, the next morning on 16th June we had breakfast in a local stall. We were the first to enter the stall, but soon the stall was full of people. I told my family that good chi, and good circulation of chi means good luck, always brings good chi. I also told them that when I first visited Australia many years ago, I actually thought of making arrangement with restaurants which were quite empty that if later my good chi brought in many customers, I would have free meals. But I did not carry out the arrangement.
After breakfast, we visited some rice fields, which Wei Foong suggested. After all, Sekinchan is the home of rice fields and fish. In fact I remember that when I was a student in school, I read about Sekinchan being the only place in the state of Selangor to have rich rice fields. In Chinese "Sekinchan" is translated as "Settlement that is Suitable for Growing Rice". That was, I believe, how the town got its name.
There were two buildings separated by a straight road amongst the extensive rice fields. One building, interestingly, was named "Grandpa's house", and the other building "Grandma's house". Souvenirs and local food were sold at the buildings. There was a big drain along the straight road, and a bridge across the drain.
There was an interesting episode at the rice fields. Someone parked his car at the entrance blocking a roll of cars coming out. No one dared to ask the driver to move his car.
I went over to the car and asked who the driver was. A man in his forties said he was the driver. I told him that it was wrong to park his car at the entrance blocking other cars from coming out. I had kungfu and was ready to use it if necessary.
He replied that some people had stepped on his rice plants and he blocked the entrance so that he could find out who had stepped on them. I told him that it was wrong to step on his rice plants, but it was also wrong to block the entrance. He moved his car to a side to allow other cars to pass.
On hindsight I realized that it was not because of my kungfu, which he might not know, but because I spoke to him calmly and nicely.
We left the rice fields and, instead of the highways, we took the main roads home. I suggested that we would take a coastal route to go through Sitiawan and Pantai Remis, two towns in the state of Perak. I took my wife to Sitiawan many years ago, and we had some very nice red bean soup at Kampung Kok (or Kok Village) not far from Sitiawan. It would be lovely to recall nostalgia. Pantai Remis was the home of my former headmaster when I was a teacher in a school.
Sitiawan was a busy city and I could recall some scenes my wife and I had visited many years ago. We went to another Teochiew restaurant for lunch. Teochiew food is famous for porridge, and this restaurant served both rice and porridge. There were a lot of Teochiew dishes and the food was mouth-watering. Swee Huat must be pleased to find food from his ancestral home.
Siew Foong, my youngest daughter, suggested that we could go to Kampung Kok to have some red bean soup, and Nyet Choon checked his internet for the route. We found the stall still selling red bean soup, and it was delicious.
The road going through Pantai Remis was long and in the countryside. But when we arrived, I was surprised that Pantai Remis was rather big, or long, as shops continued for more than a kilometer. There were also many cars on the road slowing down the traffic.
So when we were near Taiping, another big town in Perak famous for its exquisite Taiping Lake Garden, we took a highway, the main North-South Highway. I suggested driving to Tambun, another small town well known for seafood, for dinner.
When we arrived at our favorite restaurant at Tambun, there were not many people. But soon the restaurant was full. We had a delicious dinner and then drove home to Sungai Petani safely. By the time we arrived home, it was already 10.30 at night.
Wong Kiew Kit
21 June 2018
Sungai Petani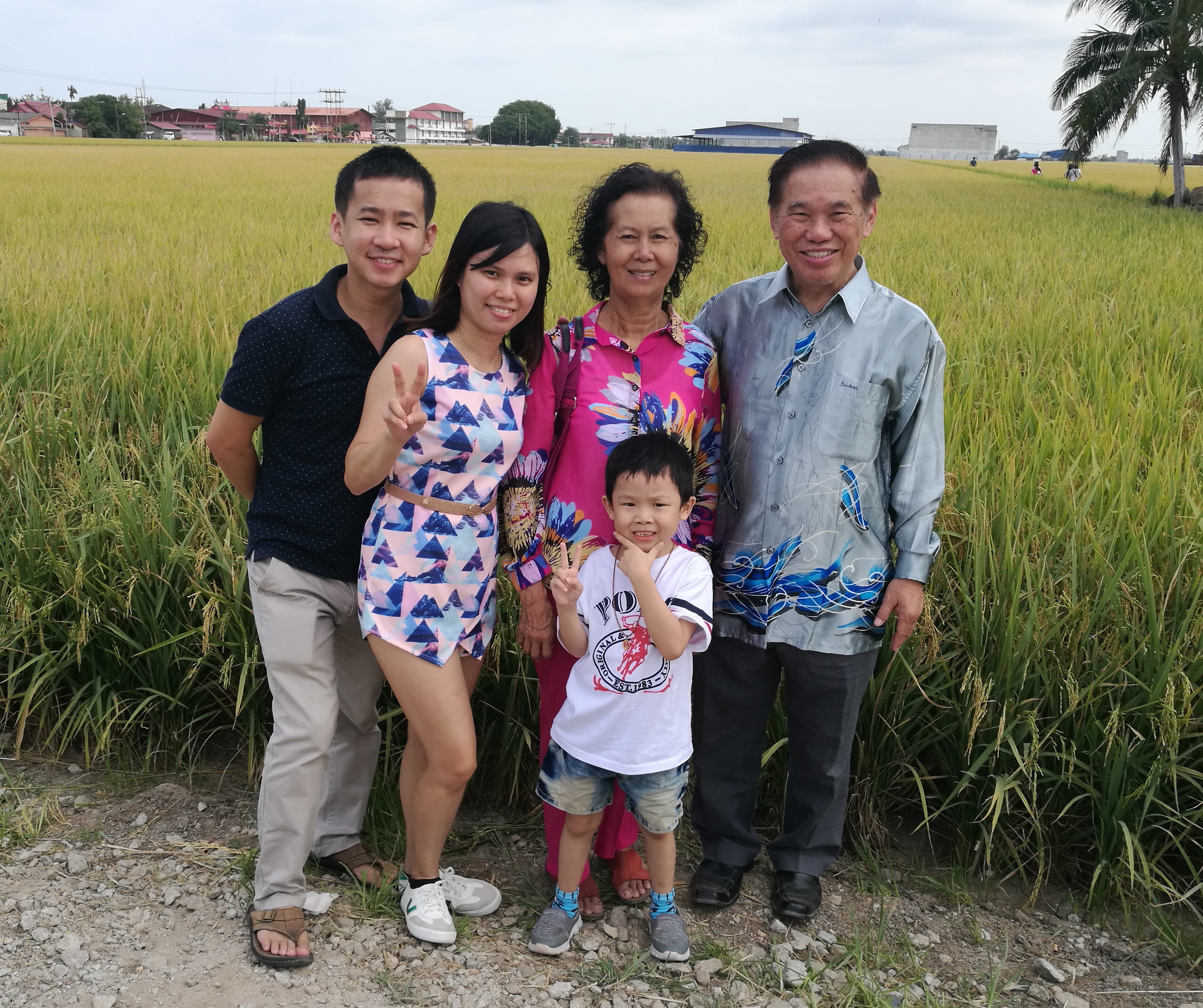 In front of extensive rice fields at Sekinchan. From left: Hyet Choon, Siew Foong, Grandmaster Wong's wife, and Grandmaster Wong with Rowan in front
LINKS
Video on Cameron Highlands and Sekinchan
Travels in Malaysia
Courses and Classes
---
---