SAN FRANCISCO AND ITS SCENIC COASTAL ROAD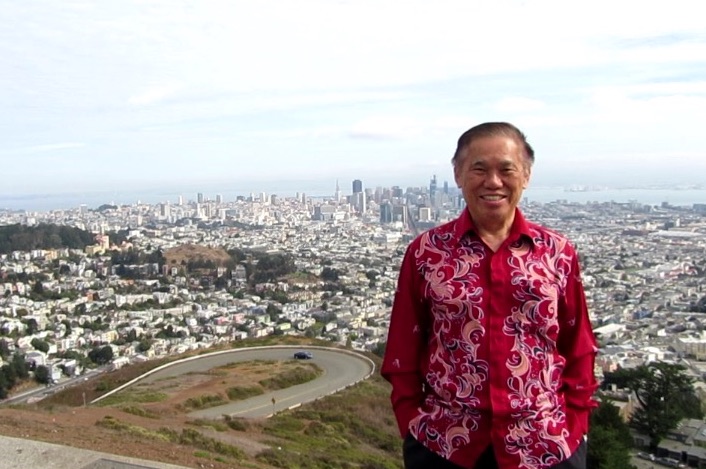 Grandmaster Wong at the Peak in San Francisco
---
I arrived at San Francisco on the night of 12th October 2016 after a long flight from Singapore. Although the plane arrived more than an hour earlier than the designated time, Andrew was already at the airport waiting to fetch me.
After an enjoyable dinner in an Italian restaurant by the San Francisco coast, Andrew took me for a night tour of the city. I was quite surprised that San Francisco was deserted at night, especially that I saw a lot of people at night in China, Singapore and even New York City. Madrid and Hong Kong, I told Andrew, never slept.
Andrew then boarded me in a Japanese styled hotel, called the Kabuki, decorated with Japanese gardens and Japanese wall paper inside the room.. I told Andrew that I felt more in Japan than when I was in Tokyo.
After breakfast the next day, 13th October, we had a good look at San Francisco again. It was 20 years ago since I first visited San Francisco attending the Second World Qigong Congress. But San Francisco hasn't changed much. There were, cheerfully for me, more people on the streets in San Francisco in the day time than at night.
We drove to the coast again to see a line of piers. These American piers were massive cement buildings, compared to the relatively smaller wooden piers jutting out into the sea I saw in Brighton and Worthings in southern England.
We drove to the fabulous San Francisco harbours, which I remember during my first San Francisco visit were full of people and festivals. There were less people now, but the festival feeling, colours and noise were still there.
We drove up a long slope with tram lines on the road. We saw some tourists admiring a scene of San Francisco City. Andrew told me that we would have a better sight-seeing spot soon.
Sure enough, after going through a park we drove up a mountain with scenes of San Francisco City below. Soon we came to the peak, and had a panoramic view of the city. It was a magnificent scene with the iconic Golden Bridge of San Francisco at a distance. I remember I had come to this spot before during my first visit. There were many tourists around.
After descending from the peak, we drove along the California Highway 1 to the south. Like the Pacific Highway in Australia, the California Highway 1 was actually not a highway all the way. At certain stretches, the highway turned into an ordinary two-lane road, but it was very scenic, with the Pacific Ocean on the right as we drove southward. It was interesting to note that over the gigantic ocean on the other side, over which I flew the previous night, were China and Japan, and much further south was the Pacific Highway of Australia.
The Pacific Ocean here, however, was rather tame. It was like the Mediterranean Sea, except much, much bigger, and unlike the Atlantic Ocean with its roaring waves I saw in Portugal. There were wide stretches of beach where people came here to swim or have their picnic by the ocean.
Soon we arrived at Half-Moon Bay, a beautiful coastal town. We had lunch at a small restaurant with colorful flowers outside. As the restaurant was full, we placed our reservation and had a leisurely walk along the pier. There were many boats anchored there. Andrew pointed to some sea lions, which reminded me that I saw a lot of sea lions at the festive harbour in San Francisco 20 years ago.
After lunch and driving for some time enjoying the scenic view, but without the roaring waves, we came to Santa Cruz, a small town when compared to San Francisco, where the Hippies were horn in the 1960s. Santa Cruz was also well known for surfing, Andrew told me. We drove into downtown, which was very beautiful.
"Why was Santa Cruz the home of the Hippies?" I asked Andrew. "Probably because of the beach" came a prompt reply.
"Then we must go to the beach," I said, "Or else we cannot claim to have been to the home of the Hippies."
So we left the beautiful downtown area to head for the beach, which was also beautiful. Some surfers were enjoying themselves in the sea, while we enjoyed ourselves in the car.
After that we drove to our hotel, the Hilton of Santa Cruz, which was very comfortable. We then had dinner at a Thai restaurant.
Grandmaster Wong Kiew Kit,
15th October 2016.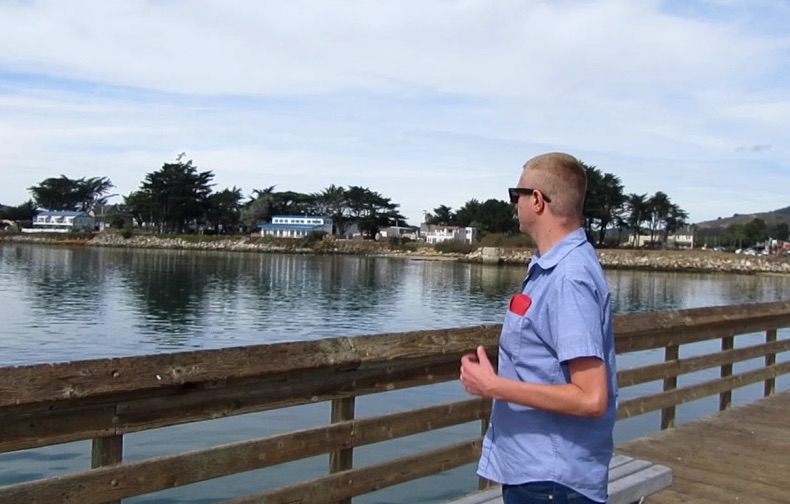 Andrew at Half-Moon Bay
LINKS
Travels in USA
Courses and Classes
---
---