FROM NEW PALTZ TO SARATOGA SPRINGS WITH COLORFUL LEAVES ALL THE WAY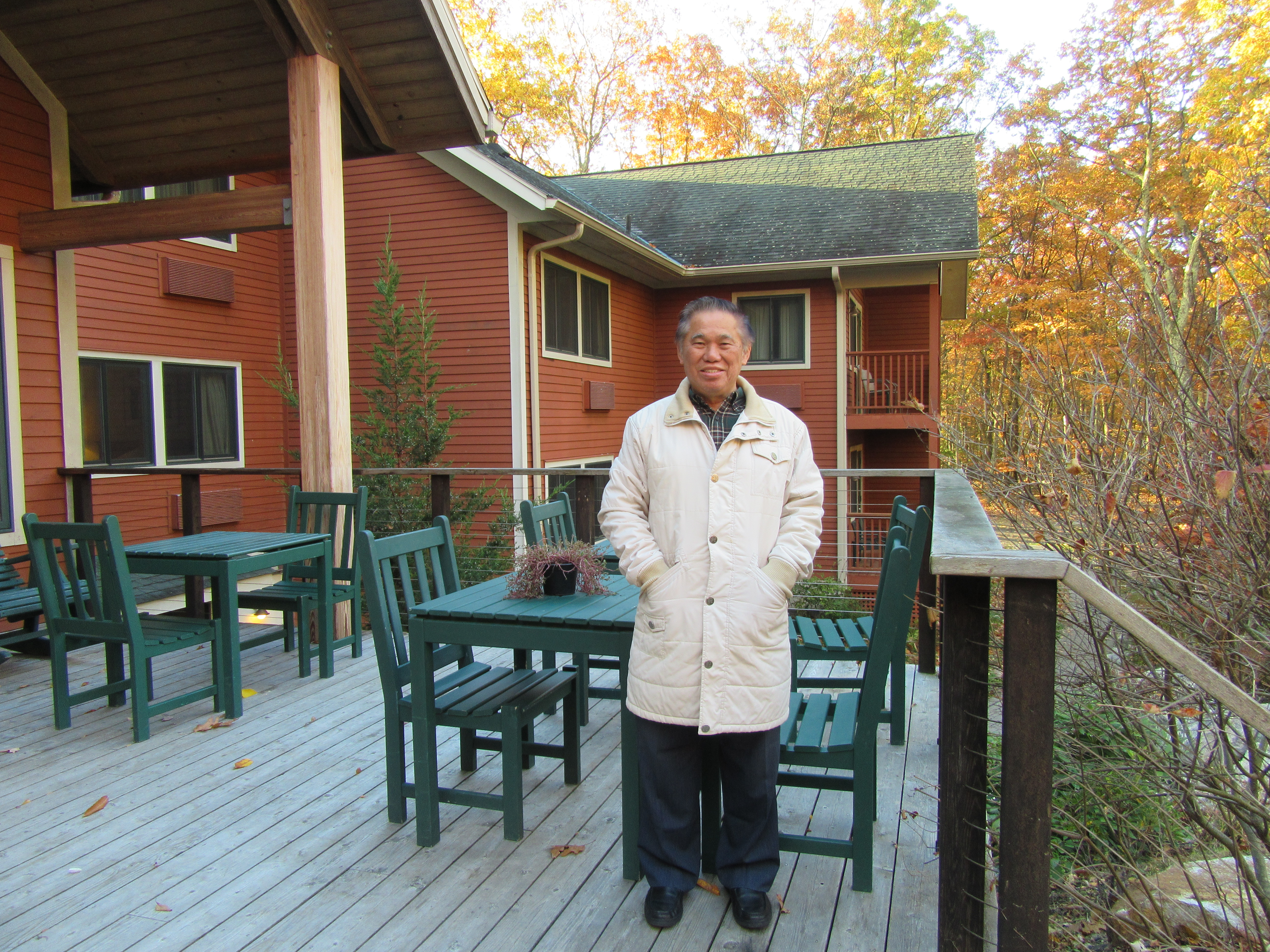 Me at Minneswaka Lodge near Lake Minneswaka
---
On the morning of 25th October 2016, we enjoyed a good view of the colorful leaves of trees during fall at the back deck of Minnewaska Lodge, which was the hotel we stayed. As the breakfast at the hotel was not as appetizing as we would like it to be, we drove for about 10 minutes into New Paltz town to have breakfast.
Then we drove up the Shawangunk Ridge and stopped at a vantage platform to have a paronamic view of the mountain. The leaves of trees were very colorful, indicative of autume or fall had established itself.
We went into Minnewaska State Park, and had a dazzling view of Minnewaska Lake, with the morning sun glimmweing on its surface. We drove along a winding mountain road with leaves of many hues, especially yellow, orange and red, greeting us.
We stopped at a viewpoint area on Route 55 to enjoy the mountain scene. There was a railing separating the area and the colorful trees sloping downward. Eugene jumped onto the railing and performed "White Crane Flaps Wings". Joinning Eugene in his kungfu flavor, I performed "One-Finger Shooting Zen", while cameras clicked.
We passed an old town called Ulster. Eugene stopped his car for a while for us to admire a plague commentating George Washington, the first president of the United States, visiting the town in 1782.
Soon we arrived at Woodstock, the site of probably the world's most iconic music festival where literally thousands of music lovers attended. We saw the postal that first announced the first Woodstock Music Festival on August 15th, 1969. There were many exotic shops selling a variety of souvenirs connected to the muscial festival.
We retired to a cafe to have some drinks. I had some hot chocolate, recalling some excellent hot chocolate I had in Helsinki, I looked across the table at Ryan and asked him whether his drink was apple cider.
Yes, he said, and asked whether I would like to have some.
"No, thank you," I replied. "I prefer not to have any alcohol."
"But my apple cider is not alcoholic," Ryan said.
"It's funny," I added, recalling the time when I had alcoholic apple cider in Frankfurt.
"It depends," Mark commented. "Much of apple cider in Europe is alcoholic."
We then drove on. At a small town Eugene and others stopped at an outlet to have some smoothie and coffee.
Soon we reached Albany, the capital of New York State. It was a fairly large city, but with hardly any people on the streets. There were, nevertheless, hundreds of cars, but parked at various places.
After going about the city quite emptied of people, we drove on. "Albany is very extensive," I said.
"No, sifu, this is Colonie, a town just next to Albany," Eugene said. A number of towns were linked together, without any green space in between. There was a town called Half Moon, which reminded me of a pretty little town called Half Moon Bay on the other side of the continent where Andrew and I had lunch.
Presently we arrived at Saratoga Springs. We had a late American lunch, and then checked into the Pavilion Grand Hotel.
Grandmaster Wong Kiew Kit,
25th October 2016.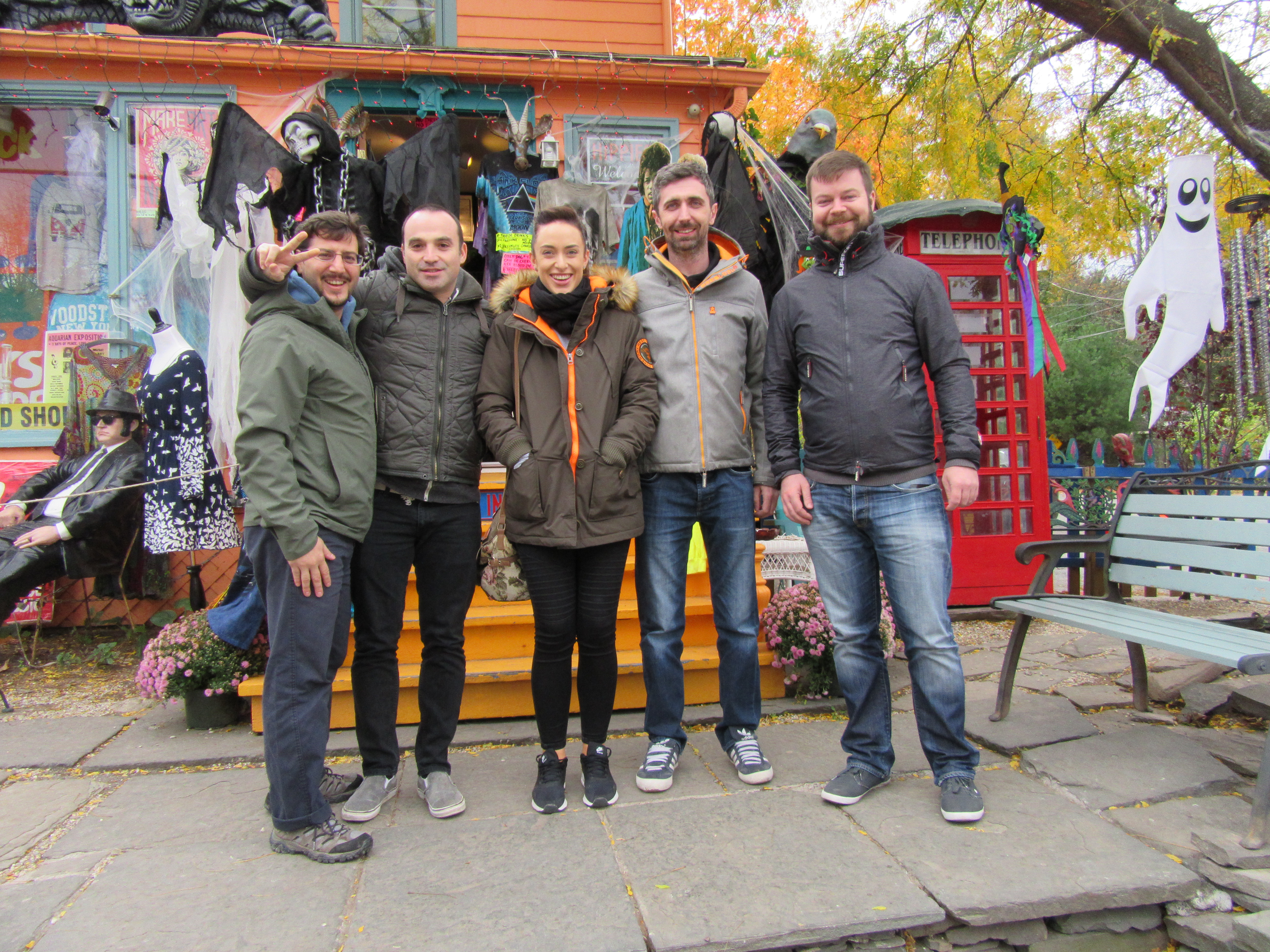 Ryan, Eugene, Daniella, Mark and John at Woodstock
LINKS
Travels in USA
Courses and Classes
---
---