FROM CONCORD TO MONTREAL ALONG SCENIC ROUTES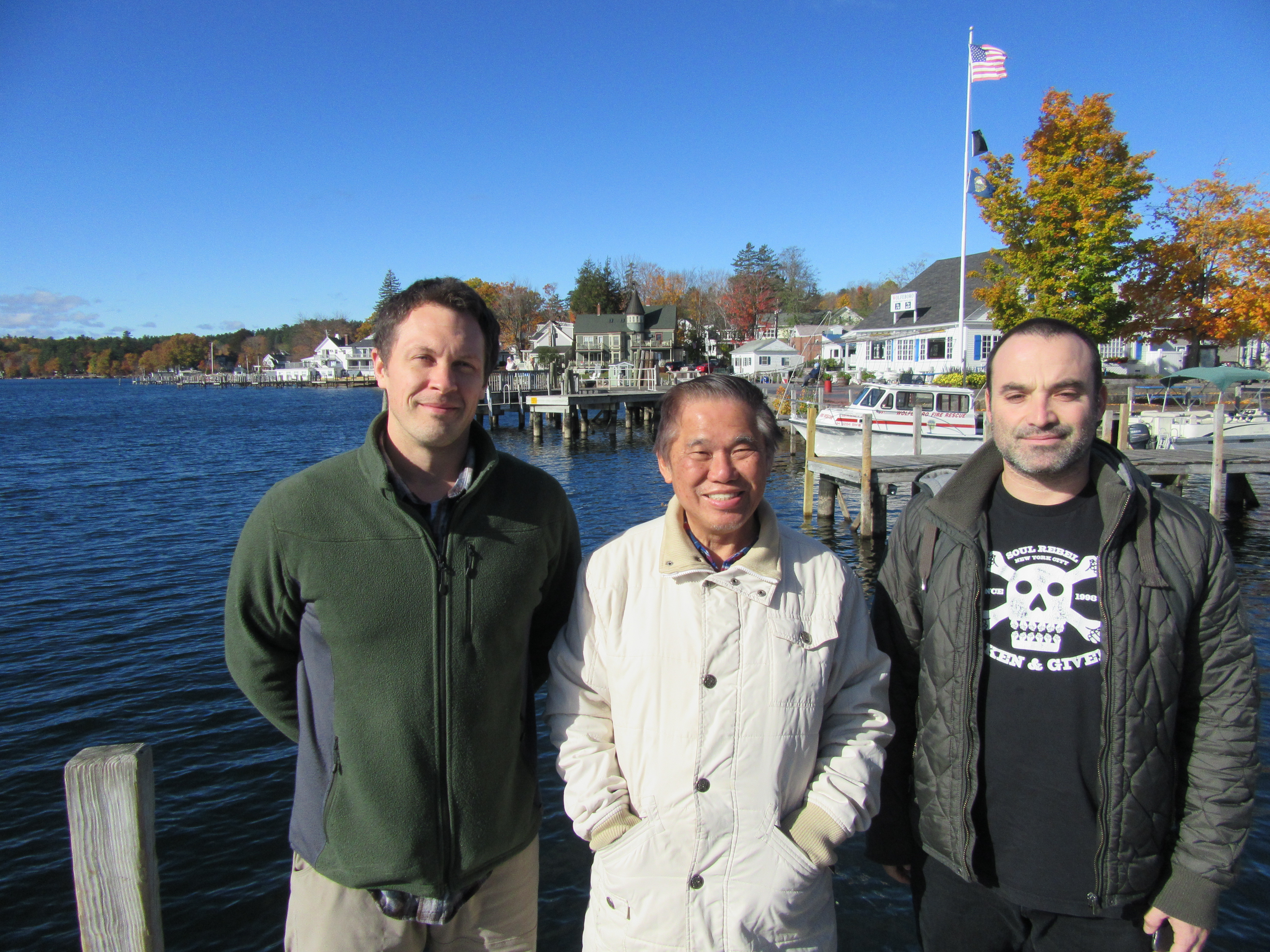 At Wolfeboro besides Lake Winnipesaukee
---
On the mroning of 31st October 2016, after a tasty breakfast Eugene, Matt, Chris and I left Concord, the capital of the State of New Hampshire, USA for Alton, which was Matt's hometown. On the way we saw orchards of apple tress, as well as two old farm houses.
Alton was a charming little town. Soon we reached Lake Winnipesaukee, the biggest lake in New Hampshire. When I was in New Hampshire last year, the lake was frozen and Matt told me that small planes would land on the lake. Now with the lake water glimmering in the autumn sun, the lake looked much, much bigger. It was indeed very big, as we could still see it after having traveled many miles.
At Wolfeboro we stopped at the lake side, went up a dock and took some photos with some birds enjoying the sunshine on the dock. There was a big boat, or a small ship, anchored there.
"In summer," Matt said, "the boat would take people round the lake." But now it was resting in the quiet water.
"Sometimes people have wedding parties on the boat," Eugene commented.
As we were leaving the lake, I asked Matt, "How much of the lake is frozen in winter?"
"Every part of it, Sifu. Last year the winter was very cold, and the lake was frozen for more than a month."
"Are there a lot of fish in the lake?"
"Yes, Sifu, a lot of fish."
"And the fish swam happily in the water with the frozen snow on top," I added.
We crossed a bridge over a river that separates New Hampshire and Vermont. This bridge was not covered, unlike the covered bridge at Cornish and Windsor. Soon we passed through the town of Bradford in Vermont.
Then we came to Montpelier, the state capital of Vermont. The name reminded me of Montpelier in southern France on the other side of the Pacific Ocean where I sometimes stopped to admire its huge garden with statues and an indoor pool of water when I drove from Spain to Italy. But at Montpelier in Vermont we admired its state building with a golden dome. Then we had "pho", or beef noodle soup, in a Vietnamese restaurant.
We traveled on and reached Waterbury where we visited Ben & Jerry's ice cream factory. The most enjoyable aspect of this visit, for me, was its ice-cream.
Then we arrived at Burlington, the biggest city of Vermont. We drove down to the ferry on Lake Champlain, and we could see New York state across the lake.
We drove into the city. There were colorful lights on a walkway, a street with colorful asphalt pavement where cars were not permitted to enter. The walkway was lovely, but there were few people there as the weather was rather cold. So we adjourned to a tea house to enjoy "bai hou", which means "white monkey" in Chinese.
I told Eugene, Matt and Chris that there was an exquisite tea called "white monkey tea", so called because white monkeys were trained to pluck tea leaves grown on tall trees. I also told them an interesting story about tea.
There was a wealthy tea merchant who employed a top tea master to gather the best tea for him. After traveling all over China for three years, the master came back with a single tea leaf. The merchant was very angry and threw the tea leaf away.
One day there was heavy rain. There was also an exquisite aroma of tea. The merchant went about his house to find where the aroma came from. To his utter surprise he found his air well full of tea which transmitted out the exquisite aroma. Then he remembered that he threw the single tea leaf onto the air well, and the rain had made tea of it.
We then took Matt to rent a car. He drove the rented car home to Concord. It was very kind of him to accompany us in our travel.
From Burlington we took a highway as we would not see much at night. We crossed the United States-Canada border and arrived at Montreal. "In Rome, do as the Romans do." Although we were not in France, Montreal is French speaking, and we had a delicious dinner in a French restaurant. Then we checked into our hotel, which was romantic. I almost thought we were in France.
Grandmaster Wong Kiew Kit,
31st October 2016.
LINKS
Travels in USA
Courses and Classes
---
---